Supporter
Supporter
Minuteman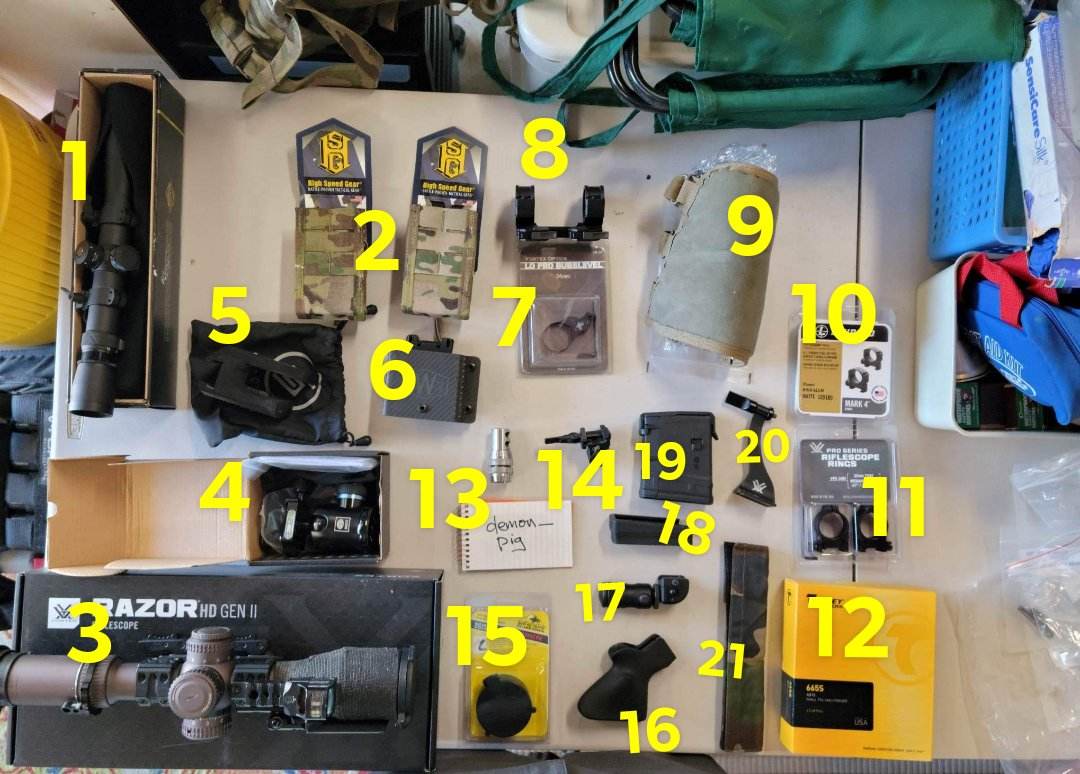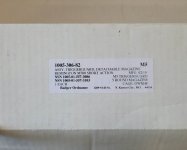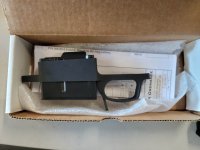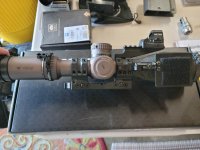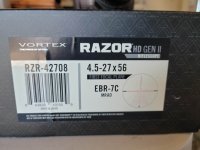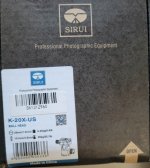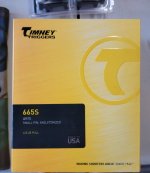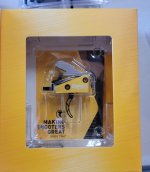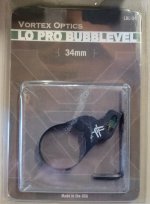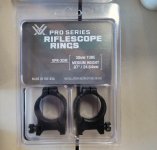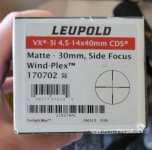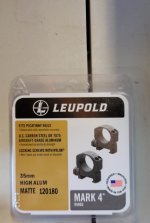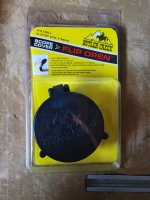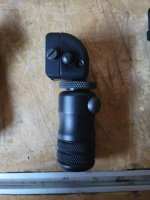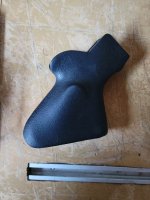 Spring Cleaning Sale
Getting rid of some of the things that I have no use for. You'll find the details listed below, if you need more photos of a specific item, send me a message and I'll get back to you. Prices are shipper to your door.
308WIN 10rd AI mag (x2) - $70 per. Both $130.
High Speed Gear Duty Taco x2- Both in multicam. Brand new with tags still attached. Link here. - $40 per
Razor Gen2 HD 4.5-27x56 EBR-7C - Solid scope, everyone knows. Does not come with the mount, scope only. Comes with front/rear Tenebrex scope covers and Switchview folding throw lever. Objective and bell housing are clear, some scuffs around the ring section. - $1600
Sirui K20X Ballhead - Used once before it was replaced. Like new, no damage or scuffs. - $80
Spartan Mounts AR15 & PMAG Wall Mount - Secure and unique magazine-mount for quick and consistent mounting and removal of an AR15 and PMAG. Mount into a stud for a secure fit. - $20
Vortex Lo Pro Bubble Level 34MM - Standard low profile bubble level for 34MM scopes. New in box. Link here. - $65
BOBRO Compact Dual Lever Low Mount 34MM - The mount has two BLACR lever assemblies. The BLACR is Bobro Engineering's compact version of the proven BLAC design. The height is optimized to clear a scope objective diameter of 56mm on most bolt action setups. Link here.- $200
Stock Cheek Pad - Comes with 3 foam risers to adjust the height. Suede material. Comfy. - $25
Leupold Mark4 Rings 35MM - Brand new in box. Never used, never had a scope mounted in them. Link here. - $100
Vortex Pro Rings 30MM - Brand new in box. Never used, never had a scope mounted in them. Link here. - $75
Timney Trigger AR15 Small Pin Skeletonized 665S - Brand new in box. Never used, never installed. - $180
Butler Creek 43MM Objective Scope Cover - Brand new in box, never used or mounted. - $15
Shark Fin AR15 - California legal AR15 grip. Never used. -$20
Catalyst Arms Pic Mounted Monopod - Mounted temporarily on an RPR. Has some scuff marks on the bottom from the concrete bench. Operates fine. - $60
Vortex Bino Mount - Used temporarily with Sig Kilo BDX binos. Has scuff marks, otherwise in functioning order. $10
Ear Pro Head Cover - $10
Badger Ordinance Bottom Metal w/ 5 round AI mag. - Remington 700 SA. Purchased for a build but never installed or used in any way. - $280 (Sold)
Leupold VX-3i 4.5-14x40 Side Focus CDS-ZL Wind-Plex30MM- Like new scope. Glass is clear and free of scratches. Will come with rings, the ones already attached to the scope. Comes with Leupold scope cover. Link here. - $100 (Sold)
Magpul PMAG 10rd Magazine - $15 (Sold)
Harrel 22CAL Tuner+Brake - Used to tighten groups on a Glenfield 22RL. No longer needed. - $80 (Sold)
American Defense Manufacturing Harris QD Bipod Mount - Piccatiny style bipod mount adapter for a Harris Bipod. - $65 (Sold)
AI Mag Holder - For belt mounting. Belt Clip mounting system. Rounds backward. - $20 (Sold)
MKM +2 Mag Adapter - Never used. Brand new. +2 magazine extension for AI mags. - $20 (Sold)
I take PayPal, PayPal G&S +3%, or Venmo. Whatever works.
Last edited: