Private
Full Member
Minuteman
Excuse the new guy question, but here is what I have. I purchased an older 700 that someone wanted to build into an M40a1-ish clone. Only, they did it very sloppy.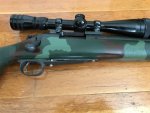 The PO did not know what they were doing and purchased a McMillan m40 HTG with a blind magazine. They then cut it out (sloppy cut) for a BDL bottom, only they did not make it large enough The floor plate that is on there is from a Winchester M70 that was cut and bolted back together. I have since taken it out of that stock and dropped the 700 into a Bell and Carlson M40. My question is what would you do with the McMillan stock now if it were you? My smith recommended:
1) Have it inletted for the 700 BDL bottom, and fill the remaining space (like I said it was a sloppy cut) with epoxy and paint it (the remaining epoxy, not the entire stock. Its not a horrible amount of inletting that would need to be done, but it wont be show quality since it needs to have some filler added.
2) Sell it as is to someone who wants a project. But I have no idea of the value of the stock as is. Outside the sloppy inletting its in great shape. Thoughts on a value?