Lt. Colonel
Full Member
Minuteman
My new Thomas HPX 22 caliber rifle showed up recently after a 4.5 month wait. It has a custom match grade 26" barrel of proprietary rifling dimensions spec'd out by the builder of the rifle - Mike Niksch of Thomas Air. It gets approximately 70 shots per fill from 4000 psi to 2300 psi where it falls off the regulator. The pellets used are JSB 25.4gr MRD's going 920-ish fps, the Bc is .053 which is 1/3 of a 40gr 22rf bullet. The trigger is a two stage that is set to 3.5oz and is truly amazing crisp. ERGOS are wonderful as well! It's a bit heavy for an air rifle, with scope it's 12.5 lbs.
Here's a C&P(with a few revisions) from another website that some of you airgun guys will recognise but I thought the Snipershide guys would like to see and read about it too.
I have appropriately named this rifle "SURELY". The story behind the name I chose is from back a few months ago when I was texting my buds on Team Centercut the shooting team I belong to, the photos of the groups Mike Niksch of Thomas Air had just sent me. I think it was 50 shots he did with his HPX inside 1/2" at 50Y and also a 22rf BR target for 3 cards he shot at 50Y which scored 749! It was then that it occured to me that if I missed it was "surely" going to be my fault, and also that a gun capable of such precision was "surely" going to help me to win sometimes!!!! It also sounds like Shirley just for the fun of it. So there you have it.
About a week later from ordering the rifle I got the bright idea of going totally over board
and decided to call up custom stock maker Steve Corcoran for a specific HYBRD stock I had been contemplating. Basically since I wanted to shoot both BenchRest comps, and Extreme Field Target comps, I wanted a stock that was equally good for both disciplines. Instead of going into all those details well here it is. The stock was created by Steve to be able to remove, lower, or rise, the cheek piece. Move the butt pad up, down, in or out to change LOP, as well as angled left or right – away or into the shoulder. For BR(see pic #5) I can also attach either the tall or the shorter rear bag riders underneath the bottom of the rear of the stock and underneath the front of the stock is a T-slot rail in which the 3" wide wooden front bag rider can be attached, or a picatinny rail which I can attach my bipod to. Steve was great to deal with and he also came up with the design you see here.
(last week) - Due to bad weather, etc, I've only shot 35 22 caliber JSB MRD's through it today off a bench on my 50Y spinner. I doubt I would have missed a dime and it was fairly windy out. I'm very pleased of course!
(As of today 2/22/21) - Since I've had the rifle for nearly two weeks now I've shot it more, just over 200 pellets, so I'll post some more recent pics as well. The pics of shots on the BIG steel are with me sitting on a 3 gallon bucket and using a pair of shooting sticks to steady the rifle.
Thanks Mike for such a fine rifle, and Thank you Steve Corcoran for such a unique and pretty walnut stock!
The rings are ARC, the scope is a March HM 5-42×56, and the bipod is a LRA.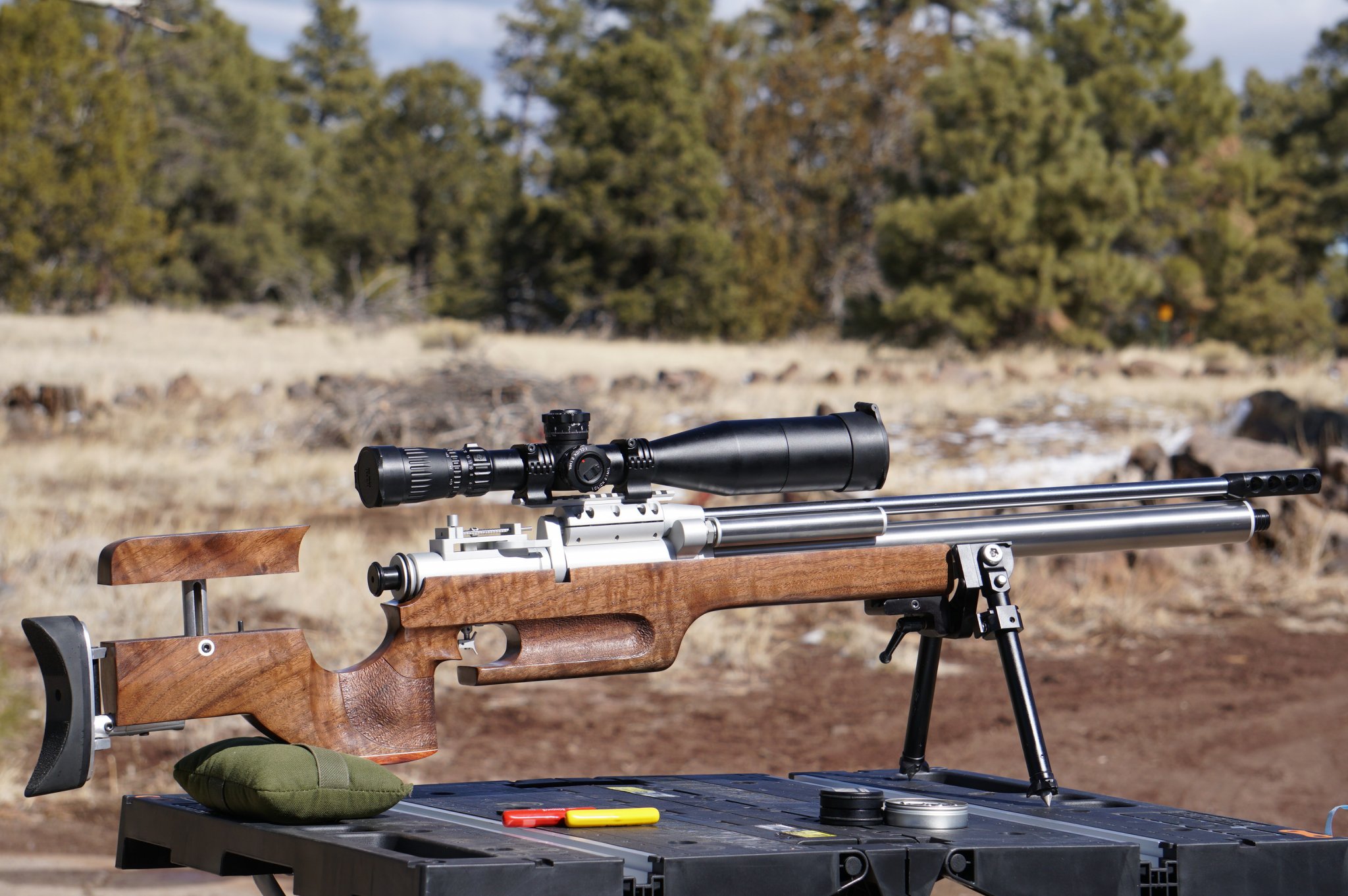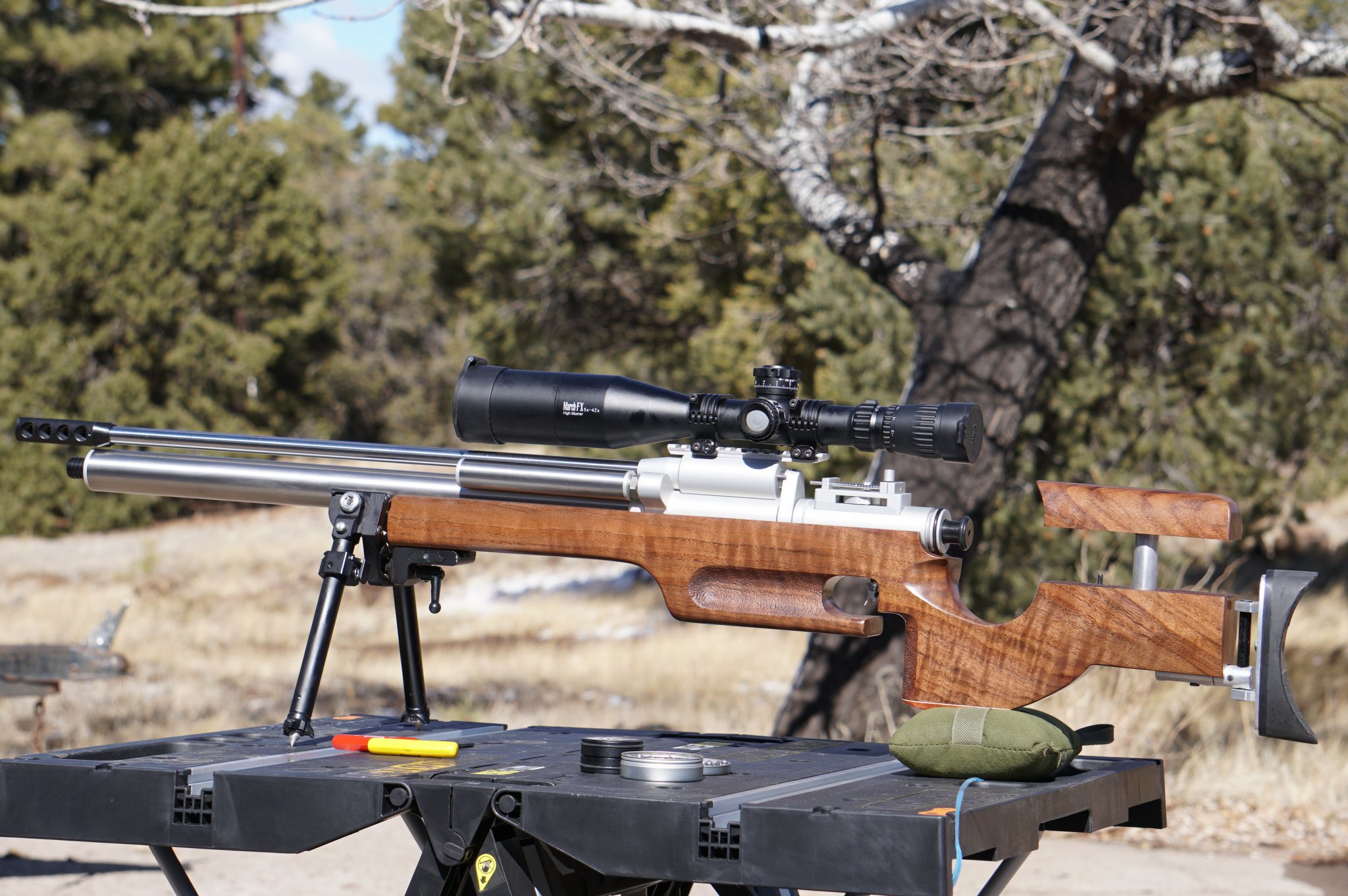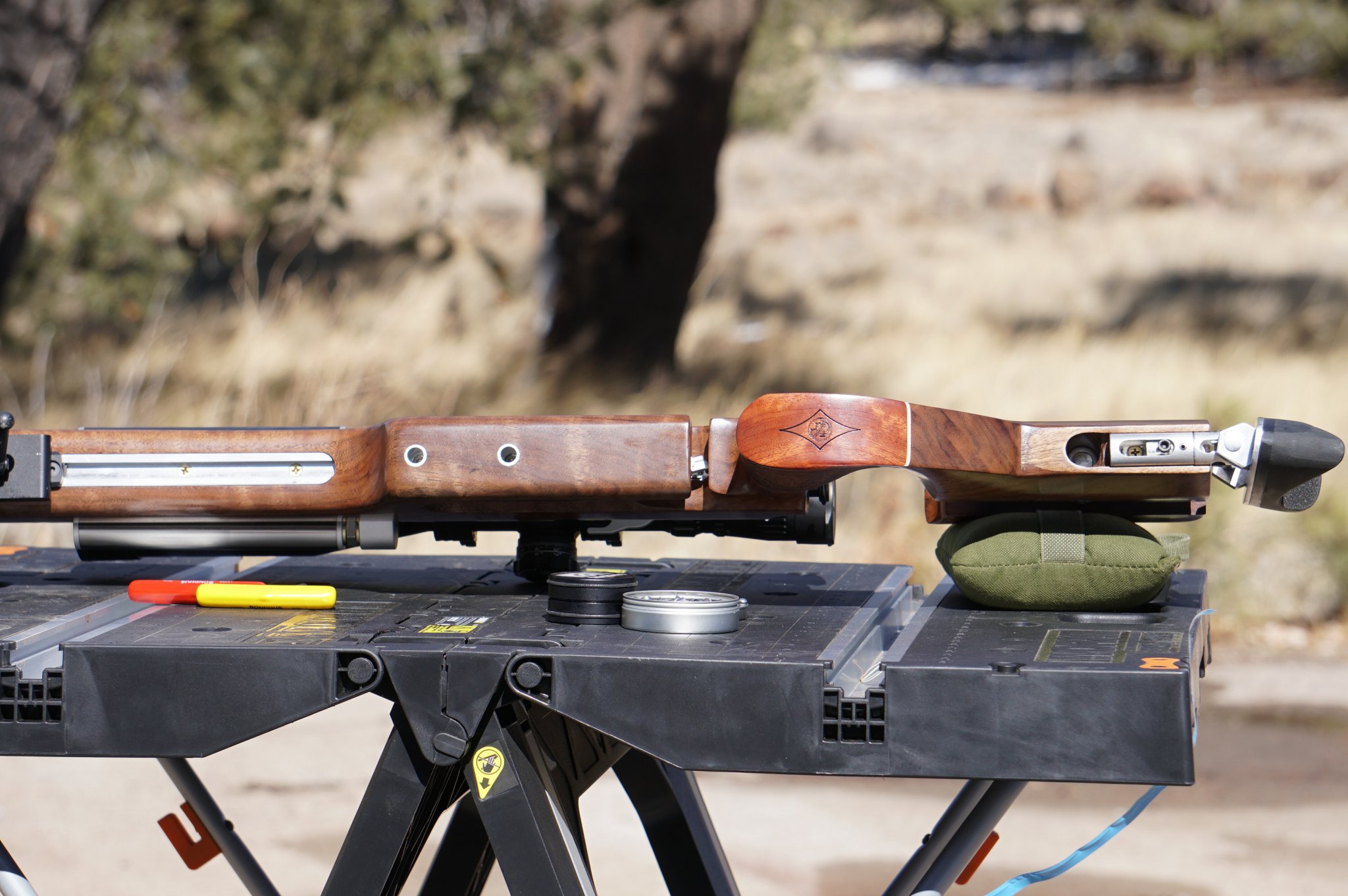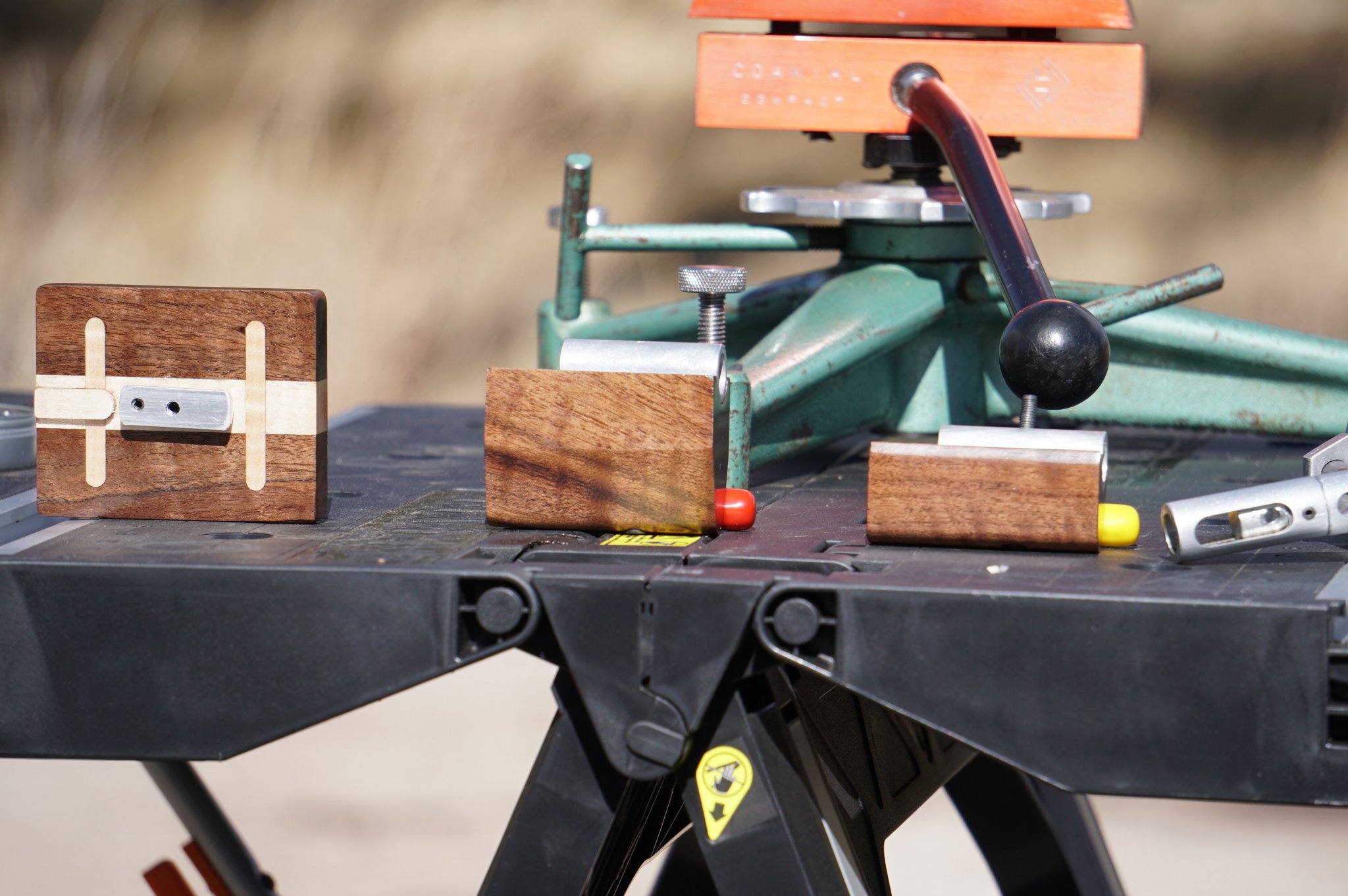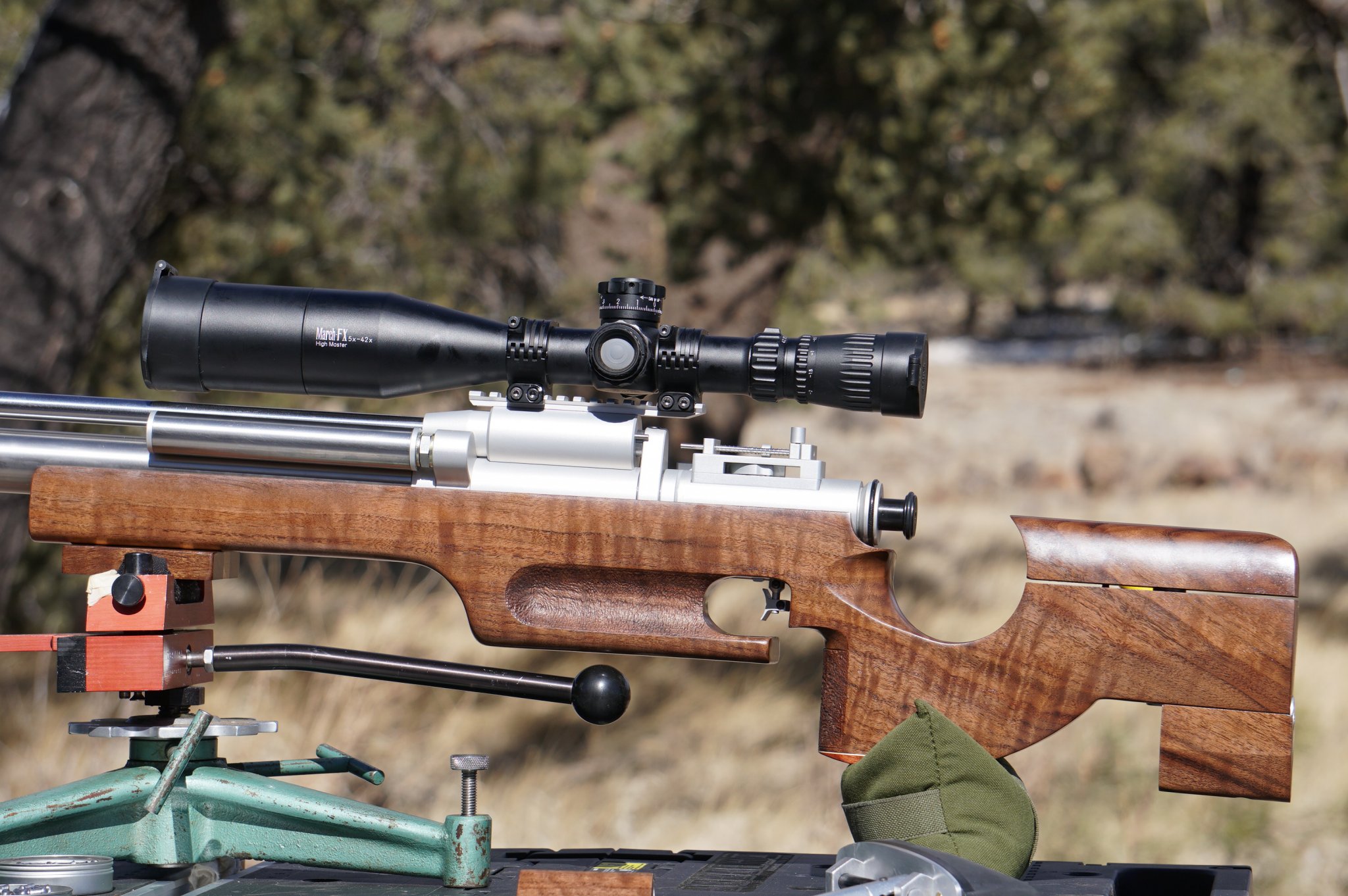 Last edited: