NaN
Online Training Access
Belligerents
Apr 26, 2013
4,413
5,255
219
Anyone in Texas... Send your response to this.
https://www.legis.state.tx.us/tlodocs/86R/schedules/html/C3852020080400001.HTM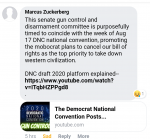 For those asking for templates - I created some Google Docs you should be able to view on any device you're on.
Email Submission Template
Comment Document Template
Attach your comment document to the e-mail, and send it. If you have time and want to go that far, you can record yourself on video giving your testimony, upload it to YouTube, and add the link in your reference material. Be aware, though, that this will become PUBLIC INFORMATION.
What you're writing about is what you think about the issues outlined in Section 3, Duty #4 of this document:
https://house.texas.gov/_media/pdf/...-ukHAOBKKKZd0p96T2PQVZ6WBkHkKF0y9fz0KfGw2FvOo
For more info on what makes good testimony, check out Rachel Malone's instructional video # 6 on that subject here:
Last edited: