Supporter
Supporter
PX Member
Minuteman
APR Custom
6.5 Creedmoor
16.5" PROOF Sendero 1-8
Threaded 5/8x24 w/ Q Cherry Bomb
APR Hunter Action
APR BDL
TriggerTech Primary
AG Composites Chalk Branch - Carbon Base w/ Orange & Medium Gray Ambush
Barreled Action Cerakoted Sniper Gray
Weight 6.4lbs naked.
Rifle has less than 60 rds fired.
Not sure I want to sell or trade, but if something I can't resist comes up then I might move it.
Intrested in optics (Nightforce, S&B, TT, ZCO, etc) RRS tripod setups, LMT/KAC rifles, 28 or 30 Sherman Mag guns, and pretty much open to others
Value at 3300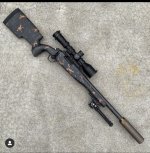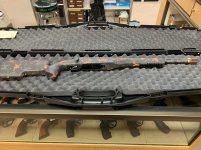 Mule deer I took with it at 225 yards this year.
Last edited: