Major Hide Member
Belligerents
Minuteman
Dec 17, 2017
1,386
1,699
119
Been running an Athlon Argos BTR10-40X56 (puchased from Doug at Camera Land New York!) getting onto two years and last range session I noticed I could not get parallax/focus set past 200 yards. I *love* this scope and was disappointed *but* now I got the chance to check out their warranty and CS and holly shit was I impressed. I sent a heads up to Athlon Warranty Support and got a near instant reply from Sydney Thompson on their team....filled out and printed the paperwork and shipped it - within minutes of it's having been tracked and signed for at Athlon in Kansas I had a confirmation email.
They evaluated the scope and decided it had failed it's focus/parallax adjustment and decided to replace it, not repair. They replaced it with a Gen 2 NIB and holy shit the turrets on the upgrade are fabulous...they say that the glass has not been improved but I swear the last Gen 1 scope was "OK" in the glass department with a fair amount of CA at max magnification and this one has better contrast and brightness than my comparably priced Vortex Crossfire II and barely a hint of CA at max magnification. The new turrets are super clicky in their detents and it has a zero stop that when it engages you can feel and hear it lock.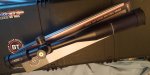 I am now officially an Athlon Whore for Life. Rarely have I seen such customer service and attention to getting me back up and running and *I'm* a Customer Service/Field Service rep for 40+ years!! Super kudos and thanks to Athlon and a reminder that you can buy Athlon with total confidence in their CS and Warranty repair/replace.
VooDoo
Last edited: