Optical theorist and conjecturer
Supporter
Full Member
Minuteman
The 21.7 oz Vortex Razor HD LHT FFP 4.5-22x50 represents the best crossover design we've seen to date if saving weight is your primary goal.
- Glassaholic from Snipers Hide on 08/08/2021
What is a Crossover Scope​
For years we have had a plethora of scopes to choose from that fit certain criteria from short range work out to ELR. I suppose one could say any scope can be a "crossover" scope should one decide to use a scope for a purpose it was not ideally designed for. You can put an LPVO 1-6 on a long range rig and you can put a large 5-25 scope on an AR, there is no law that says how you can use any particular scope. But for purposes of this review, I think it's important that I provide a clear definition of what I mean when I say "crossover scope". For many of us, we have hunting rifles that have morphed into long range steel ringers and for some have turned into true competition oriented long range rigs. By and large, the majority of the hunting crowd prefer lighter weight scopes, while many in the competition community either prefer heavier scopes or couldn't care less. For those who desire to bridge that gap they quickly realize that for a first focal plane (FFP), light weight scope that has some magnification reach, the pickens are slim. But what is "magnification reach" and "light weight"? For magnification I'm going to say the minimum top end is 15x and for weight… well, this is something that individuals must determine for themselves. Some may think backpacking at 10,000' elevation holding an 18lb rifle is no big deal and for those, a 2-3 pound scope may not be an issue, but for others (the majority) a scope over 30 ounces just doesn't cut it when they've pinched on weight for everything else with their rifle build. I have generally fallen into this latter category, I prefer something under 30 ounces for my crossover rigs; however, due to lack of options I've increased my minimum to 35 ounces which opens the door to many more options. Needless to say, there has been a serious lack of decent scopes in the under 30 oz category, names like Bushnell LRHS TT315M, Vortex AMG 6-24x50 and Vortex LHT 3-24x52 stand out for the alpha class while the Bushnell LRHS/LRTS represents more of the budget class
Vortex Razor HD LHT FFP 4.5-22x50 and Bushnell ET LRHSi 4.5-18x44​
For a number of years now the Bushnell Elite Tactical series has represented some serious value for what you get – price/performance but when Bushnell came out with the LOW designed LRHS it brought mixed results, the magnification range seemed odd (4.5-18) and the shear size (length) of the scope seemed to put some off; however, the weight of the scope was a refreshing sight for the crossover community coming in at under 27oz. For those used to "cheaper" SFP scopes this scope made little sense but for those who preferred the benefits of a FFP scope it soon became a common recommendation whenever threads popped up asking for "Lightweight FFP scopes". Bushnell soon came out with the exact same scope but in LRTS form with a different reticle aimed more at the tactical community rather than hunting although I prefer the G2H reticle for both crossover and tactical style (AR platform) rigs due to the extreme usability at the bottom of the magnification. But outside of some blowouts the LRHS and LRTS series soon began to disappear and one had to wonder if a replacement was coming and sure enough, early in 2021 GAP announced they had Bushnell design a new LRHS2 and many speculated (including myself) that the new scope would be shorter and lighter than it's predecessor; and much to the dismay of many, that was not to be the case, instead of designing a new scope GAP/Bushnell opted to use the same exact optical formula as in previous generations but replacing the glass elements with the new ED Prime glass. So why am I NOT comparing the new Vortex with the latest scope from GAP/Bushnell and I can sum that up in two words "NO ILLUMINATION". Yes, I've seen George's posts about how illumination is not needed with the reticle design but having the same G2H reticle in my LRHSi I can tell you that in low light situations the illumination certainly does help. Is illumination "needed", that is for each individual to decide but I come from the group that believes "better to have it and not need it rather than needing it and not having it". So this review will focus on the aspects that make a great crossover scope.
In the image above you can quickly see that the Vortex LHT is shorter than the LRHS series, the 50mm objective bell also looks quite a bit larger which leaves one wondering what engineering genius did the Vortex engineers come up with to shave off so much weight, and were any compromises to durability made to achieve such. My preliminary review does not have enough time in the field to give you a full report; however, Vortex's reputation with the Razor line is pretty well regarded so my expectations are that this scope will hold up well to crossover use in the field, but for more conclusive results let's wait until after the big fall hunting season to hear if anyone has experienced adverse effects during field use before we jump to conclusions not based in real world experience.
Below is my typical disclaimer when I perform scope reviews:
Keep in mind this evaluation is based on my own personal observations based on what my eyes "see" when looking through the scope. I pay meticulous attention when setting up my diopters for each scope making sure to fine tune them to my eye. My eyes are very sensitive to CA while some people cannot or have difficulty seeing CA when looking through the same scope. Everyone's eyes are different, and my observations will undoubtedly be different from others. That being said, I try to be as objective as possible but, like all of us, do have my bias' though I try my best to keep my reviews as unbiased as I can. It should also be noted that I am not paid by anyone to do these reviews, this is simply a passion of mine that started years ago on Snipers Hide when trying to find a lightweight FFP scope.
SPECS​
The below specs are provided by the manufacturers which provides a good baseline for what these scopes offer. Vortex and Bushnell LRHS2 are highlighted in yellow as they are new for 2021. Highlighted in red is a potential drawback and in green is a potential benefit. Why did Vortex go with 4.5-22 range instead of 4-20 I cannot tell you but I wish it was the latter, I think a 4-20 scope has more use as a crossover design than does a 4.5-22 and some could even argue a 3.5-18 would have been even better, but since no other scope even comes close in weight I'm willing to let that go for now but it does open the door for another competitor down the road.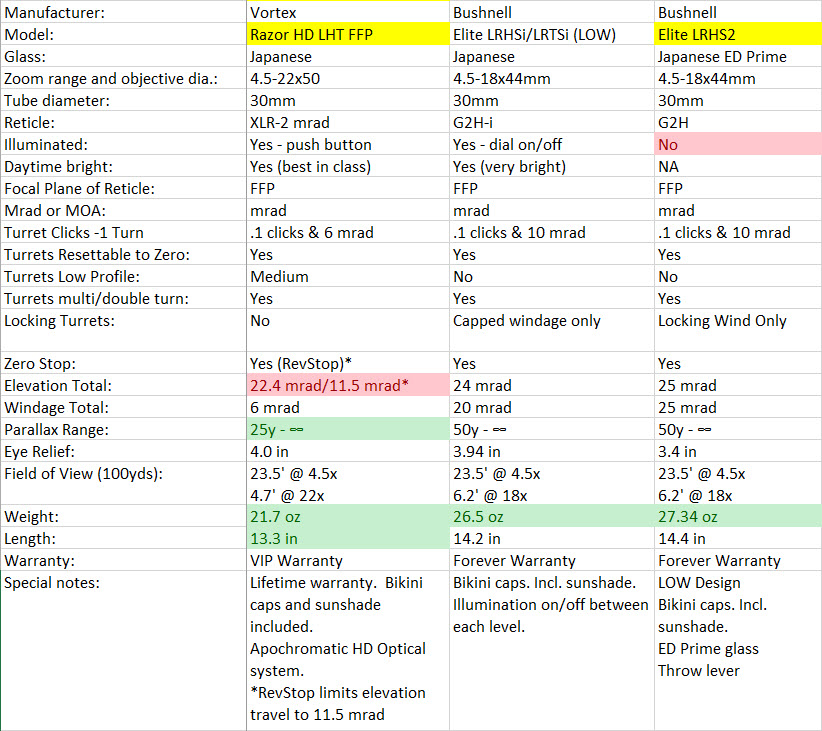 As mentioned previously, one of the most notable differences comes in size, the Bushnell represents the traditional "long" scope design while the Vortex LHT represents the newer trend of "short" scope designs and is about an inch shorter than the Bushnell while offering greater magnification range. But other areas of note are:
Weight: The Vortex is about 5 ounces lighter
Field of view (FOV): Both scopes match exactly at 4.5x, these are not wide angle eyepieces like with the Burris XTR III
Close focus distance: Bushnell has a typical 50y while Vortex offers down to 25 yards
Zero Stop: Bushnell has a zero stop that does not interfere with the elevation travel while Vortex's RevStop limits travel to just 11.5 mrad.
TURRETS​
This review does not cover the accuracy of each scope but covers the functionality – since any manufacturer is capable of producing a lemon it's always a good idea to test your scope to ensure its mechanical accuracy.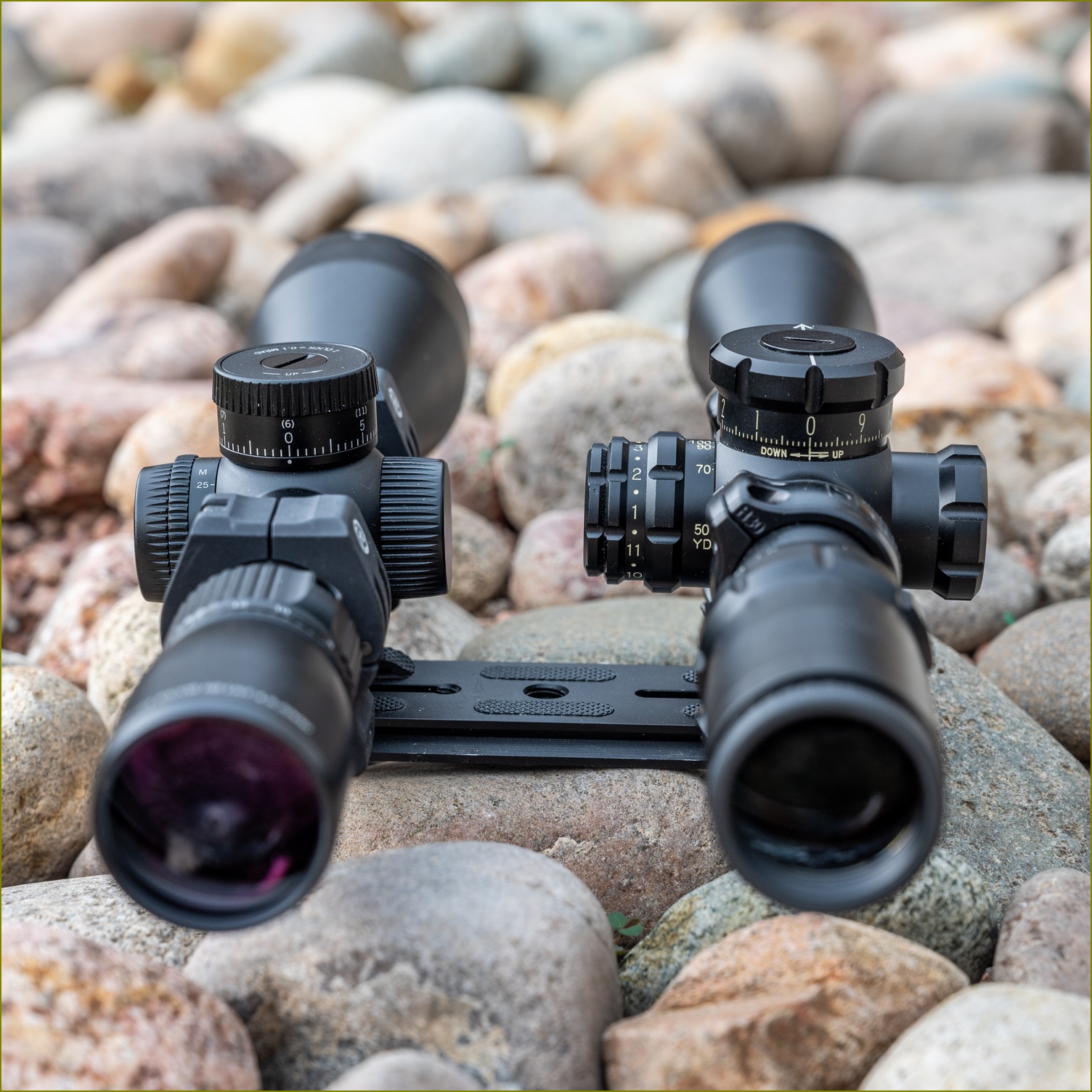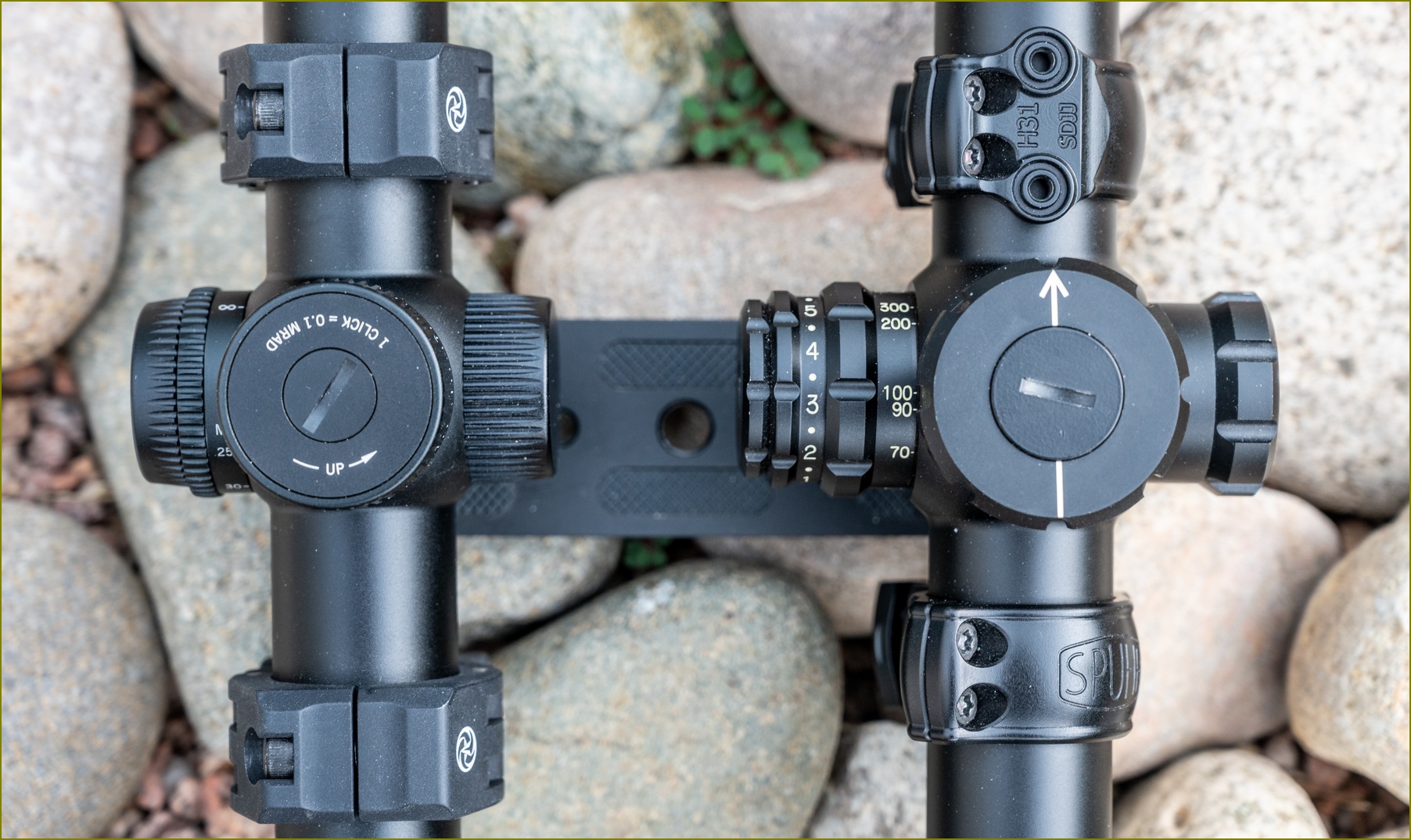 Bushnell Elite Tactical LRHS/LRTS Turrets​
The LRHS/LRTS style have always been decent turrets, not too high and being pretty large in diameter allows a secure grip even if wearing gloves. Turrets have had a good track record of being repeatable. Capped windage which is a nice feature for a crossover scope that isn't going to be dialed for wind.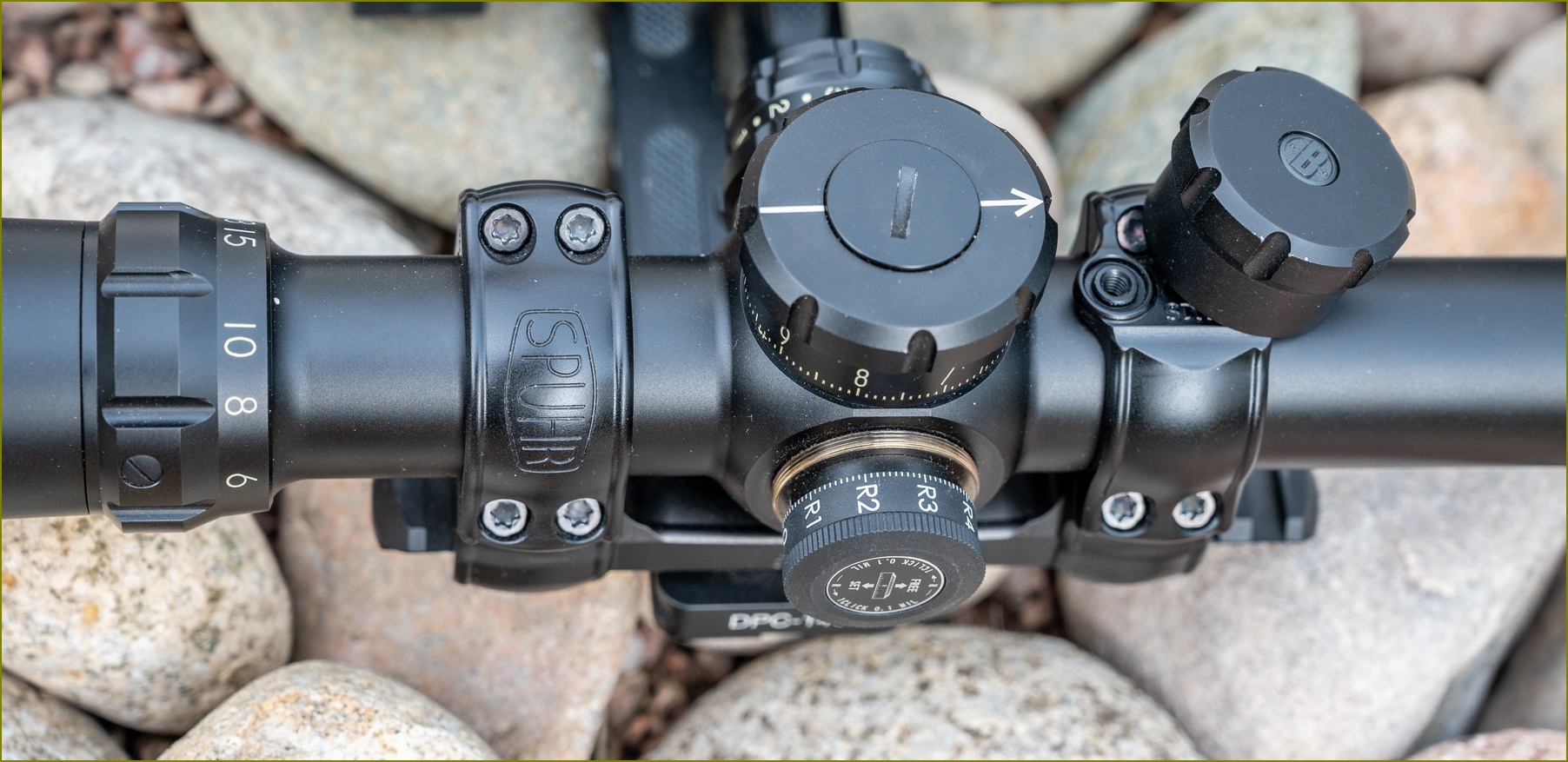 Vortex Razor HD LHT turrets​
Being a brand new design and part of Vortex's revered Razor line I have to be honest and say I was expecting a bit better turret here (with regard to feel), but having had some experience with the previous LHT SFP 3-15 scope I would say the turrets have pretty much the same feel which is to say they are decent. Capped windage which is a nice feature for a crossover scope that isn't going to be dialed for wind. Neither of these scopes offer anything close to a Tangent Theta experience.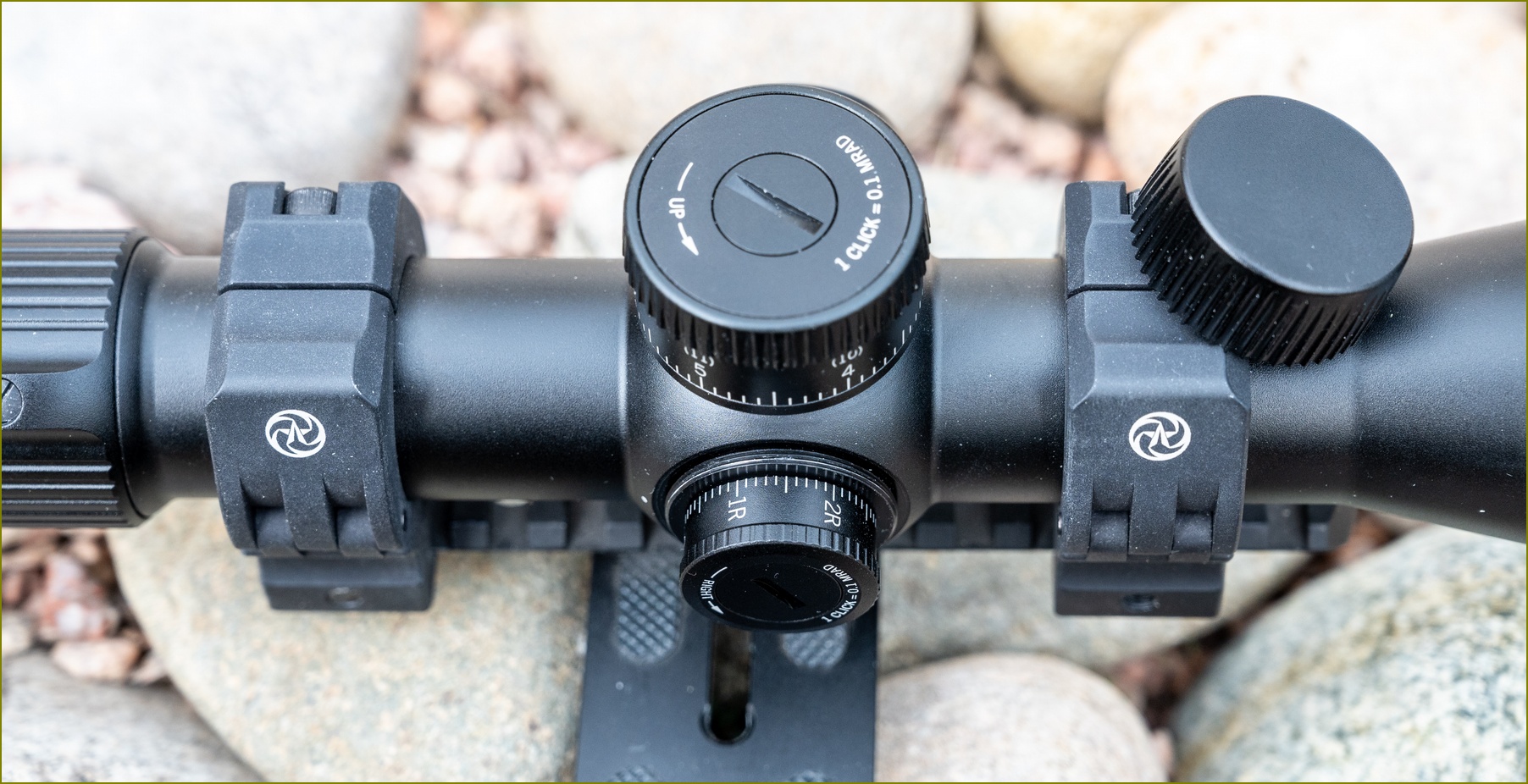 Turret in the unlocked position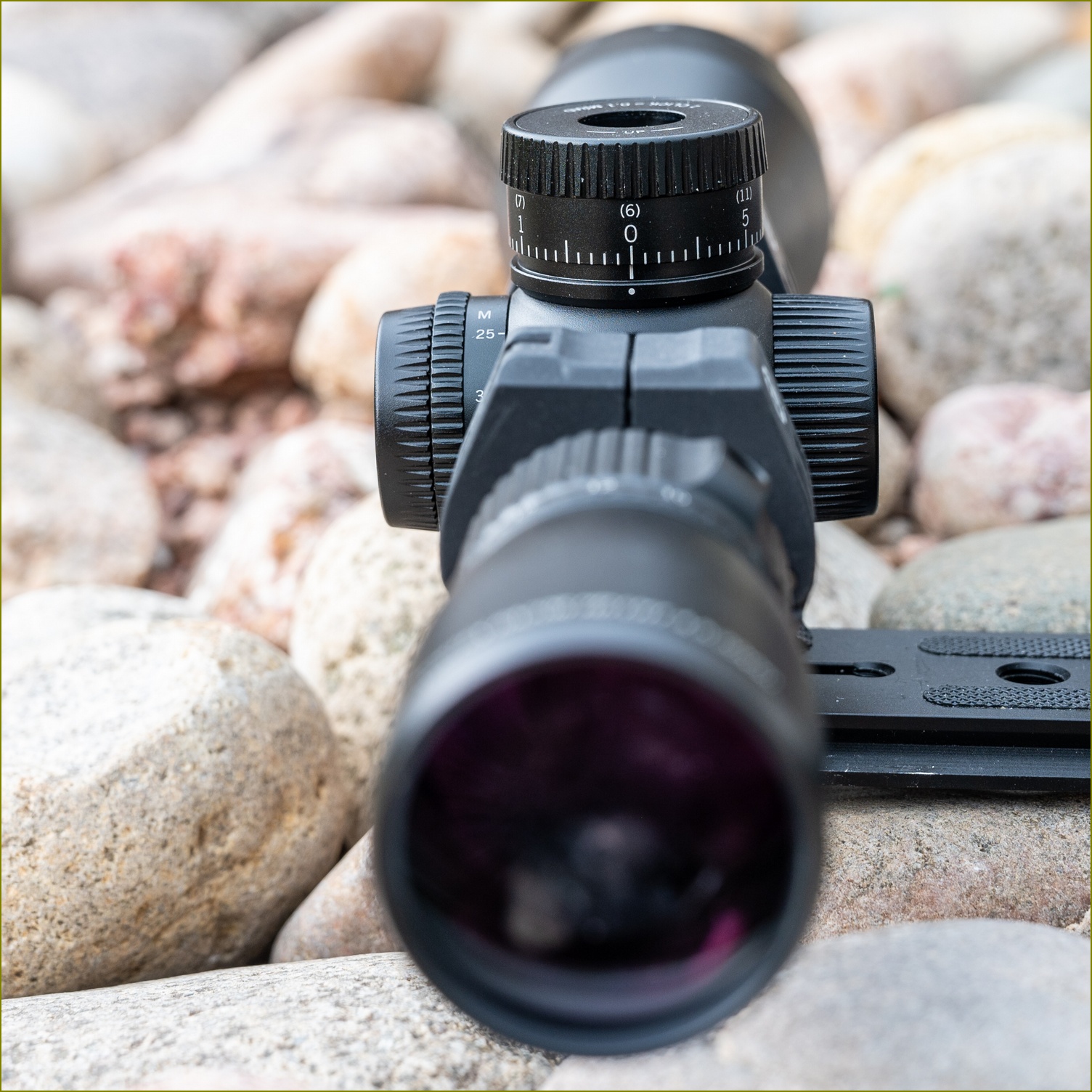 Turret Mechanical Assessment criteria (rating 1-10 with 1 being worst and 10 being best):

Turret Click Spacing – Advantage Vortex LHT: Vortex LHT – 8 | Bushnell LRHS – 7
This is more or less a personal preference, but my hand feels better with wider spacing. While the Bushnell has a larger diameter elevation turret it is 10 mrad per rev and the Vortex is only 6 mrad per rev giving it a slight spacing advantage.
Turret Click Feel – Advantage Vortex LHT: Vortex LHT – 7 | Bushnell LRHS – 6
This can be very subjective, but I am drawn to more distinct click sounds with very little play between marks, the Vortex has distinct clicks with little play that is somewhat muted, the Bushnell has more "wiggle" between clicks and also muted.
Turret Alignment – Advantage Bushnell LRHS: Vortex LHT – 8 | Bushnell LRHS – 6
Both Bushnell LRHS and Vortex LHT turrets aligned perfectly through my testing running the turret out to the extreme and back. Because of Bushnell's translatable design, it does rise pretty high above the center mark which gives a slight perception you are off mark if your eye is not perfectly centered. I much prefer the non-translatable design of the Vortex LHT which does not rise or fall with revs of the turret.
Turret Reset Zero and Zero Stop – Advantage Bushnell LRHS: Vortex LHT – 6 | Bushnell LRHS – 8
In order to reset zero on the Vortex LHT you have to remove the top cap on the turret housing using a coin, flathead screwdriver or cartridge rim, then lift up the turret and spin the turret to align zero and push back down and re-tighten the cap, if you want to have zero stop you must use the included RevStop tool and place it inside the turret mechanism while it is removed; however, use of the RevStop will limit your elevation travel from zero to only 11.5 mrad. The Bushnell uses a similar feature where you use a coin, screwdriver or cartridge rim to remove the turret screw at the top of the turret then remove the turret knob and return it to the turret with the "zero" mark on the knob lining up with the vertical index line on the turret. To reset zero – loosen the three Allen set screws found on the perimeter of the black inner locking ring. Turn the RevLimiter disk clockwise until it contacts the fixed pin at the bottom of the turret. Return the turret screw to top of knob and tighten making sure the knob is in the "lock" position so the knob does not turn while tightening the screw.
Turret Locking Mechanism – Advantage: Vortex LHT – 8 | Bushnell LRHS – 0
No contest here if you're looking for locking elevation as the Bushnell does not offer it while the Vortex uses a lift up to unlock mechanism similar to that found in the AMG series long range scope.
Total Travel Adjustment – Advantage Bushnell LRHS: Vortex LHT – 5 | Bushnell LRHS – 7
Vortex LHT offers a total of 22.4 mrad of elevation travel but reduced to 11.5 mrad when using the zero stop tool while Bushnell has 24mrad of usable travel even with zero stop. On the windage side the Bushnell offers over double that of the Vortex with 20 mrad of travel vs. Vortex's 6 mrad.
Overall Turret Mechanical Assessment – Advantage Vortex LHT: Vortex LHT – 42 | Bushnell LRHS – 34 (50 points possible)
If a locking elevation turret doesn't matter to you the numbers may be a bit skewed because Bushnell gets a zero for their lack of a locking feature, if we were to eliminate the locking mechanism section then the results would be tie with Vortex at 34 and Bushnell at 34.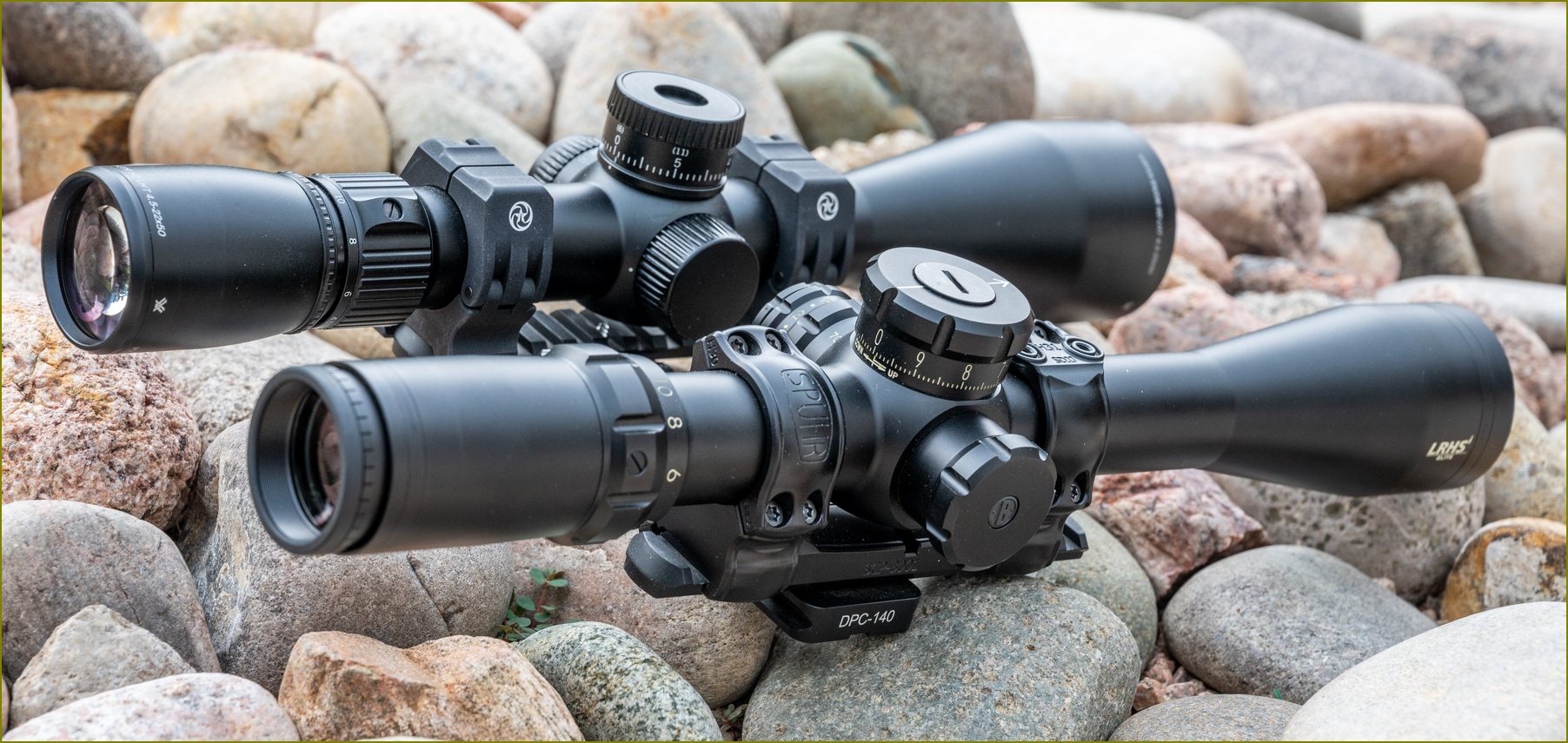 MECHANICAL ASSESSMENT OF MOVING PARTS​
Besides the turrets you have other moving parts on a scope: the magnification ring, the parallax adjustment and an illumination module, which all require some type of adjustment. Sometimes manufacturers make the resistance too tough or too light. These parts are evaluated based on "resistance" which allows them to turn freely with two fingers, but not so loose that they could get bumped out of position accidentally.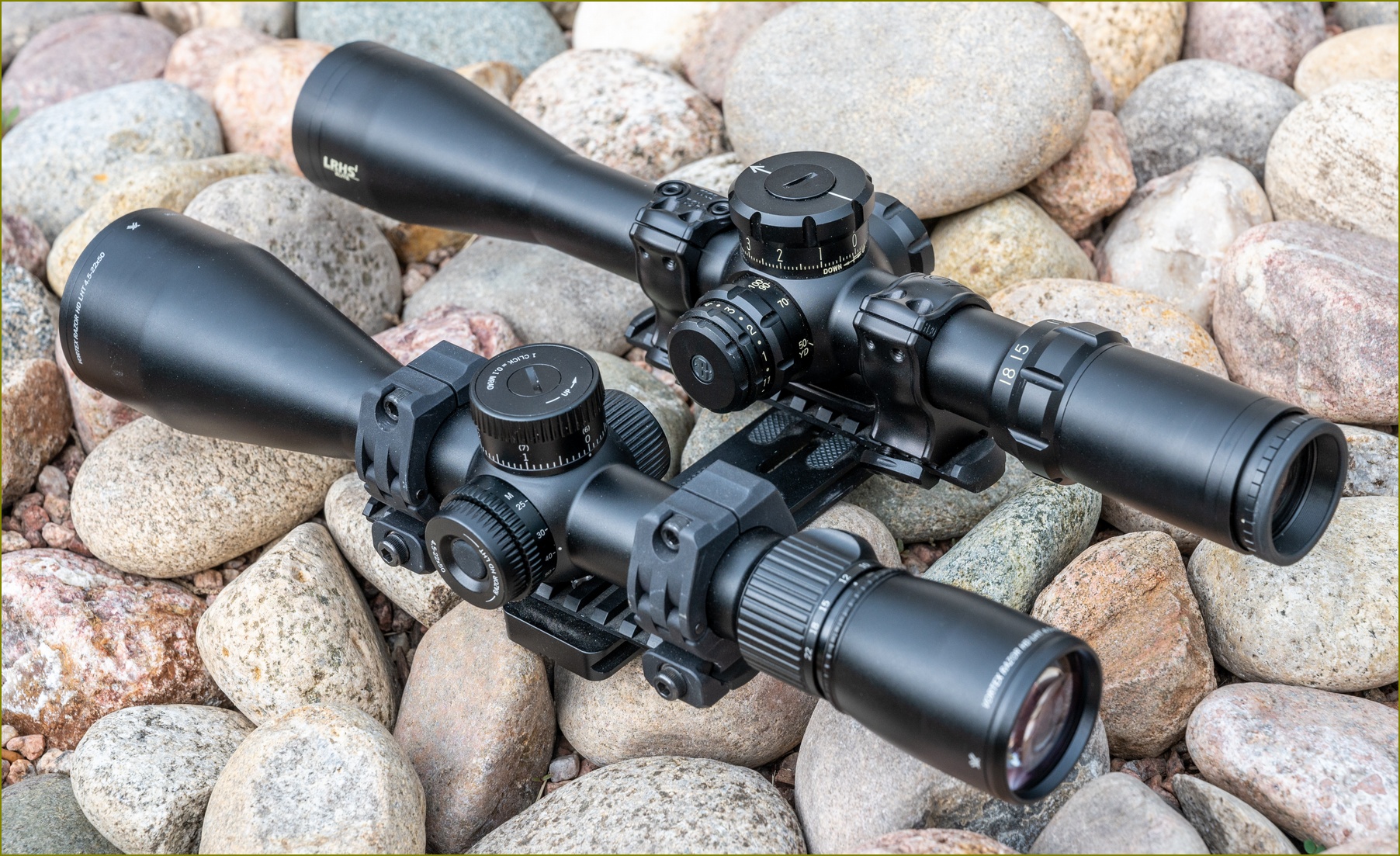 Mag Ring, Parallax, Diopter and Illumination Mechanical Assessment criteria (rating 1-10 with 1 being worst and 10 being best):

Magnification Ring Movement – Advantage Bushnell LRHS: Vortex LHT – 6 | Bushnell LRHS – 8
There may be sample variance here but I can only assess the scope(s) I have in hand. The Vortex has pretty significant resistance requiring quite a bit of force with just two fingers while the Bushnell has very good resistance using just two fingers.
Parallax knob Movement – Advantage Vortex LHT: Vortex LHT – 8 | Bushnell LRHS – 6
Parallax resistance between both scopes reveals the opposite experience of the magnification with the Bushnell having very tight resistance with the knurling digging in a bit in order to turn while the resistance of the Vortex was very smooth.
Parallax Adjustment – Tie: Vortex LHT – 7 | Bushnell LRHS – 7
Both Bushnell LRHS and Vortex LHT has distance numbers marked, this doesn't matter much to me as atmospherics can throw off your parallax settings from day to day so I'm almost always turning to a place where image is in focus and parallax eliminated. Both scopes offered very good parallax forgiveness.
Diopter Adjustment – Advantage Vortex LHT: Vortex LHT – 8 | Bushnell LRHS – 6
Both the Vortex LHT and Bushnell LRHS offer a "fast focus" diopter allowing for quicker adjustments, but only the Vortex offers a threaded locking ring to help keep the adjustment from moving after being set. Resistance on both was ideal.
Illumination Dial – Advantage Bushnell LRHS: Vortex LHT – 6 | Bushnell LRHS – 8
Vortex LHT is using a rubber cover over a push button for on/off/setting functionality on the side of the dial, when at the top or bottom of the highest or lowest settings the illumination will flash letting you know the next push of the button will be in the opposite direction. The Vortex will remember the last setting after turning off so when turning back on it will revert to the previous setting. To turn off you must hold the side button in for more than three seconds. I find the Vortex to be difficult to quickly adjust up or down. Bushnell LRHS uses a dial with on/off positions as you rotate from lowest to highest power settings with on/off in between which gives it an advantage.
Overall Mag Ring, Parallax, Diopter and Illumination Mechanical Assessment – Tie: Vortex LHT – 35 | Bushnell LRHS – 35 (50 points possible)
Both the Bushnell LRHS and Vortex LHT have very good design with slightly different functionality, each have areas of improvement while being more than capable in the field. If Vortex had a dial setting for illumination it would have provided an advantage.
OPTICAL QUALITY​
One of the most difficult areas to ascertain with any manufacturer is the quality of glass they use in a given scope model, or rather, how the image looks to the shooters eye when viewing the sight picture through the scope. Traditionally when it comes to optics one generally "gets what they pay for" and hence the higher end optics tend to have the higher end prices; however, with new design technologies we have seen some scopes punch above their weight class. It is impossible to take images through the scope to show the quality of the image to the naked eye, this is because any image capturing device (e.g. camera) also has its own lens system which introduces its own optical aberrations and if the system is better aligned on one scope verses another it may throw off values; therefore, you will not see any through the scope images because I do not want to skew opinion based on IQ of one image over another. So, for this evaluation I took meticulous notes based on my naked eye observations under as best controlled conditions I could get outdoors. Scopes were tested at multiple magnification points: 4.5x, 8x, 10x, 15x, 18x and 22x (on Vortex) and a weighted average was obtained for the ratings below.
Optical Assessment criteria (rating 1-10 with 1 being worst and 10 being best):

Resolution (Center) – Tie: Vortex LHT – 9.2 | Bushnell LRHS – 9.2
Looking through both scopes at distance (1000 yards) you are often dealing with atmospherics that can wreak havoc for any optical system, both these scopes performed nicely out to 1000 yards, I also used my resolution chart to evaluate line resolution at close range so atmospherics had minimal effect, when testing in these conditions I found that the LRHS has superb resolution that outdid the Vortex below 10x; however, if you plan on using the scope at 10x and above the Vortex has an advantage.
Resolution (Edge) – Advantage Vortex LHT: Vortex LHT – 8.7 | Bushnell LRHS – 7.6
The Vortex LHT had the clear advantage in edge to edge sharpness throughout the magnification range. The sweet spot for the Bushnell LRHS appeared to be in the 4.5-10x magnification range while the sweet spot for the Vortex LHT was between 4.5-18x albeit having slightly less definition from 4.5-10x than Bushnell. Keep in mind throughout my testing I found the edges of the Bushnell to be perfectly acceptable and was not distracted by the level of distortion.
Color – Advantage Vortex LHT: Vortex LHT – 8.3 | Bushnell LRHS – 8.0
If you've ever heard the term "it's all in the eye of the beholder" that in large part describes the experience of color for each of us. It seems our eyes have different sensitivity to different parts of the spectrum and while I tend to prefer "warmer" images and am somewhat put off by "cooler" ones, others see colors differently. For some reason, most Japanese manufactured optics tend to be on the cooler side while many European optics tend to be more neutral to warm. For this reason I have always gravitated towards European optics; however, I found the color of both the Vortex LHT and Bushnell LRHS to be very pleasing with a slight edge toward the LHT.
Contrast (High) – Advantage Bushnell LRHS: Vortex LHT – 8.8 | Bushnell LRHS – 9.0
My high contrast target has very bright white paper with very black lines, the numbers represent the smallest value I was able to discern. The Bushnell had surprising high contrast performance throughout while the Vortex was not far behind.
Contrast (Low) – Advantage Vortex LHT: Vortex LHT – 8.8 | Bushnell LRHS – 8.6
My low contrast target has a gray background with darker gray lines, the numbers represent the smallest value I was able to discern. The advantage the Bushnell had on the high contrast target seems to be reversed with the low contrast as the Vortex performed slightly better with the Bushnell not far behind.
Clarity – Advantage Vortex LHT: Vortex LHT – 9.0 | Bushnell LRHS – 8.6
Sometimes known as "pop", the ability for the image to really stand out and come alive. The Bushnell peaked at 10x but had falloff above and below while the Vortex LHT showed very even performance throughout the magnification range giving it the overall advantage.
Chromatic Aberrations (CA) – Advantage Vortex LHT: Vortex LHT – 8.5 | Bushnell LRHS – 8.0
A hotly debated topic – CA, which is typically seen at the edges between high and low contrast objects in what is termed as fringing and usually comes in a band of color along the green/yellow and magenta/purple spectrum, some are greatly annoyed by this optical anomaly while others insist they cannot see it, one thing to know is it has nothing to do with your ability to hit a target, but can affect the clarity of the target. I tested for both center CA and edge CA. One other area is CA sensitivity with lateral movement off the center of the scope, you can quickly induce CA in these situations which are often rectified by proper cheekweld/eye placement behind the center of the scope. While the Vortex AMG 6-24 is one of the best when it comes to control of CA I found the Razor LHT to fall slightly behind in this area but better than some scopes in this class, in fact, I'd say the Razor LHT is one of the best performers when it comes to control of CA in the $1000 - $2000 class of scopes. The Bushnell LRHS exhibited more CA after 8x. What's impressive about the Vortex LHT's performance is that it is a shorter design with higher magnification range than Bushnell yet performed better, often times the shorter you make a scope the more it tends to struggle in this area so kudos to Vortex with the Razor LHT.
Depth of Field (DOF) – Advantage Vortex LHT: Vortex LHT – 9.7 | Bushnell LRHS – 9.2
The Vortex LHT has very impressive DOF up to 18x, objects outside of the plane of focus maintain sharpness and detail for quite a distance, the Bushnell is not as forgiving as the Vortex with slight falloff above 12x but better than other scopes in this class.
Mirage (effect) – Advantage Vortex LHT: Vortex LHT – 8.5 | Bushnell LRHS – 8.4
How much effect does mirage have on a scope, or put the other way, how much effect does the scope's optics have on mirage. Either way, I found that mirage affected both scopes almost exactly the same but did find that the Vortex had a slight advantage at higher magnifications.
Field of View (FOV) – Advantage Vortex LHT: Vortex LHT – 7 | Bushnell LRHS – 6
The new Vortex LHT 4.5-22x50 has decent FOV for a long range scope. Neither of these scopes showed any significant tunneling at low magnification. Outside of the specs which offer FOV numbers at the low and high magnification settings, keep in mind that FOV is not always a linear value so extrapolating actual values can be difficult. A couple years ago I began to measure the mrad value once I could detect it and for many long range scopes this is usually around 15x, sometimes lower depending on reticle design. Due to the reticle design of the G2H I could not get any numbers below 18x but both at 18x shows the Vortex has a slight advantage. The following numbers are from center so to get the full FOV value just multiply x2:
| | | |
| --- | --- | --- |
| Mag | Vortex LHT 4.5-22 | Bushnell LRHS 4.5-18 |
| 4.5x | 23.5' (spec) | 23.5' (spec) |
| 10x | 18? Mrad | NA |
| 15x | 11.5? mrad | NA |
| 18x | 10.1 mrad | 9.9 mrad |
| 22x | 8.1? mrad | |
Eyebox – Advantage Vortex LHT: Vortex LHT – 8.3 | Bushnell LRHS – 7.2
I have seen varied definitions of eyebox in the community, so to be clear, here is my definition which will help you understand what I am looking for – put simply,
eyebox is the ability to be able to quickly obtain a clear sight picture when getting behind a scope
. Both the Vortex LHT and the Bushnell LRHS showed decent eyebox forgiveness up to 10x with some falloff above but the Bushnell showed quite a bit of falloff above 10x.
Twilight Transmission (low light performance) – advantage Bushnell LRHS: Vortex LHT – 7.4 | Bushnell LRHS – 7.6
I set both scopes to 12x to allow for a larger exit pupil yet still give my eyes a challenge in the failing light. From about 20 minutes after sunset, I begin testing both scopes side by side as the evening became darker and darker. Throughout this time the Vortex with its larger 50mm objective maintained adequate brightness, but I was surprised to find that the Bushnell with smaller objective maintained excellent contrast and pop giving up very little with regard to brightness at least to my eyes.
Extreme Elevation IQ – tie: Vortex LHT – NA | Bushnell LRHS – NA
I set both scopes to 15x and dialed the elevation until it stopped at the top of the travel. This is a new feature I am beginning to test and I forgot to test on both these scopes hence the null value, unfortunately I have already sold my LRHSi so am no longer able to perform this comparison.
Overall Optical Assessment – Advantage Vortex LHT: Vortex LHT – 102.2 | Bushnell LRHS – 97.4 (120 points possible)
The Vortex LHT has a brilliant image from edge to edge with excellent color and pop while the Bushnell LRHS has slight edge distortion overall IQ. The Vortex LHT manages CA better while the Bushnell LRHS offers superb lowlight performance for having a disadvantage of the smaller front objective. The Vortex has very forgiving DOF while the Bushnell is not far behind. The Goldilocks zone (superb optical performance) for the Bushnell LRHS was from 4.5 to about 12x while the Vortex LHT was very impressive at 12x and above. One thing to note is that while both scopes are listed at 4.5x for low magnification and have the same FOV values, the Bushnell did seem to be slightly more "magnified" than the Vortex.
Special Note on Resolution:
As you can see in the chart below as you move from left to right the lines get closer together, with each scope I would place the optical center/crosshair where the lines began to blur together and I would note which section that occurred.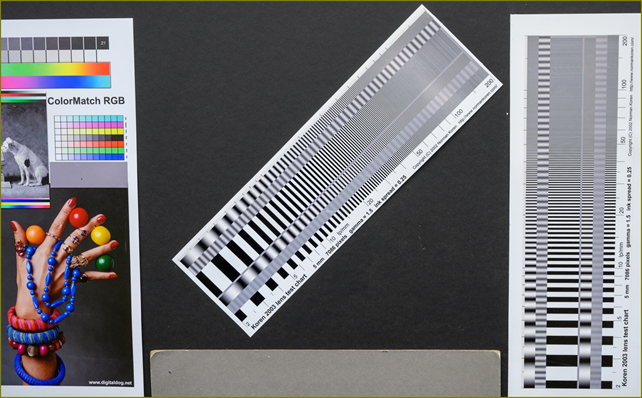 | | | |
| --- | --- | --- |
| Mag | Vortex LHT 4.5-22 | Bushnell LRHS 4.5-18 |
| 4.5x | 9-10 lp/mm | 9-10 lp/mm |
| 8x | 18 lp/mm | 18 lp/mm |
| 10x | 20-22 lp/mm | 20-22 lp/mm |
| 15x | 33-35 lp/mm | 35-37 lp/mm |
| 18x | 38-41 lp/mm | 38-40 lp/mm |
| 22x | 41-45 lp/mm | |
RETICLE & ILLUMINATION​
One of the most important choices one can make in a long range scope today is the reticle, this is, after all, what you will see every single time you bring the scope to your eye so it's important to make sure that it fits the needs of your shooting style. That being said, reticle selection or preference is extremely subjective and saying Brand X reticle is "the best" is like saying "Brand X vanilla ice cream is the best" – we all have different tastes, and the good news is that there are many options available to the long range community. With this in mind, my ratings below should be taken with a grain of salt because they are based on MY preference, but I will explain what I like and why, which should help you understand if it might be something you would like or not like even though I may have a differing opinion.
Reticle & Illumination Assessment criteria (rating 1-10 with 1 being worst and 10 being best):

Reticle Usability – Advantage Vortex LHT: Vortex LHT – 9 | Bushnell LRHS – 8
The reticle in the Vortex LHT is their new XLR-2, which is my favorite design yet from Vortex. The reticle provided in the Bushnell LRHS is their G2H design which is unique in that it offers what has been coined as the "circle of death" representing the vital zone for a lot of North American big game critters. The XLR-2 offers the newer .2 mil hash design with dots in the Christmas tree, which I prefer, because they do not obscure the image as much as the solid lines of some other tree designs. The G2H has solid lines in the Christmas tree but since the tree is so small it does not obscure much. The thickness of the G2H along with the circle of death quadrants make this reticle ideal for low magnification use while the XLR-2 offers a much better long range reticle. Depending on your particular use case you may rate one reticle over the other, but for me personally I like a reticle that offers a little better performance for long range use so give the slight advantage to the XLR-2 here.
Illumination Color and Brightness – Advantage Vortex LHT: Vortex LHT – 9 | Bushnell LRHS – 8
Both scopes offer red illumination as the only option. Both scopes performed very well with brightness offering what I consider to be daylight bright for a long range scope, keep in mind these will not give you RDS brightness, but enough that I can see red on bright sunlit objects. Both scopes did show slight bleed on highest settings which is not surprising for how bright both reticles get, this bleed disappears as illumination brightness is dropped. The thick portion of the G2H is illuminated on the Bushnell including the circle of death while only the center cross (resembling the Christian cross pattern) is illuminated on the Vortex, some would argue that they'd prefer the entire tree to be illuminated while others would say only the crosshairs.
Overall Reticle & Illumination Assessment – Advantage Vortex LHT: Vortex LHT – 18 | Bushnell LRHS – 16 (20 points possible)
Both scopes offer some of the best illumination I have seen in a long range scope.
ERGONOMICS​
Overall Ergonomic Assessment – Advantage Vortex LHT: Vortex LHT – 8 | Bushnell LRHS – 7 (10 points possible)
Bushnell LRHS excels with the traditional design in long range scopes, offering very good features that are easily accessible. Yes, the Vortex is handicapped a bit with the illumination push button design but makes up for it with the locking elevation turret, but the Vortex does boast a shorter and lighter design giving it the advantage over the Bushnell for ergonomic benefits.
FIT & FINISH​
Overall Fit & Finish Assessment – Tie: Vortex LHT – 8 | Bushnell LRHS – 8 (10 points possible)
Both of these scopes are made in Japan and offer very similar characteristics. There is room for improvement in both and in the end I rank them as a tie. The Vortex is brand new but there are no features it exhibits that really push it above the already superb quality of the LRHS/LRTS series.
PRICE​
Overall Price Assessment – Advantage Bushnell LRHS: Vortex LHT – 8 | Bushnell LRHS – 9 (10 points possible)
This is a bit hard as I am comparing the Vortex to a now discontinued optic in the Bushnell LRHSi, a more fair comparison would be to the new Bushnell LRHS2 but as mentioned at the beginning of this review I do not think a scope without illumination is a worthy competitor for a crossover design. Even so, when the LRHSi was new it was just below $1500 which is right where the Vortex is at today. For this reason I feel the Bushnell has a slight advantage at price point but given that the Vortex has a 5x erector compared to the Bushnell's 4x erector this seems to be an acceptable difference.
Final Score – Advantage Vortex LHT: Vortex LHT – 221.2 | Bushnell LRHS – 206.4 (out of 270 possible points)​
It should come as no surprise that Vortex LHT takes the blue ribbon in this competition, but the Bushnell LRHS has proven to be a confident runner up. This was kind of an "unfair" comparison to begin with as we are comparing a brand new scope design to a discontinued model. As an overall package for a crossover scope, the Vortex really has no competition especially if weight is your primary concern. The Bushnell LRHS bests the Vortex LHT in several areas including low magnification resolution and low light performance. What this also shows is that the LRHS/LRTS is a very competent design and if low magnification is your priority it would benefit you to watch the classifieds for a used one to come available, outside of that the Vortex is the clear winner and should be highly considered.
Areas of Improvement​
Vortex LHT​
The first item that comes to mind is for Vortex to design an illumination module that has a dial with on/off settings. I would also like to see a design for RevStop that does not impede overall elevation travel. For low magnification use the XLR-2 reticle could use a circle of death quadrant to help identify center. Also, while the Vortex LHT with its 50mm objective did a decent job in low light, I expected better performance, not sure if this might be with their multicoating or some other issue but also noticed there seemed to be quite a bit of light falloff after 16x when doing my through the scope reticle images and manual ISO/Aperture/Shutter settings.
Bushnell LRHS​
Many thought the LRHS2 was going to be a redesigned LRHS and not just a glass upgrade, and many were also disappointed that GAP/Bushnell decided to remove illumination. The fact that the original LRHS has really good glass further hampers the excitement over the LRHS2, if the LRHS2 shortened their design and lightened the weight this would be a different story.
How does the Vortex LHT compare to Brand X?​
Often when I do these reviews, I get asked the question, "how does it compare to **insert favorite brand/model here**" and while I've gone through a number of scopes I simply do not have the money or time to try them all. What I can tell you is I did a brief comparison of the Vortex LHT 4.5-22 to the March 4.5-28x52 HM which is my favorite ultra short design to date and I can tell you that the March beats out the Vortex in just about every category. There is a reason you pay a lot more for alpha class scopes and that shows in this comparison. If there is another scope you'd like me to compare to the Vortex LHT then send me a PM and I'll send you my address and you can ship it to me and I'll do a side by side evaluation
Final Thoughts​
Finally, reiterating what I mention at the very beginning, I am biased (we all are) and I have my own preferences and this review and opinion has influence from that, hopefully I've done an adequate job throughout the review to share where my personal preference comes into play in order to help you better evaluate a particular feature. I might rank a reticle as a 10 but you would rank the same at a 7. Also, I am trying out this new "scoring" system based on something Frank brought up during 2020, I am not sure how I feel about it as so much of the ratings are subjective so I welcome your constructive feedback on how I can improve or simply get rid of it entirely.
I highly recommend you shop around with the current Snipers Hide dealers as prices will vary. Map has been set at $1499 but if you call the dealers they can sometimes beat MAP so it's worth your time to call around, also, some of the smaller dealers do not charge sales tax to many states making it a better deal as well.
Eye Candy​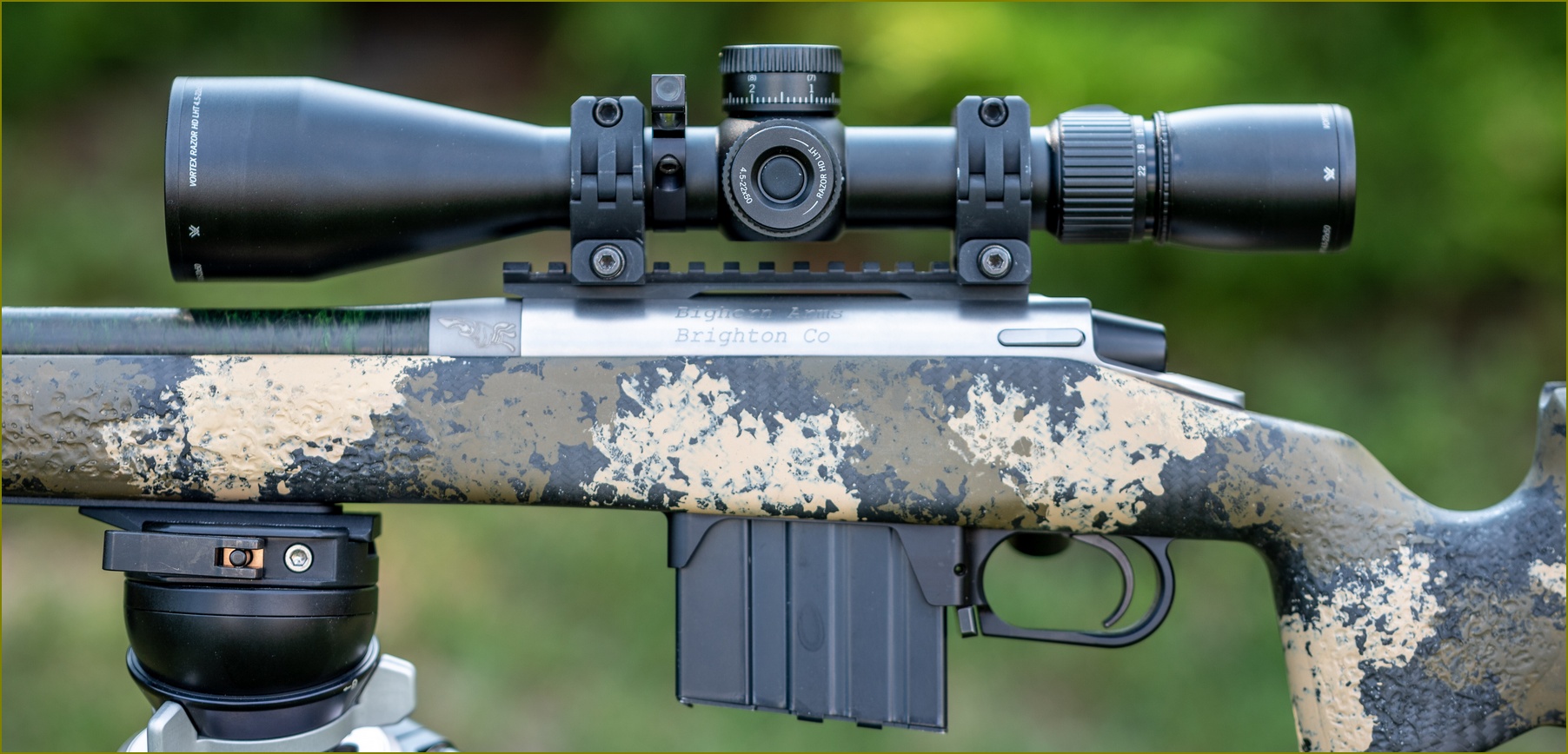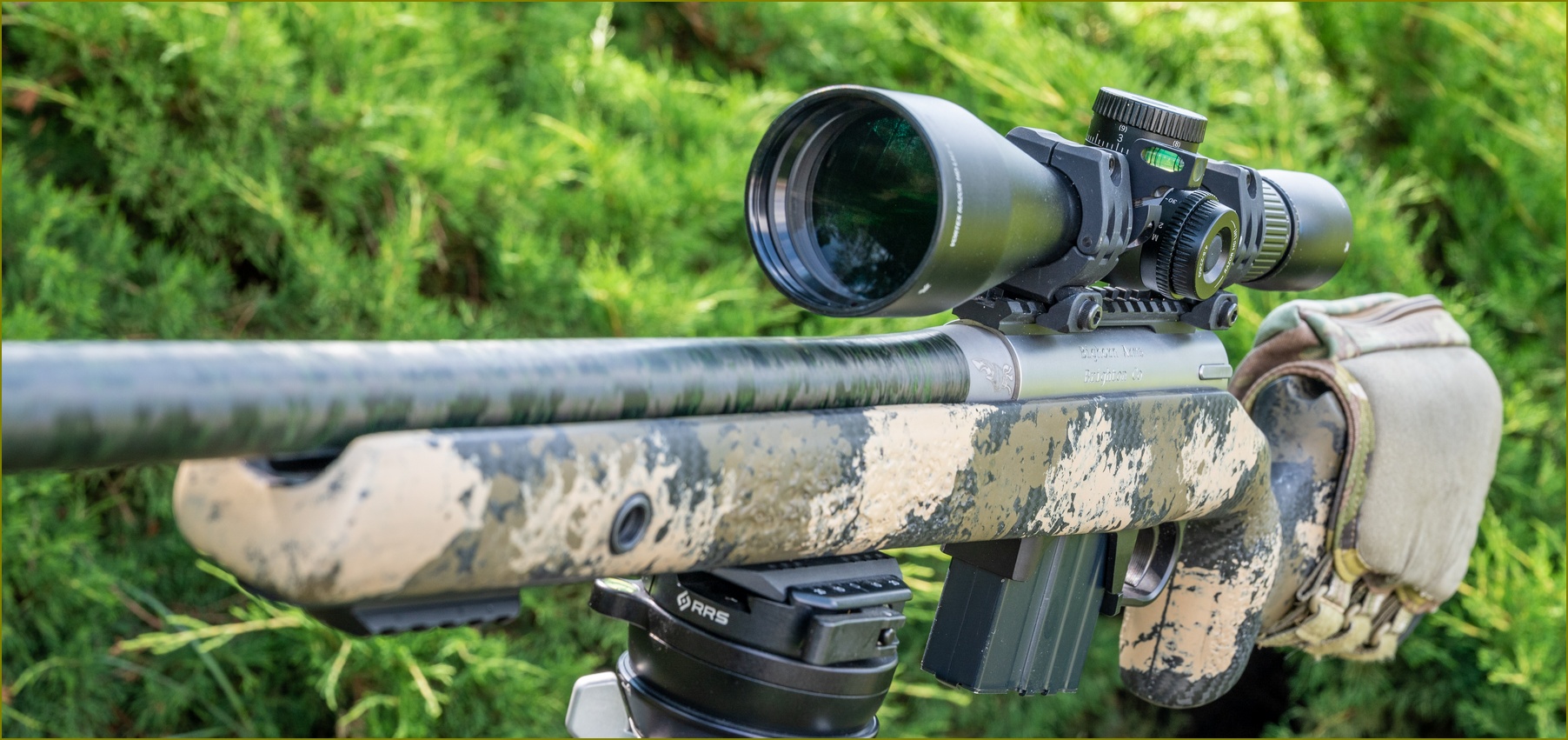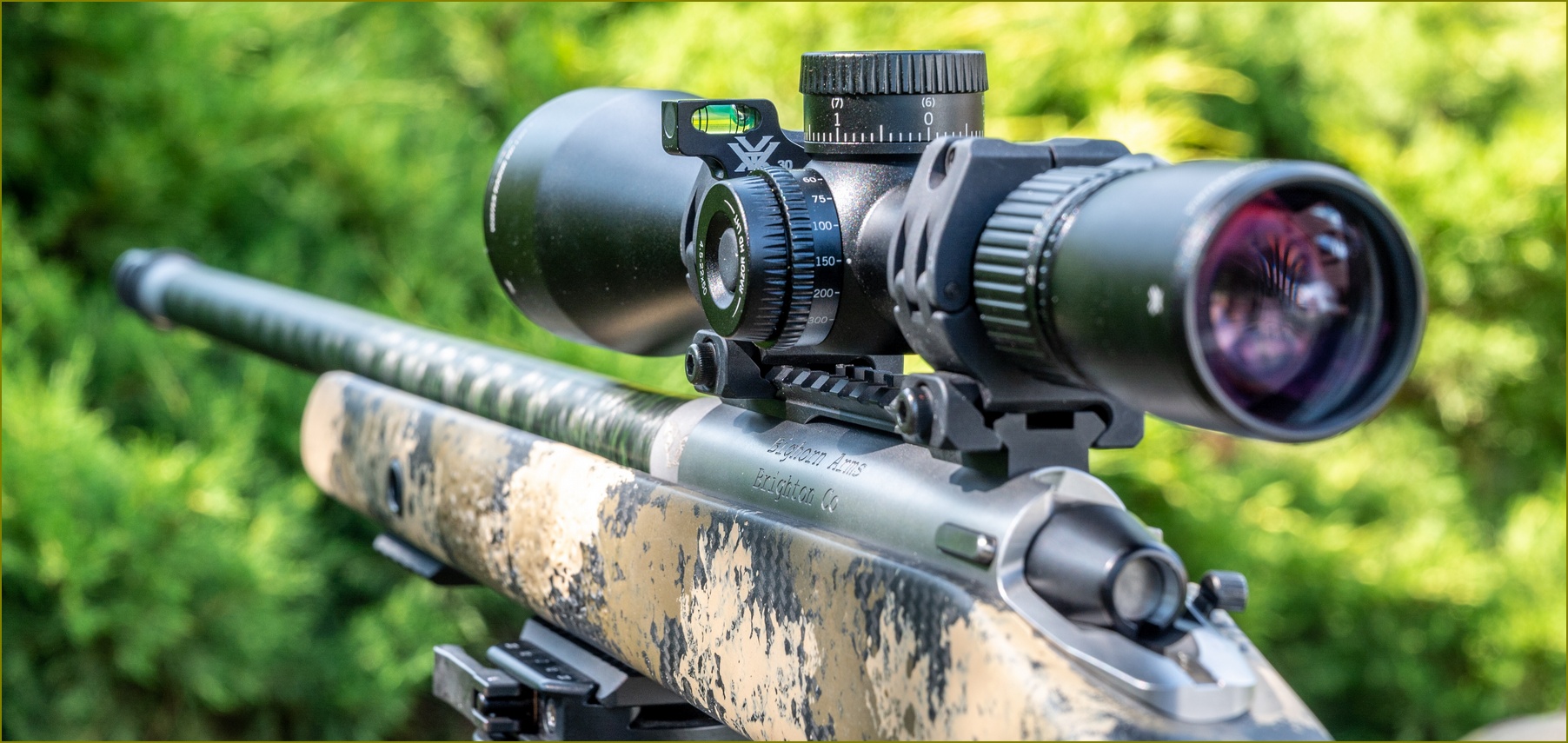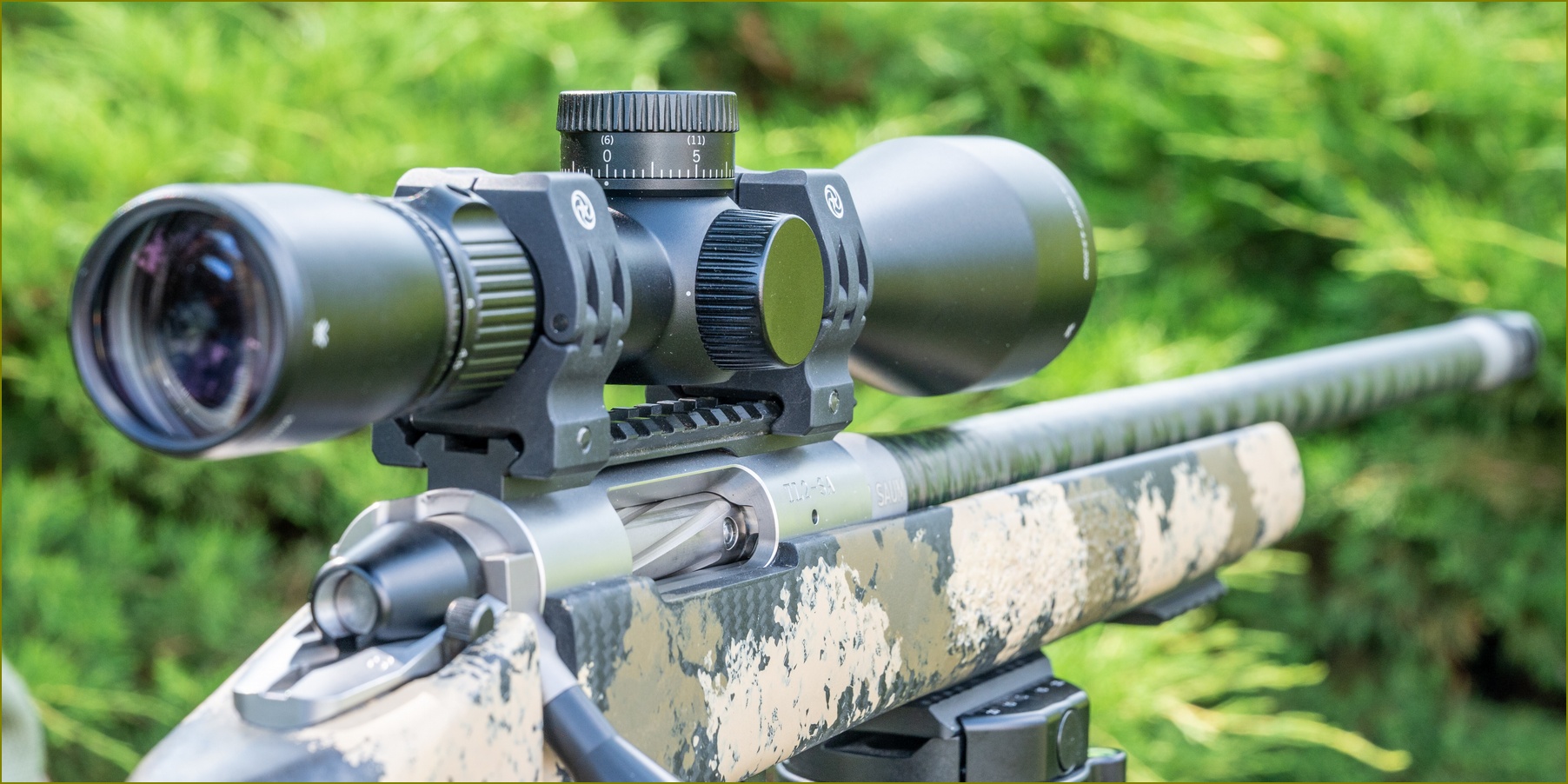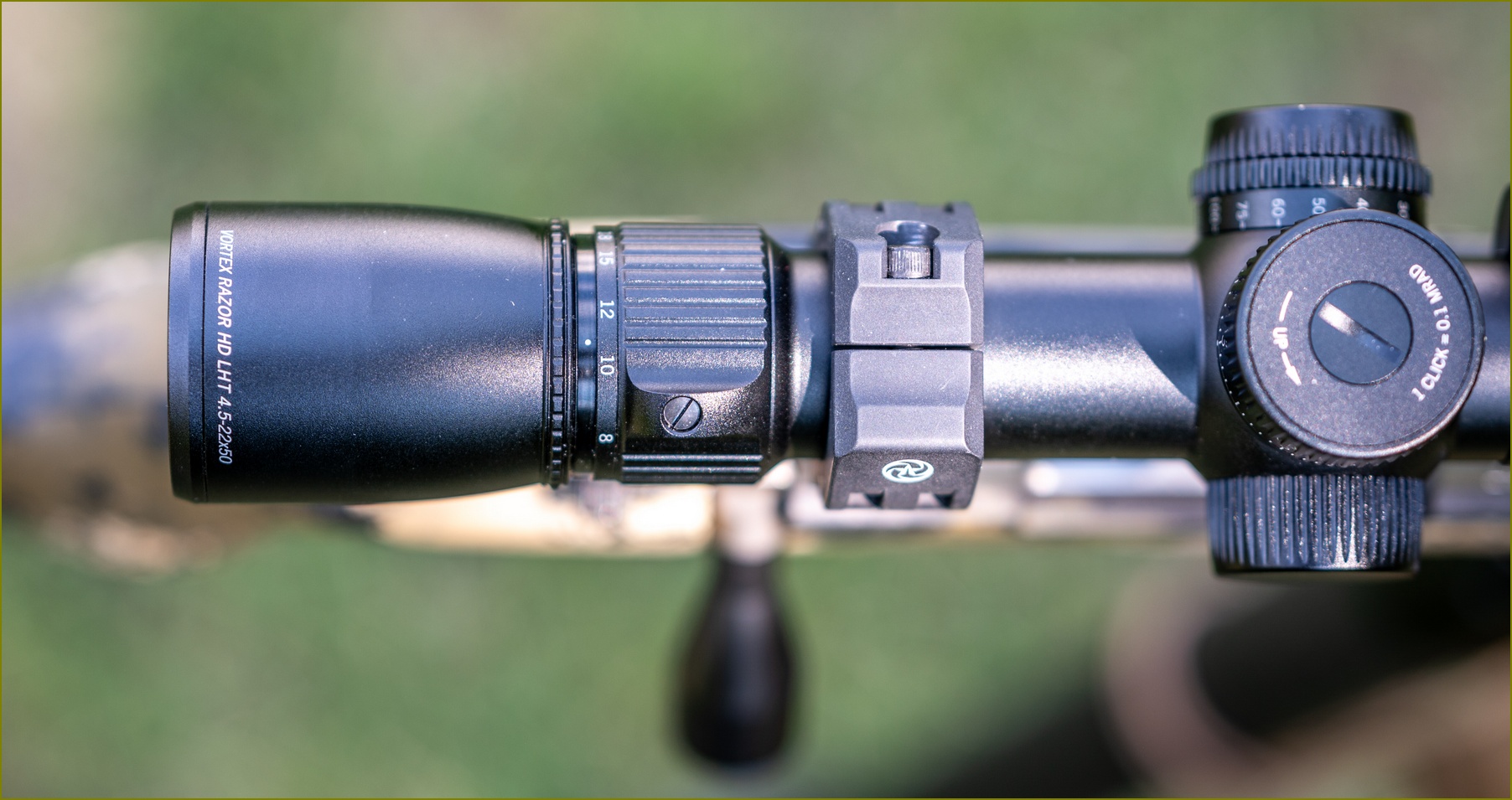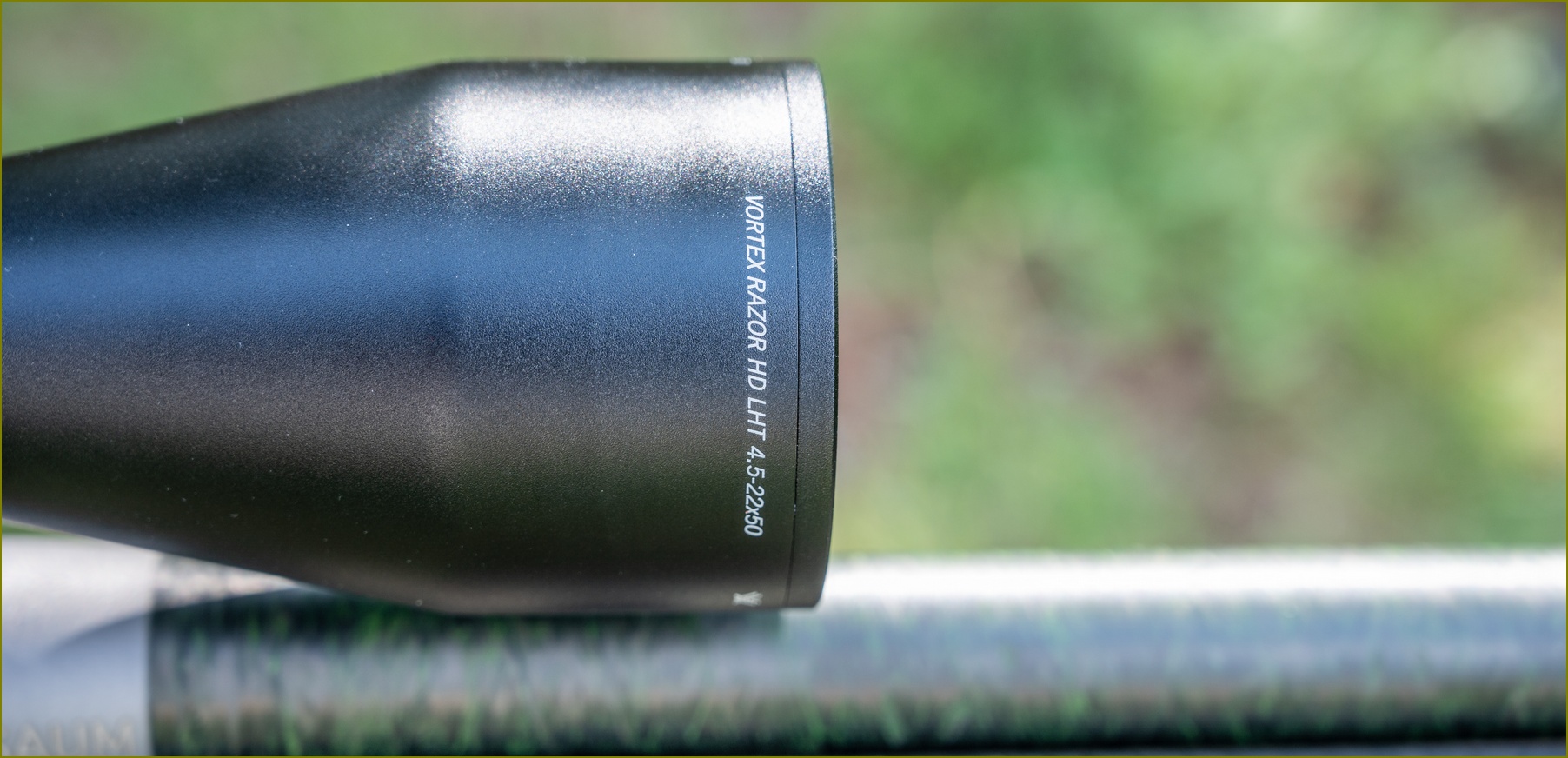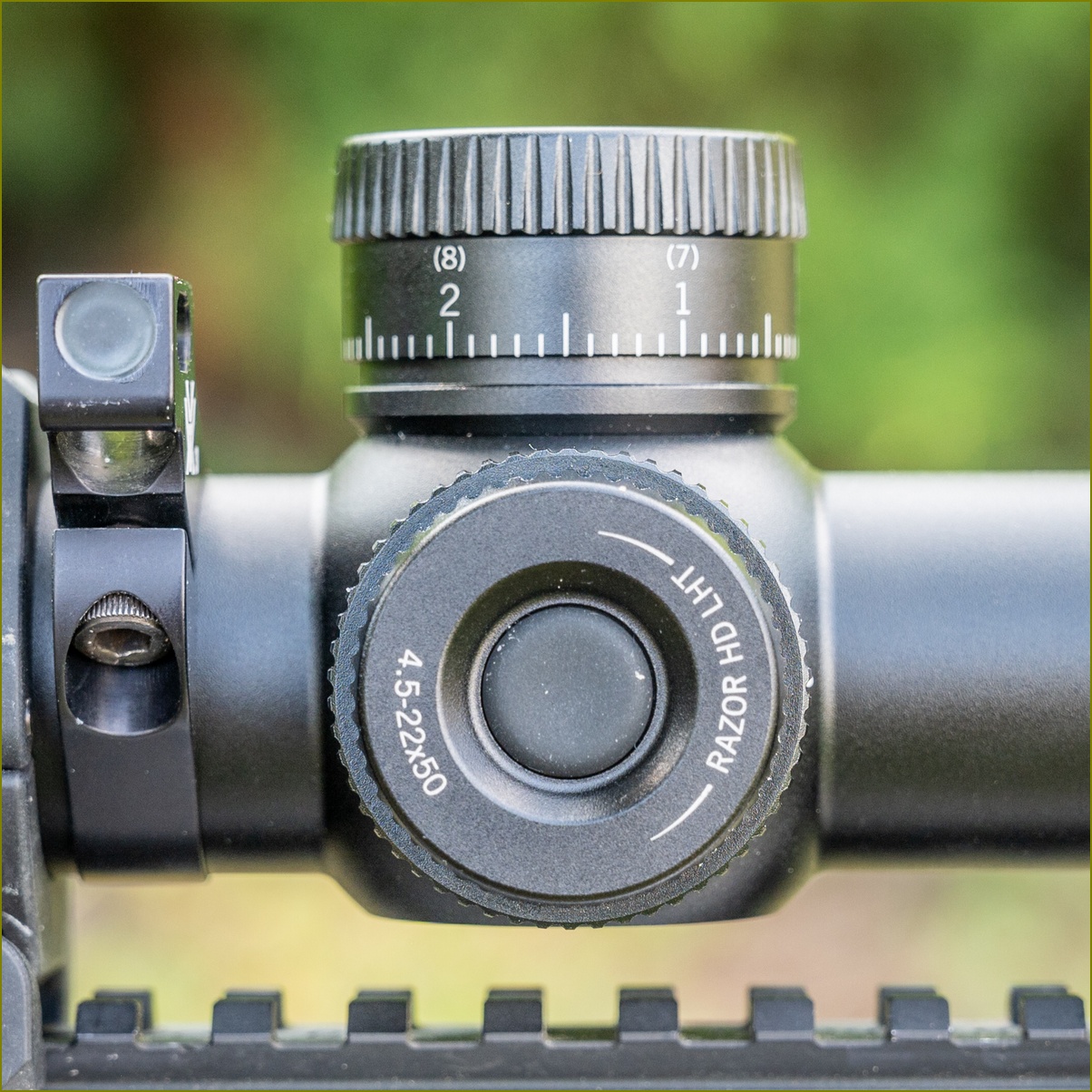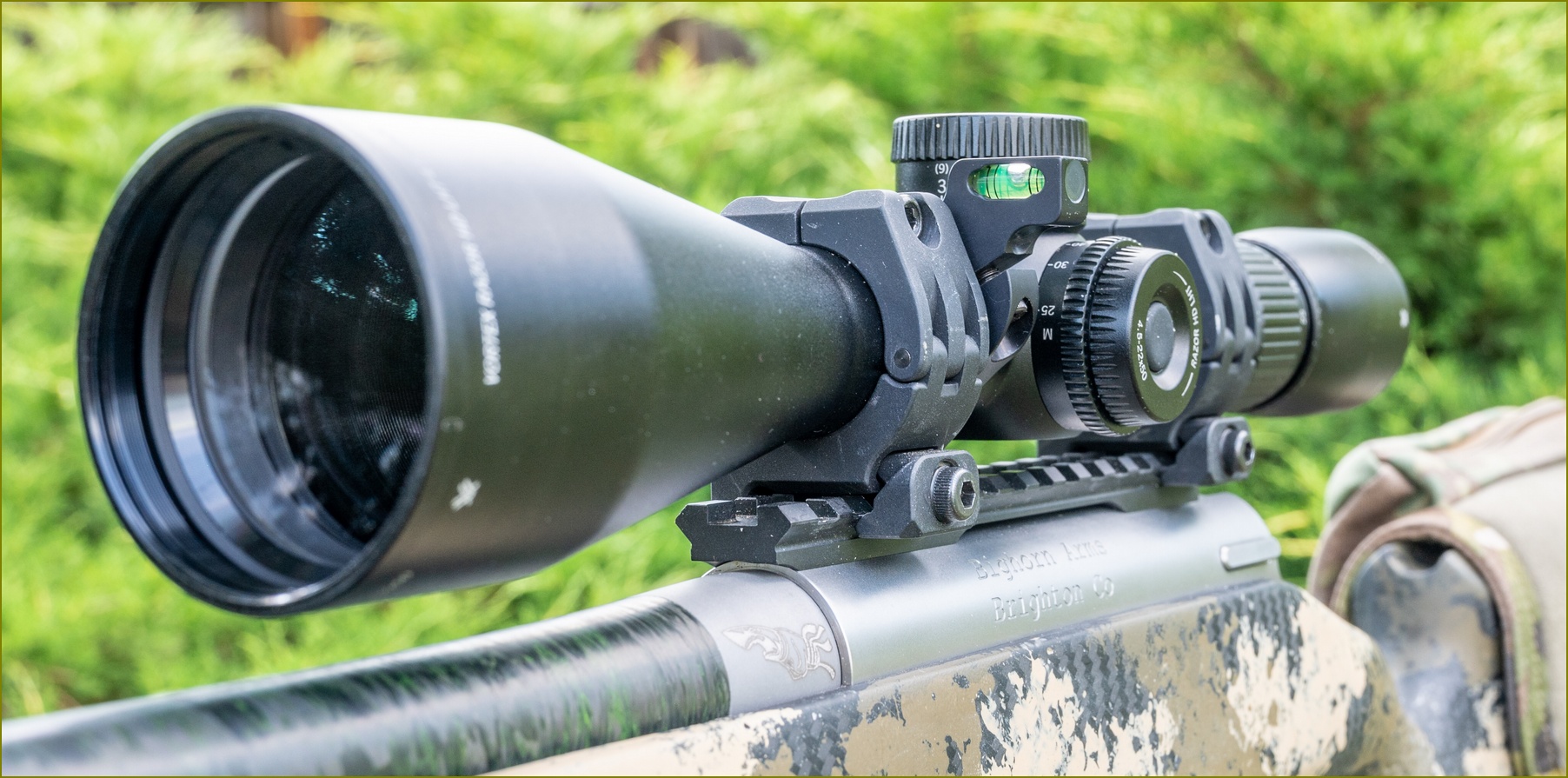 Last edited: