Major Hide Member
Full Member
Minuteman
I've seen several threads (on several forums) about leverguns here of late, all centered around modernizing them for "defensive" or "tactical" use.
I love lever guns.
Like all red blooded American boys, I grew up watching westerns. I wanted to be the "good guy" who would grow up to go get the "bad guy".
Still a levergun has no role in tactical use. Just my honest opinion. I've been to war. Sorry, (not sorry) I want my AR.
Now
defensive
use... that's a different story altogether. Now were talking the old "good guy V bad guy" type deal.
If the role of the weapon is to protect yourself and you family from criminals in a home defense role... now we're talking about an application where the old cowboy gun can still work.
So... let's talk about what MAKES a good "defensive" levergun.
Opinions, and insights welcome... just don't be an ass about it.
IMHO first consideration is caliber.
The two that shine above all others today are the .357 & .44 Magnums. These are in potent handgun calibers. They really smoke out of a carbine barrel, gaining quite a bit of velocity. Sure, a hunting round like 30-30 or 45/70, are more powerful, but being so also means they're designed for game. Sometimes LARGE game. Real good chance (damn near sure thing) they'll zip right through your average bad guy at defensive ranges.
That's what were talking about here for a "defensive" weapon.... Shooting at bad guys. (in other words, people) If you have to protect yourself from a criminal... it's not all that likely to happen on an empty mountain somewhere. It will be at home. (where ever that may be)
As said, the .357 & .44 Magnums are both potent handgun calibers, and they both gain velocity when fired through a carbine length barrel. The bullets, designed for handguns, (not talking hard cast hunting loads) will expand violently, dumping ALL their increased energy INTO the target. This rapid expansion most often also limits penetration to around 14 to 16 inches or so making the chances of shooting through so many walls less. That expansion, however, creates devastating wound channels. And yeah, you can still hunt deer sized game with them. (Though I wouldn't try it at 3oo yds)
Another consideration is ammo capacity. (you can never have too much right?) First thing... a levergun isn't even in the same ballpark as an AR. You don't get 30 rounds per mag, with very quick mag changes. Not only that, but the longer, more hunting oriented rounds like 30-30 & 45/70 vastly limit your already small magazine capacity. Capacity that is not only already limited, but that requires a lot more training to get fast with on reloading... than does an AR. Again, the magnum handgun rounds for the win.
Sights.
Ok, here again, us being levergun fans (or people living is less free states) are starting off behind the curve right outta the gate. Being a very old design, typical levergun iron sights leave a lot to be desired. If you don't want to add an optic, at least consider upgrading to a set of quality peep sights from one of the aftermarket companies now making products for our rifles.
Red dots. Being the author of this particular thread, and a combat veteran who somehow (by the grace of God) survived multiple combat tours (the last one getting pretty sporty at times) I'm just gonna come out and say it...
GET A RED DOT.
OK, sure, if your rifle is for multiple use, a LPVO may be a better choice. You can see the target better at range, and still have 1x (plus an illuminated reticule in most cases) for close in defensive duty. Thing is, a LPVO is still a "scope". That means it will still have "scope shadow" if you mount the gun wrong because your live is on the line, and you might just be freaking out a bit and rushing things. Or maybe you're hiding behind cover firing from some awkward shooting position, and can't get your head just right behind the scope. The eyebox on a scope will NEVER be as forgiving as that of a red dot. The newer ones are good, and theire getting better all the time, but there is still NOTHING... that is faster at target acquisition, than a red dot.
If it's a "defensive" rifle... get a red dot for it.
Weapon mounted light.
Lots of pros & cons people talk (argue) about when it comes to having a weapon mounted light on a handgun... but for a rifle...
Just put a light on it.
Takes both hands to shoot most rifles, (that is how they're designed after all) and it takes the both to run a levergun action, unless you dismount the gun between shots. Hand held lights just aren't gonna work here. Oh, and yes... you do need a light. Bad guys tend to like night time, or dark places. Besides, the planet is spinning so it's dark half the time anyhow.
On gun ammo.
Magazine capacity is ,as we've said, limited. Even with the shorted handgun rounds, you may be starting out with 9 or 10 rounds loaded... Now, for most defensive shootings, that's plenty.
Plenty unless there's multiple attackers perhaps...
Plenty unless & until you start missing the bad guys...
Good chance you will too. Especially when you're scared, mad, or both, and maybe you just got woke up at 3am to boot.
I've got multiple war deployments behind me, and can attest to the fact that I missed... a lot more than I hit.
Have a way to store some extra rounds on the gun be it an old school leather ammo cuff, one of the new styles (and ugly as sin) buttstocks, or what I did, just put the velcro ammo cards on them like you see on shotguns. These can be ordered in pistol calibers as well. 1o in the gun, 10 more on the stock makes for 20 rounds available just grab and go. If I have time to grab an extra ammo card, that's 10 more I can slap on when these are gone.
Here's my pick. (that I pray I never have to use)
A Chiappa 1892 takedown in .44 Magnum. (I also have a Rossi 92 in .357 Mag, but I like this one better.
First, it's a .44 Mag.
Secondly, it's a takedown, so it can go in a bag with me, hidden away from prying eyes to a hotel room when traveling.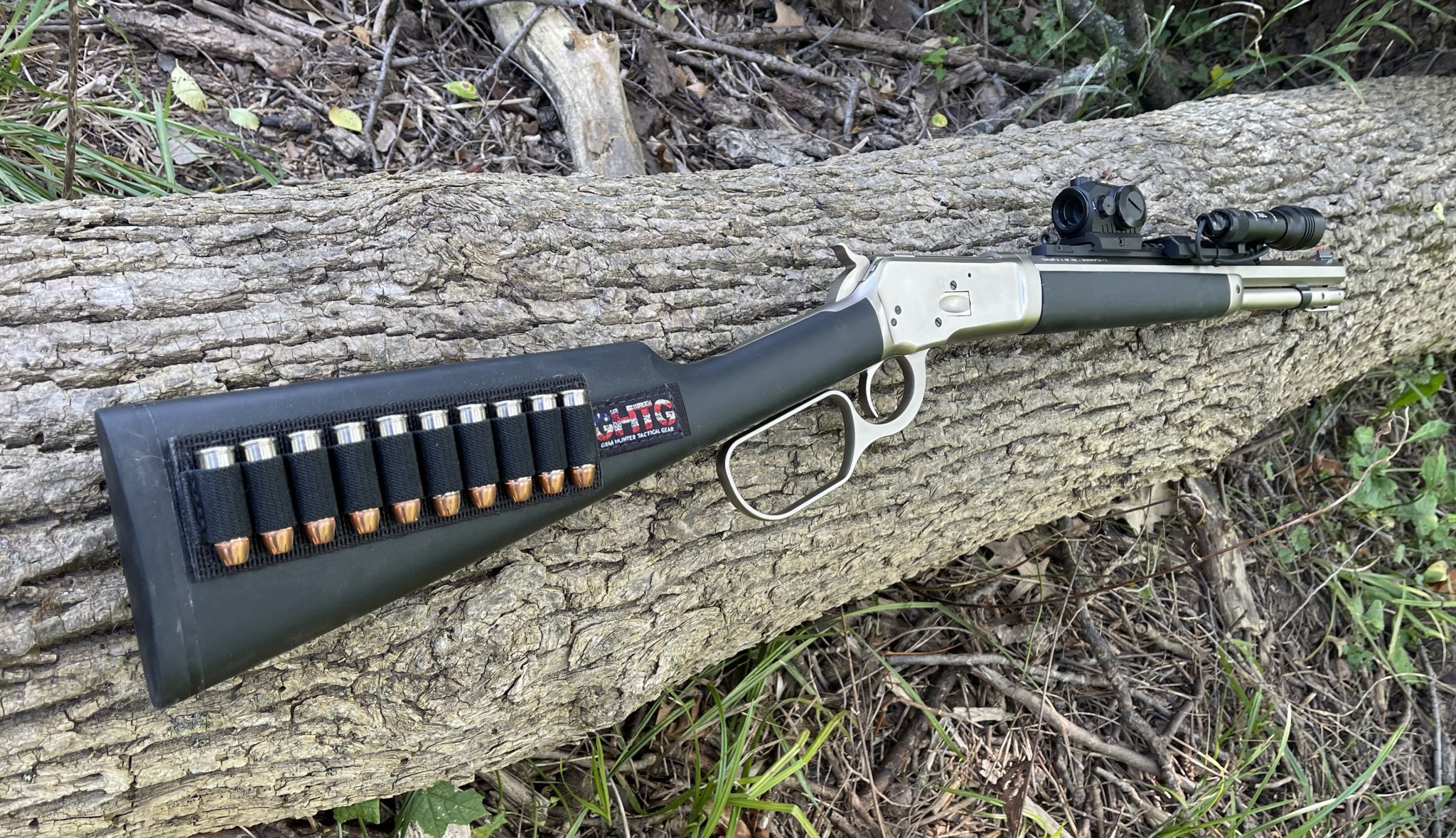 Discuss...
I mean it... Let's discuss.
I'm no certified expert. (though the wife may think I'm "certifiable" at times)
I don't work for Hornady or Chiappa.
Just throwing my thoughts and what I've learned out there.
Oh, and I meant to say discuss or GTFO... LOL.
If you don't feel a levergun makes a good defensive weapon... this is not the thread for you.
(that's what I meant by "don't be an ass about it" back at the top)
I hate it when people shit on a thread.
Last edited: