Quo Vadis?
PX Member
Minuteman
My wife and I were fortunate to win an auction hunt benefitting Jubilee Youth Ranch this year. She has been hunting with me for about 3 years now. The hunt was for one day access on J. Hair Farms in SE WA state. Let me start by saying what a great family the Hair family is. They were incredibly gracious to us during our time with them. We had a great time.
Jake Vibbert of Jubilee Youth Ranch and JC Steel was helping out with the hunt, and was able to come with us in the afternoon to do some spotting for us. Not 15 minutes into our afternoon hunt we spotted a small group of deer. We threw the glass on them and counted 6 does and a buck. I broke out my spotter and couldn't put a third point on the buck. We were hunting in a three point or better unit, so we moved on. We moved a bit further into the hunting area and were glassing another group of deer when we spotted the original group again.
I put my spotter back on them, only this time I thought I saw eyeguards on the buck (making him legal). Jake wasn't sure about the third point and we re-positioned a bit to try to get a better view. The sun was at a different angle now, and I was able to clearly see the eyeguards. Unfortunately, the does spooked, and the little band took off.
My wife has never taken a big game animal, and she wanted to have a go at this guy. We stalked the group for maybe 90 minutes total, bumping them 3 or maybe even 4 times. We kept at it, and finally got the buck separated from the does for a clear shot. I ranged the buck at 507 yards and entered that range into my Kestrel with ATRAG. By this time my wife was seated with her rifle on the shooting sticks.
A few words about her rifle: I had it built for her by JD Thomas of High Speed Shooting Systems. Its an accurized REM700 LA with a fluted PTG bolt and a #3 Krieger barrel chambered in 6.5x55. The action is bedded into a McMillan Remington Model 7 stock. It has a NF 2.5-10x24 in Talley lightweight rings. I handload for it, and it shoots like a dream. It is perfectly balanced and extremely accurate. My wife has ultimate confidence in this gun, and she practices with it on my 8" steel.
OK, back to the hunt: I ask my wife if she is solid and comfortable to take the shot - its a long poke. She says she is. While she is seated with her eye on the buck, I dial in the 11.5MOA of elevation the Kestrel calculated. I get back behind the spotter, and she fires. I was able to pick up the trace and watch the impact. The deer stumbled about 3 steps forward and then flopped over on his back.
My wife is asking me "what happened?" and I say " you killed him". The adrenaline dump hits her and she keeps asking "he's dead? are you sure?" Her hands are shaking she has a huge smile on her face, and we load up in the Polaris to recover her deer. When we get to the deer we see a perfect double lung shot - and she did it from 507 yards. I am so proud of her.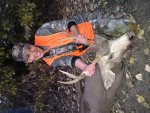 Last edited: