Just walked in the door. Was out alone in my shiny, new 2020 Ranger Crew XP 1000 tonight. I had dual #RealSkeets on my head and a UTC-Xii on my rifle. I was heading down a private dirt road that is a couple of miles long, maybe doing 10-15 MPH, when I spot a heat signature to my left about 100 yards into the woods. I stop and reverse slowly and, just as I'm about to catch a glimpse of the animal, my left-rear wheel goes into an erosion spot that has taken a chunk out of the road. Immediately, the Ranger goes nose-up and begins to roll over into the swamp!
My $30K helmet comes off and goes into the murky depth. My $30K rifle flies by me and does likewise. My iPhone and sundries goes into the drink. And I'm half-way immersed into the slimy stench myself. I'm buckled in and panic for 3-5 seconds, thinking I'm going to sink and drown. I have to focus and catch my breath for a few seconds and literally count — 1...2...3...4...5 — and start to extricate myself from the predicament.
I'm down a private dirt road that probably sees 3 vehicles a month. I'm in deep woods. My phone is at the bottom of a swamp, I'm trapped in an overturned buggy. Worst part is... I had torn meniscus surgery in my left knee... YESTERDAY!!!
Yeah, I'm all kinds of messed-up.
My flashlight that was on the dash was now in the swamp, so I can't see a damn thing. Fortunately, it's practically a full moon! I grope around, hoping to find my phone. Thank GOD! After a minute or so of feeling around I manage to find it. It's an iPhone 11, so supposedly waterproof — it works! I call home, reach my wife, she sets things in motion (and she's a bit freaked-out). I manage to extricate myself from the quagmire. After 20 minutes I find my helmet with both Skeets covered in mud, but my UTC laden rifle was underwater for 2 hours, not to mention the 1.5/6x Elcan (that I got 1 week ago) a MAWL and suppressor.
I get home and the tow truck has already arrived with the Ranger. We offload the buggy in my driveway, and pay him his due — they had 3 trucks and a whole crew onsite 15 minutes after I called! Worth every penny!
I grab the stinky, mud-encrusted kit from the back of my BIL's pickup. I figure things can't get any worse, so I hose everything down — good as new, but soaking wet. Do I dare try to see if they still work while drenched? Of course I do!
And... it ALL works!!!
I don't know whether I'm more surprised or relieved. The prospect of replacing $60K in gear (that I do NOT have insured outside of my standard homeowner's policy) was not something I look forward to.
More photos later. I'm going to bed. All-in-all, it could have been a LOT worse — like drowning alone in a swamp late at night worse. Saying my prayers and offering thanks for that, big time!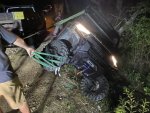 Last edited: