Major Hide Member
Full Member
Minuteman
Supporter+
For sale a Accuracy International folding stock (1.5/2.0) with tan thumbhole stocksides that has been inletted for a Badger M2008 or M2013 action. I had a short action in it. Setup right now to accept AW mags but can also accept AICS I believe.
Stock will come with Accu-Shot Accuracy International (ASAI) Monopod, front long rail and extra set of stocksides for pistol grip, extra screws, cheekpieces and LOP spacers.
Price: $old sold OBO.
I accept for payment USPS Money Order, Bank Cashiers checks, Paypal F&F. No trades thanks.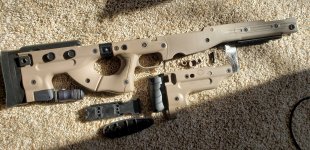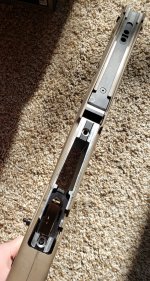 Last edited: