Sergeant of the Hide
Belligerents
Minuteman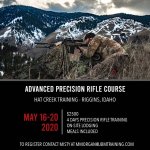 ​
ADVANCED PRECISION RIFLE COURSE
Hat Creek Training | Riggins, Idaho
Bryan Morgan | Lead Instructor
May 16-20, 2020
Over the last several years, we've had a tremendous amount requests for an open enrollment course. Our training schedule made it difficult, and we appreciate the patience everyone has given us. We're now offering a 4-day, open enrollment, Advanced Precision Rifle Course. We will cover a variety of topics from high-angle shooting to canyon wind reading and ELR. You'll get to work with our Hat Creek instructor team, 10-12 hours a day, in a physically demanding environment, and at one of the most purpose built training facilities in the world. We're only going to offer 1, possibly 2 courses a year for open enrollment, and we're looking forward to seeing some of you soon.
For more info and/or to register contact Misty at
mmorgan@jbmtraining.com
.