Here is my field gear, looking for opinions on what people think, and what they would change or add.
Condor MOPC
• 2x SA AICS Mag Pouches
• LRF/Wind Meter Pouch
• Radio Pouch
• Rip-Away EMT Pouch
• KA-BAR Becker BK9
• Cold Steel OSS Knife
• 1Lt Hydration Pouch
• 7 Round Bullet Wallet (Stores 7 homeloads at maximum seating depth that will not mag feed, mainly used when requiring greater accuracy with a long range shot)
Remington Model 700 PCR
• .308 WIN
• Burris XTR II 5-25X50mm SCR-MIL Reticle
• Burris XTR Signature Rings (Set to 30 MOA)
• Harris 9-13 Notched Leg and Swivel Bipod
• Area 419 Hellfire Muzzle Brake
• Some Cheek-riser off Ebay
• (Thinking about adding a Accu-Shot BT12-QK Monopod)
SC Ghillie Cobra Suit
SC Ghillie Rifle Wrap
Emerson Gear G3 Shirt, Pants and Boonie Hat
Blackhawk Fingerless Gloves
Response Gear Combat Boots (Amazing Boots, 7 Years old but about 1 year of hard use in rice fields, deep mud and swamps. Still going strong)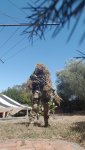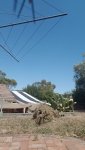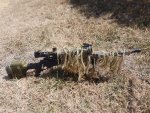 Thinking of adding an admin pouch at the top of my chest rig, to store pens, a torch, compass, general use small folding knife, ballistics cards and to store the map of AO on field trips. Also Rifle tools (Allen Keys, both Torques and Hex Heads).
Still in need of a Radio. Not sure what to get not my area of expertise.
I have a 3-Day Assault Pack loaded for building a hide and staying in it for a maximum of 72 hours.