Tasco blister pack
Supporter
Full Member
Minuteman
Supporter+
I own a KRG Whiskey 3, 6th Gen. I like it, but the grip's distance from the trigger, thumb shelf placement, and grip angle isn't ideal for me.
On a lark, I was goofing around with a wiebad cheek pad and some tape and found an arrangement that was really comfortable. But, it is flimsily and looks like ass lol.
Is there a material that people sculpt grips out of? Something you can add to as well as sand away? Or a process to follow? No sense in reinventing the wheel.
I know some people use bondo and I've used Sugru, but maybe there's better ideas out there. I've considered getting some balsa wood or pine and carving it and handing that off to
@LongRifles Inc.
for a sexy finished wood grip or something.
Below is my idea. At one point I took the right grip panel off and found resting my thumb on that upper grip bolt was amazingly comfy. But I'd have to remove a bunch of material and fill in the voids as the grip is not solid…it has reinforcing ribs on the back.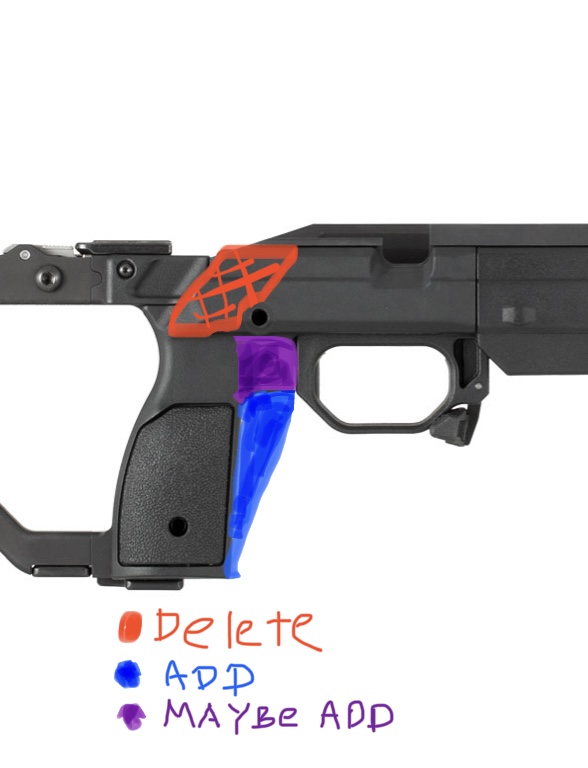 The purple bit is a trigger finger shelf like MPA has.
The good thing is that I have three sets of grip panels to experiment with.
Or I could buy an entirely new chassis lol. But I don't really want to do that as I like the chassis except for this area.
Last edited: