House of Yates
Belligerents
Minuteman
May 9, 2018
1,558
1,000
119
Finally got the swept bolt handles in from Anarchy Outdoors. I wanted black but it was going to be another two weeks and I didn't want to wait. I can send it back later on for a black one if I want to. Overall they are pretty nice. The way they are made allows you to adjust the elevation of the knob. It is also threaded for the standard 5/16-24 threads. Only real negative thing is the finish on the handle is not what I would have expected. Machine marks are visible, having said that I'm 99% sure I'll return both for the black version. I will post photos and give commentary where needed.
Bergara B-14R up first. I will not be keeping the Grenade style knob on this. It is too long and also rough on the skin. I will be sending this back for a different style and shorter. I may just go with the round red knob and swap out the Bix trigger for my Elftmann with Red trigger and safety lever. The second photo is showing knob clearance with the mag ring on the scope.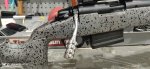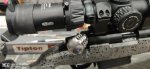 I'll get one of these Red knobs probably the round one.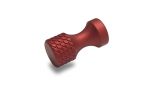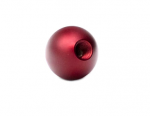 Tikka T1x. First off, as much as I like Anarchy Outdoors...this is no Sterk. If you still want the best, it is my humble opinion that Sterk is still #1. Again, someone may ask, "why didn't I buy another Sterk"? Well, because I like to try different things. As with the B-14R handle, this one is also threaded for the 5/16-24 knobs. This one option may tip people over to this handle than the Sterk. But, if like me and you put a ball on the end you are gaining nothing because Sterk comes with a smooth round ball. This is also coming from a guy who, in the beginning, didn't really like the Sterk. Talk about eating crow on that one.
I may keep this bolt knob even though it doesn't mate up nice to the handle. It is smooth, in a good location so why buy another?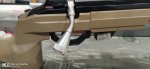 There are three pieces here, the handle, the locking collar and the "adapter" to blend the flats together. The B-14R doesn't need an adapter.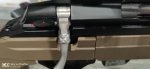 The Sterk, on the right is a little more swept back and not as long. The Sterk finish when compared to the silver Anarchy version is nicer.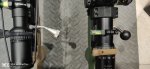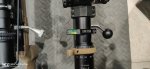 There you have it, The two newest bolt handles on the market.
Also, I buy everything you see. Nothing is given to me to test Nothing is sent to me to test.