So I figured I'd just post this information for anyone who was curious or who might want to try their hand at making their own side-charging handle for their REPR (I'm currently considering working with a friend of mine to make one for my own personal rifle). I will mention that I'm still in the process of gathering information, so I'll try to update this when I get better data and/or my hands on some of these things; I am mostly working off pictures, videos, and such.
-The MKI REPR charging handle appears to be either a direct copy or nearly identical to an Israeli "Izzy" FN FALO charging handle, specifically the "Heavy Barrel Variant". (Honestly, they look like they match up almost exactly except for the Israeli one having a plug and pin retention for the ball detent vs. the REPR's pressed in ball detent)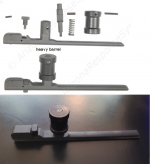 -I believe the FN FALO was a metric pattern with the Israelis opting to go for their own thread for the barrel (correct me if I am wrong here, I cannot seem to find a definitive answer other than it seems to be one of the earlier variants made under license from FN.) Though I don't know if the actual charging handle dimensions were that significantly different between the two patterns in terms of the fit for the rail and the such.
-The forward assist function requires the charging handle knob to be located behind the charging handle lug.
-The main differences between the MKI and MKII REPR Charging handles appears to be the removal of the ball detent retention at the front of the handle (this appears to have been modified to a latch that interlocks with a screwed in latch block on the receiver) and the removal of the the forward assist. (Not entirely sure about the last part, someone with a MKII REPR please feel free to correct me, I cannot find any mention in LWRC's own literature or reviewers showing that it does allow for forward assist and I don't see how it would based on what I have seen of the design.)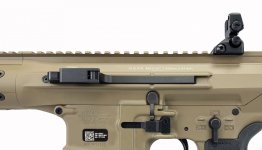 I got an email from T. Mark Graham who runs
https://www.arizonaresponsesystems.com/
and he gave me some information I found interesting. I reached out to him because he seemed very knowledgeable about FALs and I am still considering sourcing an Israeli style charging handle (I kind of don't want to cut up an authentic one for a project though...)
The Israeli style forward assist charge handle is the only variation of​

it's type.​

​

There were two (at least) versions of the T48.​

​

Then the current standard FAL​

​

L1A1 as far as I know only had the one folding version (subtle​

differences in Aussie/UK but interchangeable.​

​

I've looked at the LWRC and the "sniper" one appears to be a FAL​

derivative but not an actual FAL.​

​

The guy who designed the AR receiver to accept the folding charge handle​

originally sold it to the old owner of American Spirit and the new owner​

didn't do anything with it, so I guess LWRC copied the idea.​

​

Their folding version is unique - incorporating the slide profile of the​

Israeli with the L1A1 knob. The other looks primarily Israeli but is​

subtly different.​

​

-T. Mark Graham​
~
That's all I have at the moment, I know it isn't much; but I figured I'd share it for anyone who wanted the information. I was also hoping to get some input from MKII owners and such. I'm currently waiting on word back from LWRC on how much a MKII charging handle would cost me if they would sell me one individually. I'm also trying to source an Israeli charging handle to see if it is interchangeable and to possibly modify into a folding charging handle. I didn't have time to full dimension my own charging handle, so I'll have to give that another go later. I am trying to make a folding one that retains the forward assist (because why not drive myself insane?) I'll try to update this if I ever get around to getting full dimensions and/or actually make a custom folding handle.
Last edited: