Oberleutnant
Belligerents
Minuteman
Jan 25, 2010
7,665
15,793
Hello, and welcome to the best optics sales thread. Ever.
That's right. You're going to need to sanitize that hottub and call a good attorney in the morning, but buying this practically brand new Wilcox Raptar ES will help you attract hotter chicks and give you instand street cred with your operator pals. Trust me, its totally worth it.
​
Im pretty sure you just leveled up on Call of Duty again by just reading this. Watch all those bitches jump over each other while you range shit without taking your head off the gun. Tell your wife that purchasing this high quality Made in USA technological marvel isn't just patriotic, but it also basically steals the rice cakes right out of the hands of people in China.
Unit was purchased during the SH group buy and while mounted, has been used for less than 5 hours total. Other than a small scuff on the underside from having the bipod leg touch it, this unit is brand new.
Comes just like from the factory with the original box, STANAG rail mount, mini CD booklet, quick reference cards, serial cable with pressure switch and all the paperwork certifying you an official badass operator. I may toss in some spin-D that can shave .25MOA off the groups whenever this unit is mounted.
Since I actually did touch it at some point, it has my DNA on it so there is an added benefit of basically being able to clone me to just go and blow up basically whatever. You're welcome.
$2900*/shipped
* Polaris MRZR not included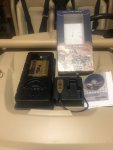 Last edited: