When I first bought it everyone was telling me "You have to buy X".
X ranged from "Coast Guard Compensators", Unitized gas cylinders "Make sure its the USMC style", National Match piston, National Match sights, "Make sure you do a tilt test, it will never shoot if anything is rubbing".
I kind of just wanted a standard issue GI representation gun. My hopes were it would hold 4 MOA as a field grade M1A.
Somethings is decidedly wrong with my rifle.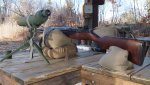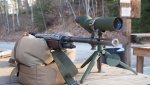 I think its doing what everyone told me it would not do without certain things.....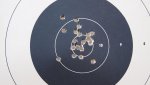 1 - 9 and 3 -10s before I adjusted dope Down 1 MOA, Right 1 MOA. Than it shot 4 more 10s and 12 X.
Should I get the unitized gas cylinder? Will the Coast Guard compensator help?