Sergeant
Full Member
Minuteman
<span style="font-weight: bold">Summer of the Spartiate.*</span>
<span style="font-weight: bold">WOA 18" SPR ( 1-7 twist barrel).</span>
The Skull on the paracord is, of course, designed to ward off the evil spirits of trigger-jerk and other accuracy-inhibiting wraiths ...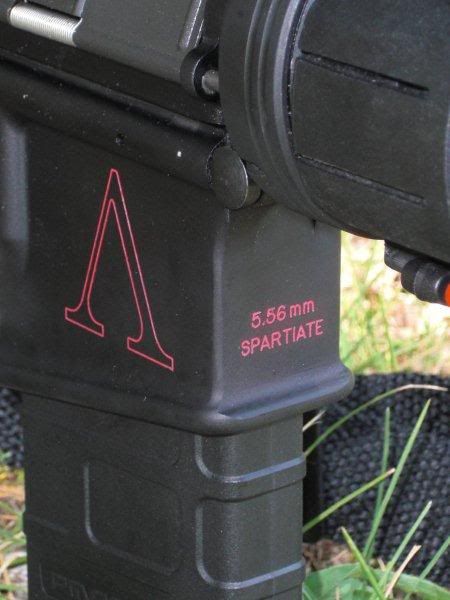 Had fun with this build.
We used all WOA SPR upper components, along with: Smith Vortex, Troy BUIS, DD (light) 12.0 rail, MagPul sundrys (XTMs, MIAD, etc.), PRI gas block and PRI GB CH, Harris "S" bipod on LaRue QD mount (w/ Schuster lock-lever), A-1 length stock, ...
... and an <span style="font-style: italic">insanely</span> light-n-crisp Geisele DMR trigger.
Optic - for now - is a 2.5-10x Weaver Extreme 30mm (illuminated dot atop a #4 German post) which I snagged at a firesale price. ADM QD mount.
Of this group of OTM-type rounds, it was a sub-MOA toss up @ 100yds between the BH and Fiocchi 77gn loads. Both used Sierra's 77gn MK HP.
The other two (Horn & SSA) were passably a bit over MOA, but that might be me. I just haven't had the kind of long-term, concentrated trigger-time behind this SPR that it warrants.
Right now, the set-up on this package is geared for summer sniping @ groundhogs, coyotes, etc., ... but in a pinch it could handle these A-holes:
<span style="font-weight: bold">"Hey, Ahmed!
Did you read where the Infidels' 5.56mm M4's can't hit camel dung past 200-meters?
Even Infidel U.S. newspapers say it inferior to our manful AK 7.62 round. Hah!"</span>
Enjoy.
<span style="font-weight: bold">* "Spartiates were the elite warrior class of the rigidly hierarchical Spartan society. From a young age, male Spartiates were trained for battle and put through grueling challenges intended to craft them into fearless warriors. In battle, they had the reputation of being the best soldiers in Greece, and the strength of Sparta's hoplite forces led to Sparta becoming the dominant state in Greece at several points during the Hellenic period."</span>