Back to the Range
Full Member
Minuteman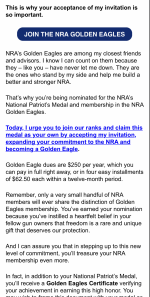 This is the most monumental event in my life. Better than the birth of my kids or finally being old enough to drop out of High School.
Wayne reached out to me personally, and said that I could be his friend! And he would give me a Medal. And a Certificate!
My National Mall Security Officers Excellence medal was the previous highlight of my civilian fruit salad that I wear everywhere I go, proudly displaying all 6 of my lifetime achievements on my breast. Got that for successfully beating up a kid who was making a mess at Chunkee Cheezis.
Thank god for 4XL uniform shirts - I was running out of room!
I think I'll put that Medal of Freedom right next to my Colonels rank tab in the Mall Officers Unarmed Forces, and slide that certificate in with the rest of my vital paperwork I carry around in a briefcase - right next to my Concealed Carry Badge. I'm gonna be a Golden Eagle!!!
If Wayne let's me hang out with him enough, I might even get laid for the first time.
Anyone have $250 I can borrow?
The King,
Colonel, MOUF