Have a look at this beauty, she's a safe queen, dragged out to the range once to put through her paces...
Pretty much just like Carlos Hathcock would have run in the jungles no?
That Lyman scope sure does have some very short eye relief, but the system is neat to see and shoot.
I do hope you enjoy, let me know if you have any questions.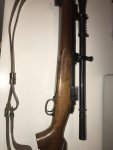 Last edited: