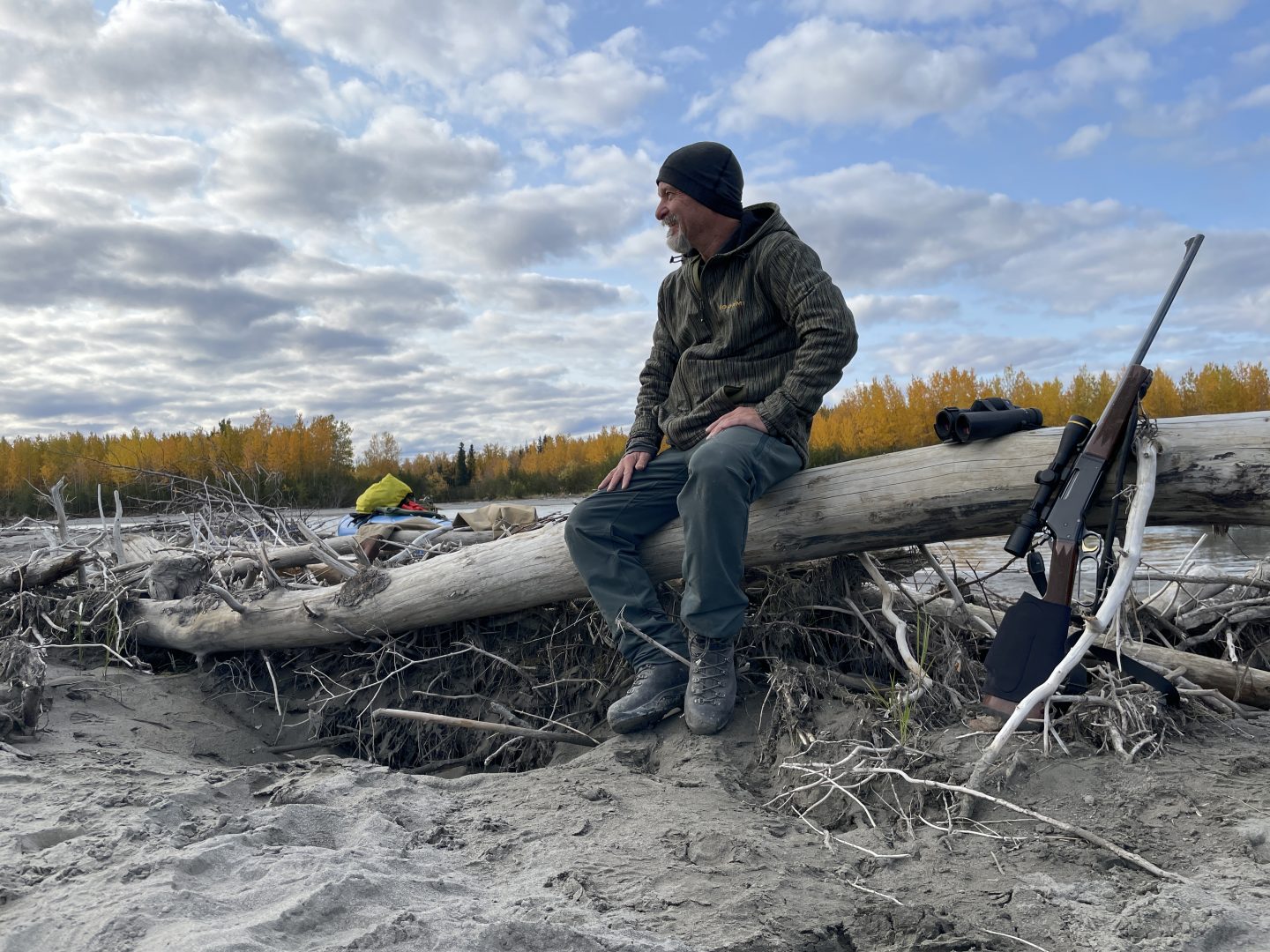 Wow, what an incredible trip to Alaska! Was it a hunting trip, was it a float, well it was really just an education for me. I'm a city guy, and my Marine Corps time is well in the rearview mirror. I honestly can't remember the last time I went camping, let alone doing anything like I did this past week. How it really came about is all about one person, Karin Hendrickson.
I met Karin at the Sheep Creek Lodge near Willow several years ago. The story is quite comical in many ways but far too long to write about now. If you don't know Karin, you need to google her story because it's insane on its own. She is an Iditarod Musher who has entered the race 9 times now. But that is only 1/2 her story; after her 4th race, she was hit by a car head-on while training her team and broke her back. She recovered from that injury ( as well as one can) and has raced many more times since then. If she's not racing, she is working a checkpoint, which will play into this story down the road.
So, anyway, we always visit when I am in Alaska, and this year during our training classes, we talked. She was looking to float a river and potentially do some hunting on the trip and was looking for someone to accompany her. The time required is tough, and most people cannot put together something like this on short notice. When she mentioned it to me, I said, sure, I'll go. My life had just changed, break up, moved, work schedule; it felt like a black cloud had descended, so why not try to hide from it out in the Alaskan wilderness. Karin was like, "Sure you will," but as soon as I said yes, it was a done deal for me. Even when things got harder at home, I knew I needed it more than ever.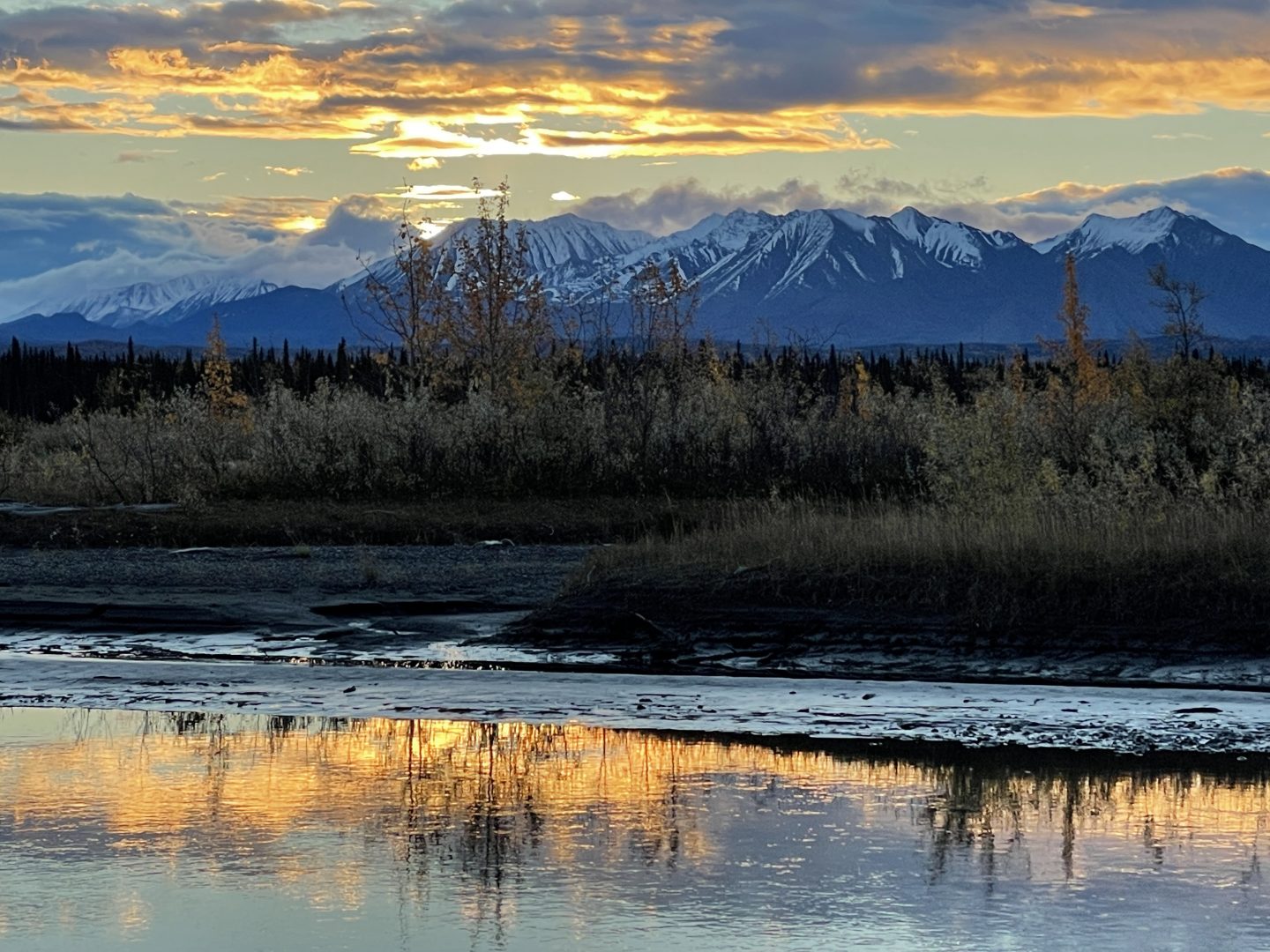 Once that ball was put in motion, Karin just ran with it; there was no turning back. Initially, we were looking to float the Sheenjack River, but the pilot was not cooperative, so instead, she decided to take me on a trip that followed part of the Iditarod trail. So the trip was planned to float the South Fork of the Kuskokwim River. That would require we put in by plane at Rohn, then float to the Village of Nikolai about 70 miles away.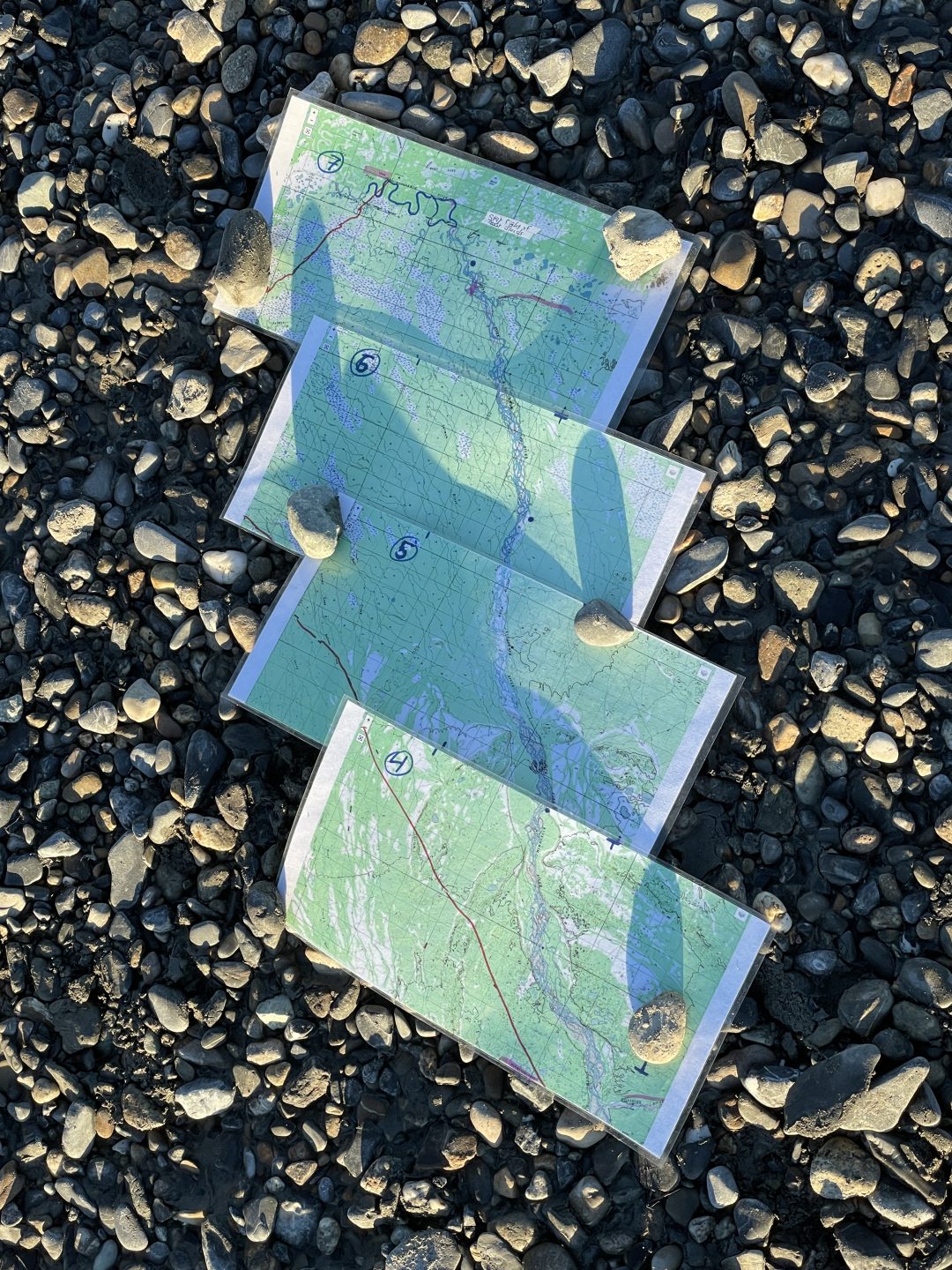 She outlined and planned this entire trip; all I needed to do was show up with my basic loadout and go. We borrowed a boat, which was not really suited for hunting, it only had a 900LBS limit, but with my schedule being so tight, we decided to go for it anyway. Funny, after reading a log entry from 1998 in the Rohn visitor book, I named the boat "Patricia" after a woman in the book. Super funny story; listen to the podcast for more details.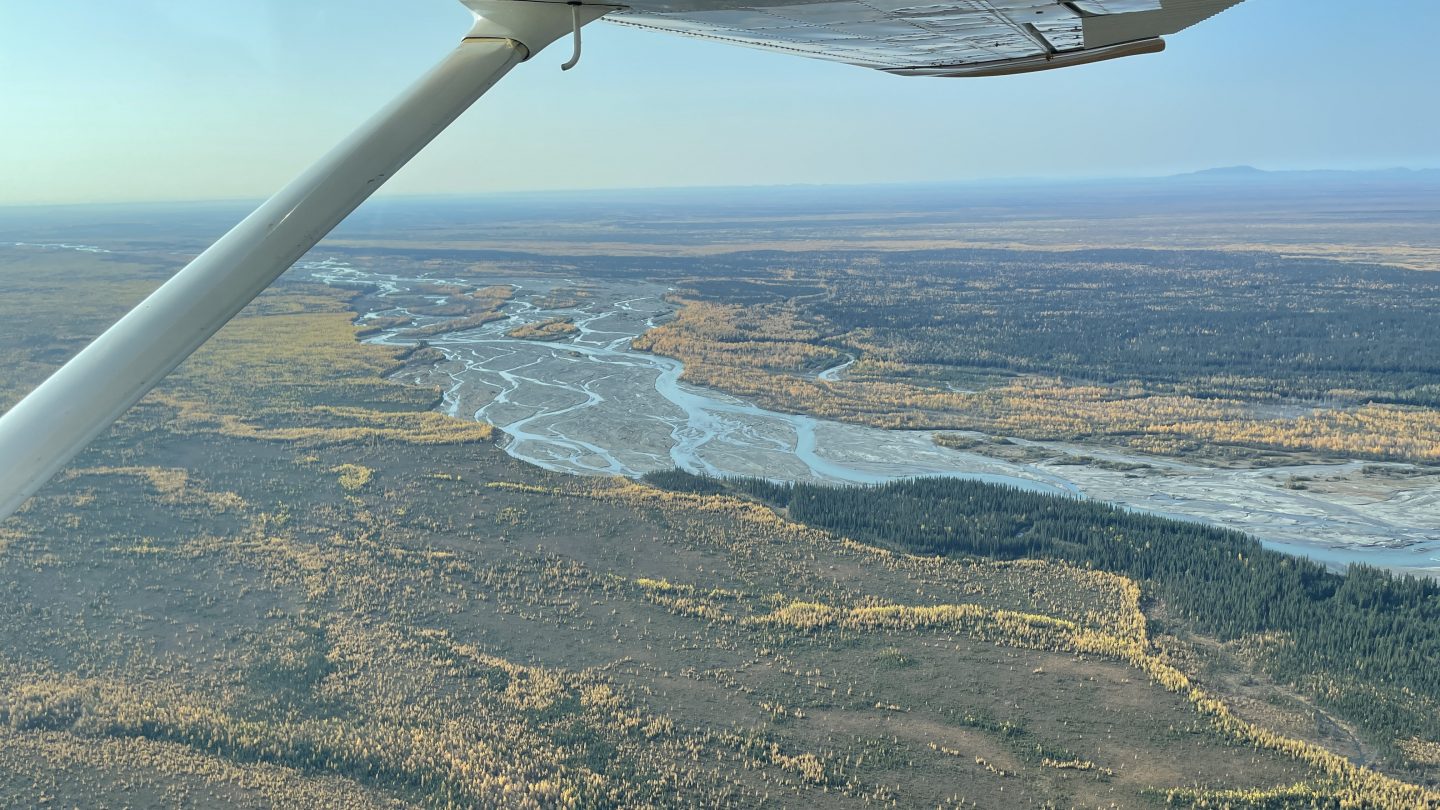 The trip was planned for 6 days on the water, but the weather socked in Rainy Pass, meaning we lost a day of travel. This meant we had to navigate the river on a compressed schedule, but we'd make it work. It would only take away from the hunting side of the trip.
Heading out to Rohn Alaska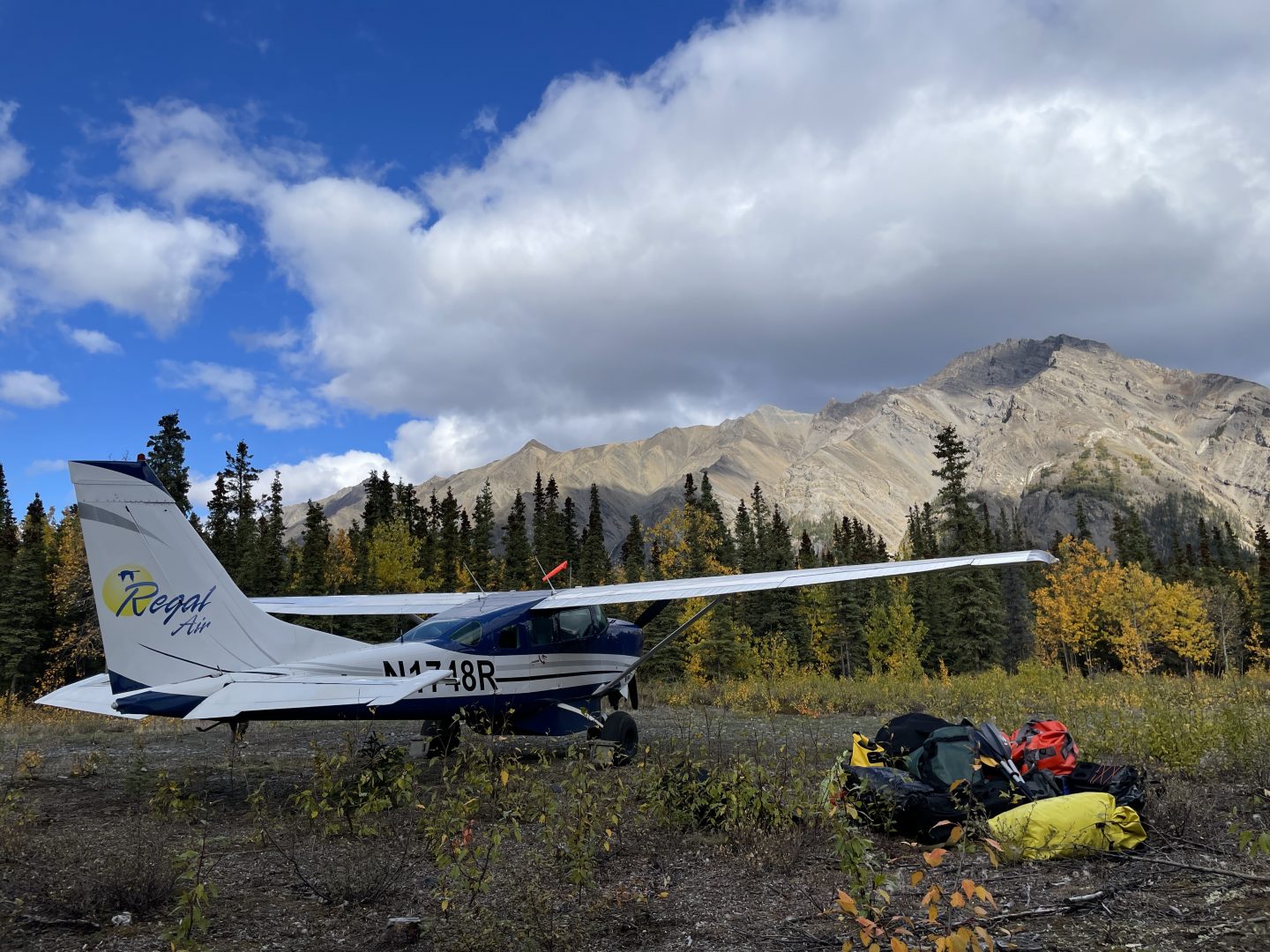 We traveled up to Willow from Anchorage and waited for the call from Regal Air that the pass was open. We were ready to roll when we got the call, flew into Rohn, and started our Adventure.
Rohn was super cool; we stayed in the emergency cabin for one comfortable night, had dinner, and told stories. That evening we followed the Iditarod trail from the riverbank, a nice little walk in the woods. We saw tons of grouse, a shitload of goats on the surrounding mountains, and Bison all around. There was wolf crap every 50 yards on the trail, which was excellent too. Early the first morning, we packed the boat and hit the water.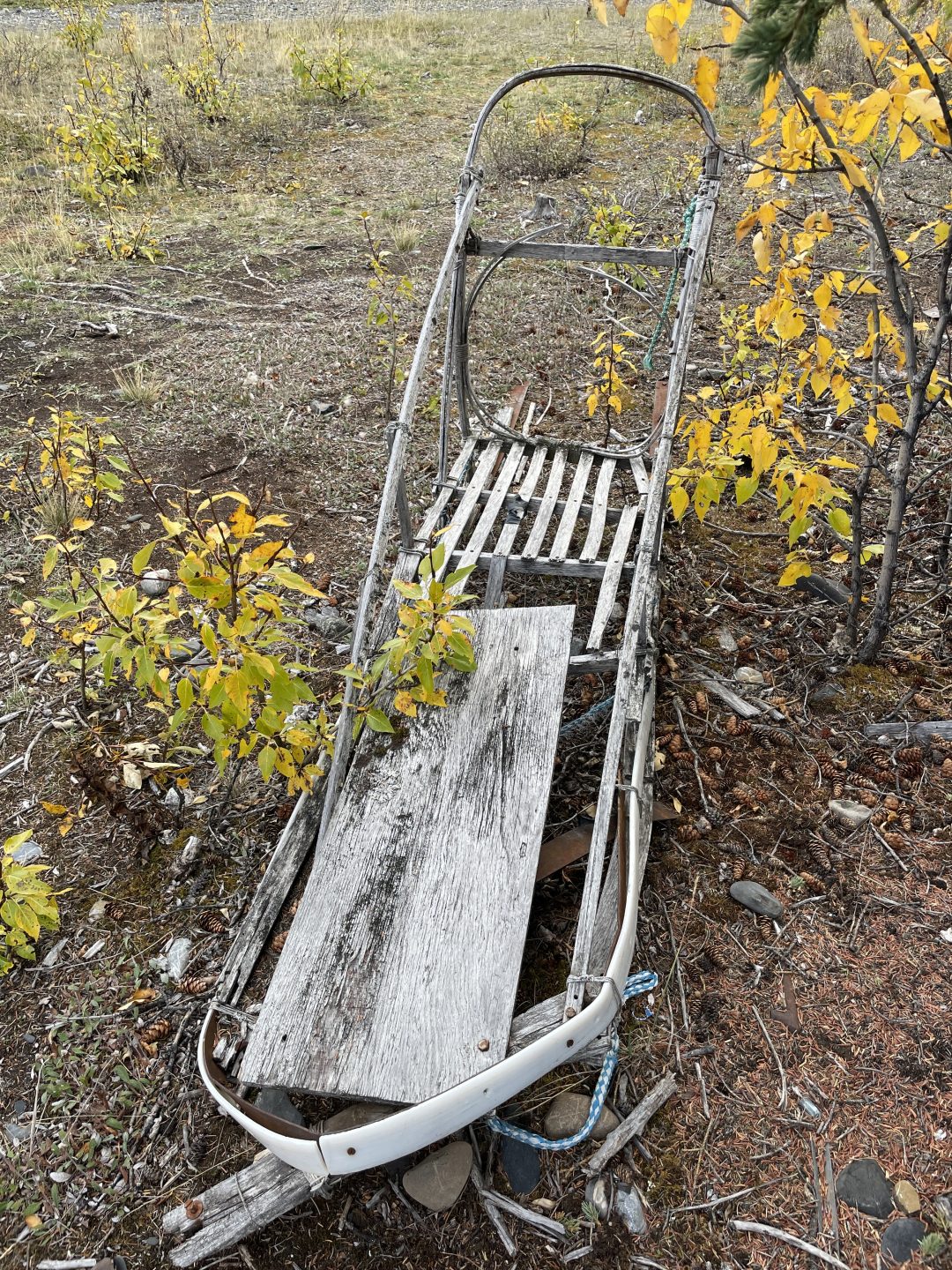 The book "Paddling the Yukon River and its Tributaries" gives dire warnings about venturing on this section of river without the proper experience. She kept that part to herself because Frank has no clue, never paddled beyond the Zodiacs in the USMC. Hell, if I know how to navigate a river with tricky branches, even the book says not to do that, but Karin is a rockstar; she is not an expectational woman, but an extraordinary person by any standard.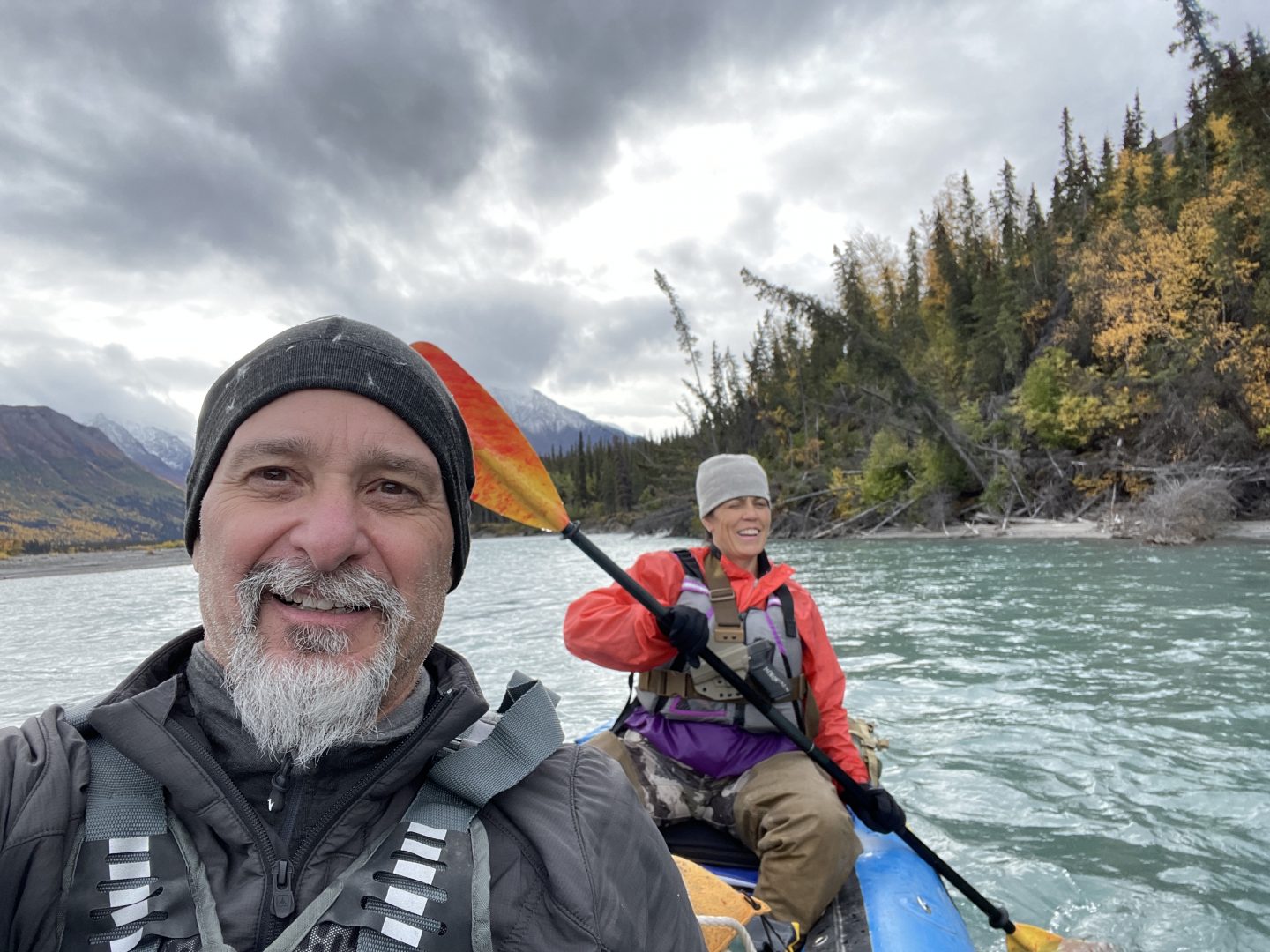 We traveled 20+ miles the first day, all the while she was educating me on water. It wasn't about Frank paddle left, Frank paddle right, it was, what do you see and why would you make that decision. See, Karin is a D; she's Decisive, Dedicated, and Driven, among her many other talents. The education paid off too; in short order, we were working as a team, I was anticipating the water, and we were dividing up the responsibilities as if we'd been together for years. It was awesome on so many levels to see it happen.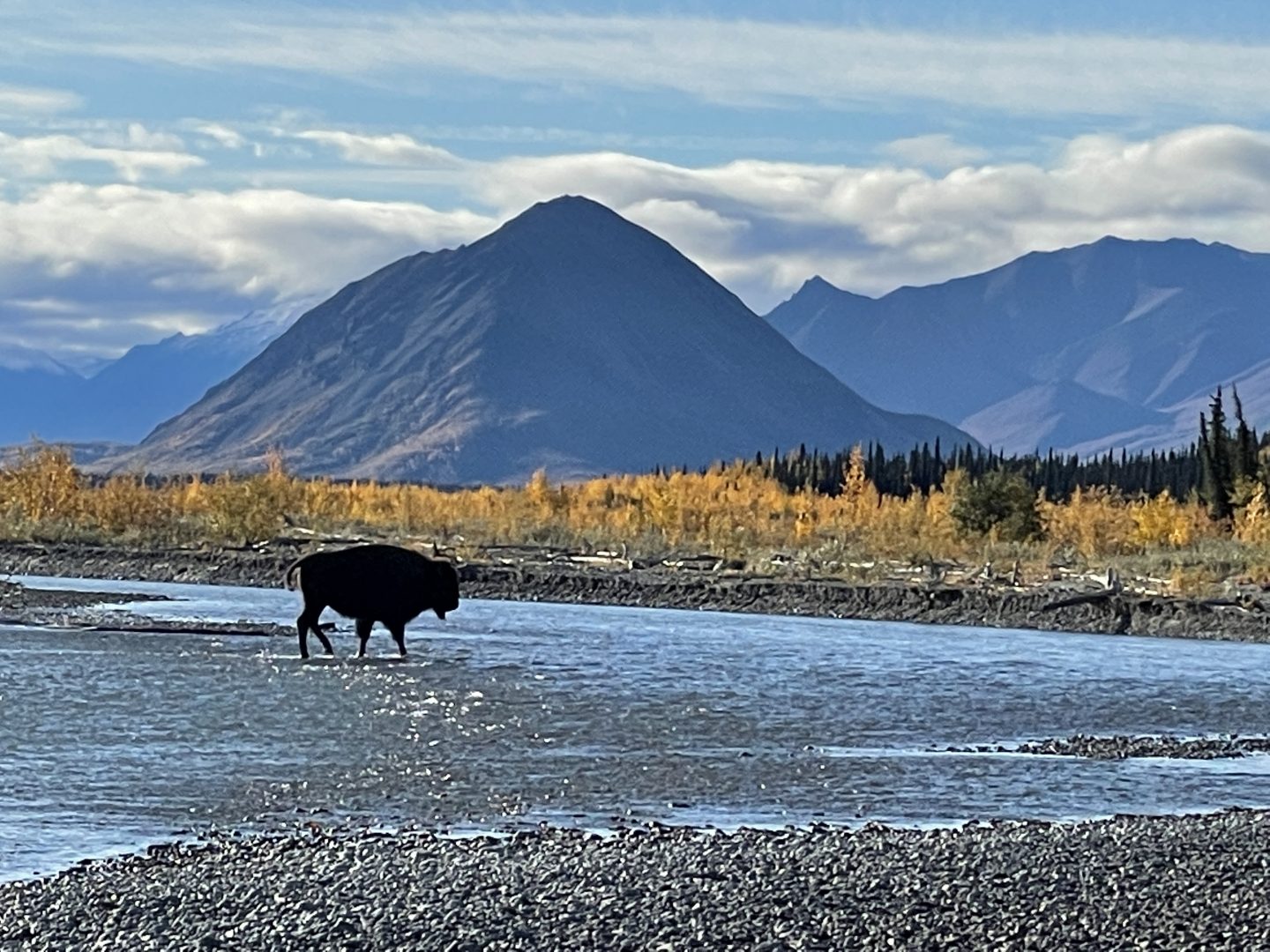 On our first night camping on the river, we found a great little spot with tons of animal traffic. I saw a cow moose on the opposite bank almost immediately, and again the Bison were everywhere. We had a system in place, stay off the tree line by at least 100 yards, and our food was placed 125 yards from us. This was an unwavering rule. We only had one rifle, her Browning .358, lever gun, and both of us carried Glock 10mms with Dangerous Game solids. You'll see this again.
We scouted the area, decided on a plan. We were gonna try calling in a moose in the hopes we found one small enough for Patricia to manage. The reality was, we only had about 350LBS of extra space for any meat, but it was worth the try.
We woke early in the morning, had a quick bite, and she decided to give calling a try. We had a plan; she'd call; I bang sticks around off to her side. A great little point gave us an excellent view of the area with some minor cover. Within the first hour, she got a response.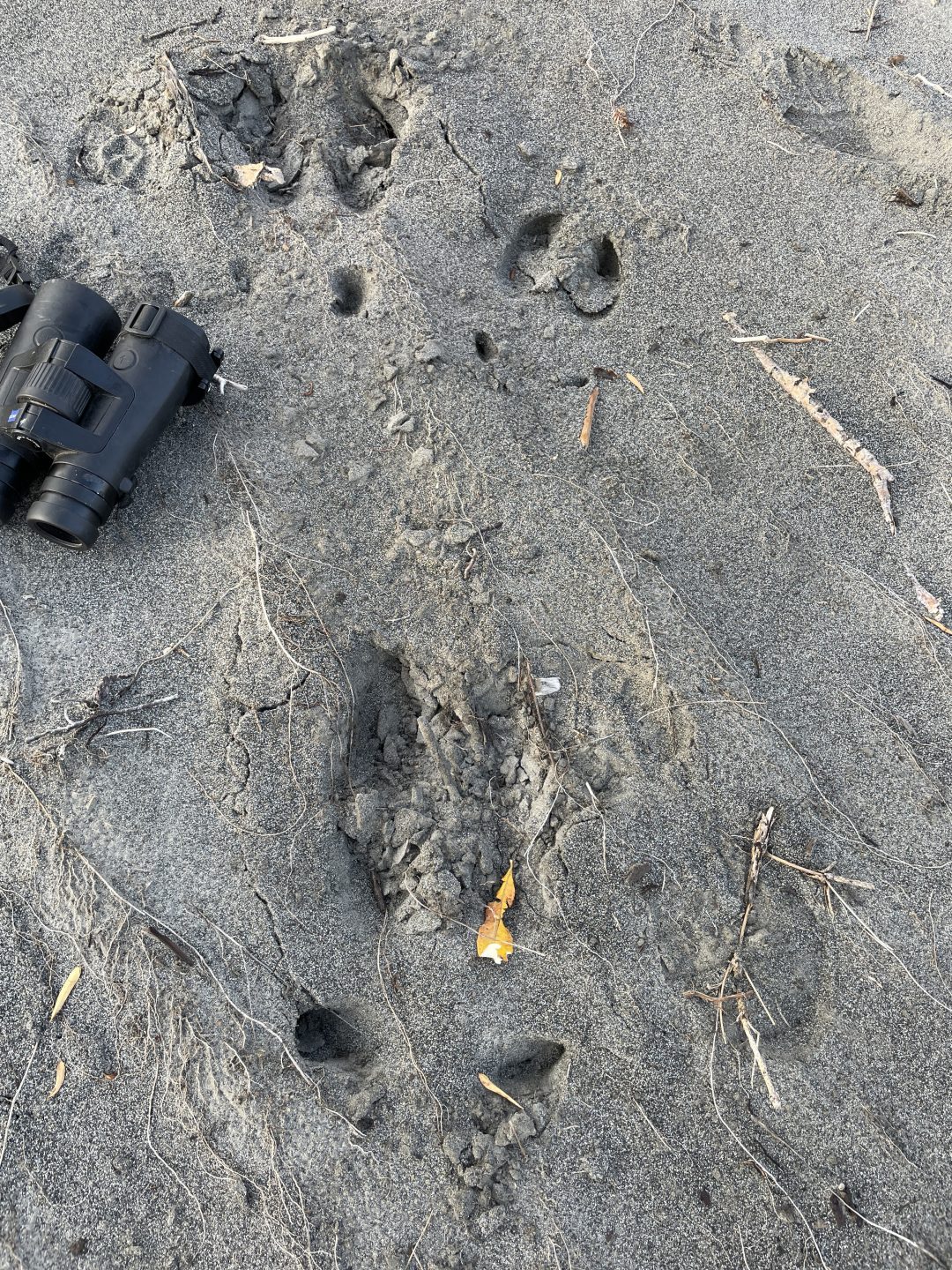 Directly to our 12 O Clock, a moose called back; she then proceeded to have a conversation with him, back and forth. As he broke the tree line, I pulled my Zeiss RF's up and ranged him at 223 yards, but damn, his paddles were big. She called in a frigging monster. It was decided at that time to let him go. Do you know how hard it was to NOT press the trigger on that beast? We are not there for a trophy hunt; the animal was simply to fill her freezer for winter. So off he trotted into the bush with a heavy sigh.
Lamenting the situation, we packed up our kit and heading North on the river. North that still freaks me out, rivers don't run North, but here they do. A highlight for me that morning was the Bison in camp. They surrounded us. Karin's high came from the success of her efforts; she called a helluva animal right out of the gate. Not only that, they spoke to each other; impressive is an understatement.
My education continued on the river; we started seeing where the animals moved, the routes they took, and why. Tracks were everywhere. Bison, Moose, Wolf, Bear, and every little critter imaginable. Beaver, Fox, you name the animal in this area, we saw signs of their activity. Every mile, we had Bald Eagles overhead, and the weather was picture perfect.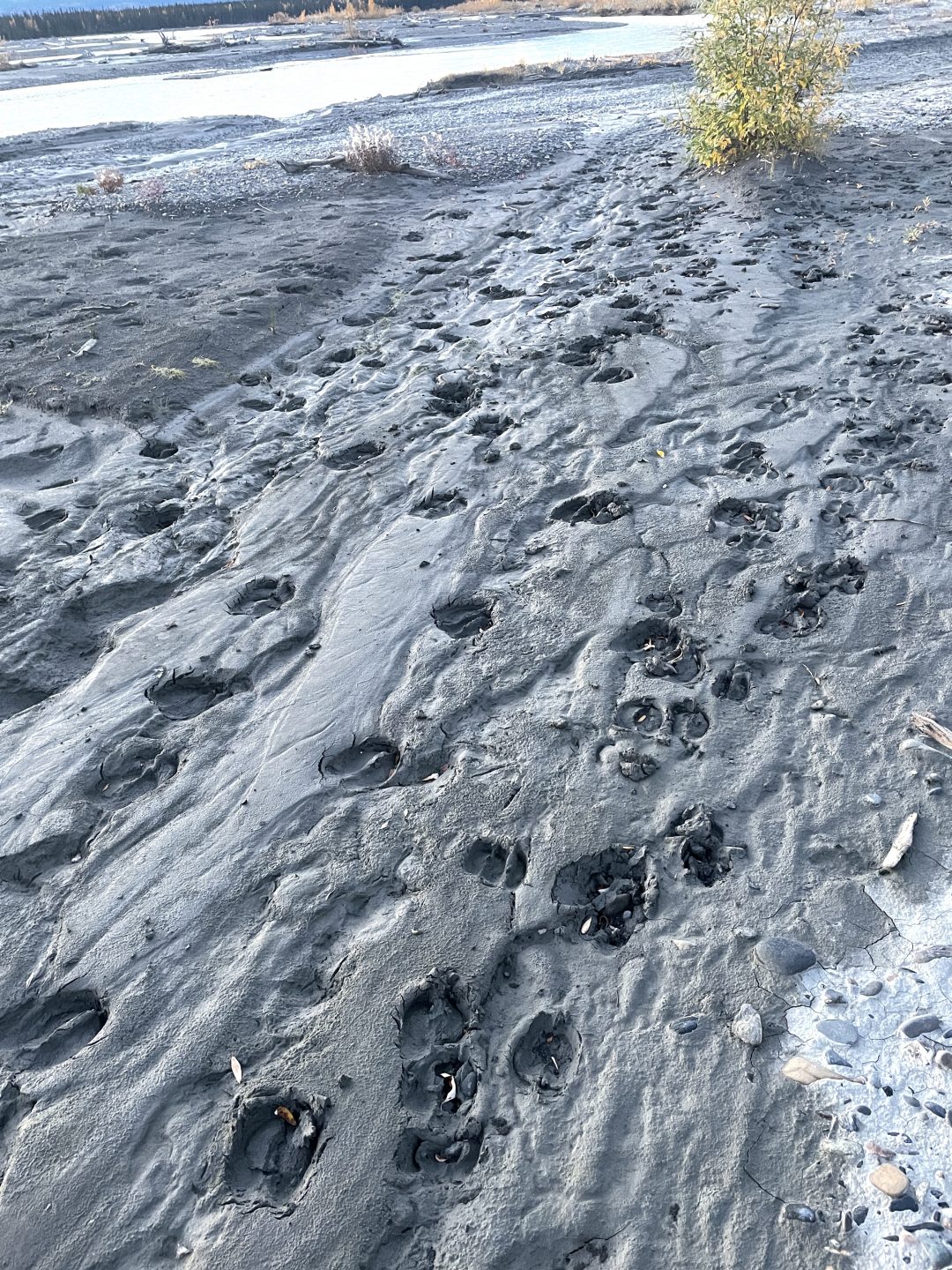 I can't say enough about the views; it's hard to have a bad day when looking at the vast wilderness. In fact, I could feel the weight lifting from my shoulders with every turn in the river. The conversation flowed, I think she could talk as much as me, but I was definitely louder. My city voice carries, so I had to relearn to whisper. There is a joke in there, but you weren't there to hear it.
Three Non-Blondes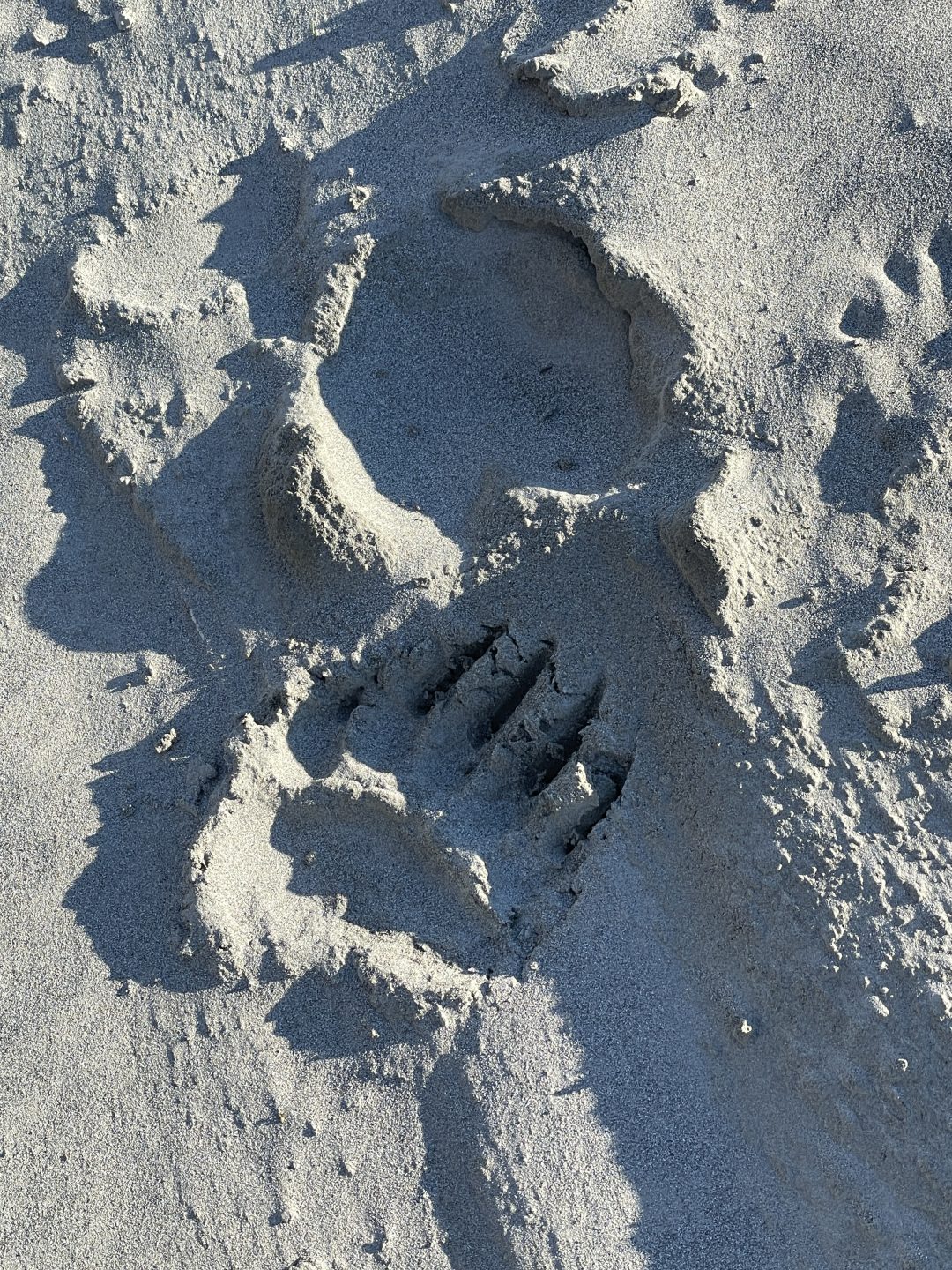 This river doesn't let you relax; you might get a five-minute break, but not much more. You have to read the branches, anticipate the currents and make vital decisions quickly or you'll find yourself stuck.
As we approached our next stopping point, we looked for apparent signs of Moose traffic. When we settled on our next landing spot, I scouted the area for tracks, and all looked perfect.
We grounded the boat and decided on a good spot for our tiny summer-style tent. 100 yards from the trees, 125 from the food.
No sooner had we popped on the rain cover, and Karin was assembling her mini cot, she turned to look over my shoulder and said, Ah Frank, behind you….
As I turned to look, I saw 2 Grizzlies galloping from a hole in the tree line, a Mom and her teenager, fuck they are hauling ass, we both drew our Glocks and immediately she started yelling at them.
She is Mother fucking them, telling them this was her beach, we were bigger than they were, (right, LOL) Inside I am laughing at the shit she is saying, outside I am holding shoulder to shoulder with her calculating the distance and adjusting my aim. She grabbed the pole to her cot, tossed on a dry sack, and started waving it high in the air. That confused them a bit, and they hesitated. Mom stood up tall to get a better look; the teenager waited at her side. She dropped, turned to her kid, and said, "let's keep going." They continued their movement towards us.
Karin could tell I was gonna start shooting and told me not to shoot them, "they're just curious, she said," curious how good that little guy will taste is all I thought. So I popped a round right between them at about 60 yards. Mind you, they covered 40 yards in about 5 seconds, but in this case, the sand was dry and very loose. Like a beach, the entire area was a vast sandpit. The 10mm tossed up a stream of sand about 4ft high in the air right between them; it was an excellent shot, I have to say. At that point, Mom stopped, and in my head, I heard Eddie Murphy; I think it was RAW where he tells the story of being sucker-punched in the mouth. "What was that !" The Grizzly was now talking like Eddie to me; she stopped, thought a second, and decided to run off. No sooner were they leaving than a 3rd Grizzly broke the tree line from the same hole. Her second kid now joined the party, but Mom was just heading back into the trees. He came forward alone, hesitated, looked over at us a second, and decided to join her as they disappeared.
Wholly fuck, that was a mad minute. Our rifle was still in the dry bag, and we were sure they were watching us for a while. See, in this area, it's so remote, they aren't really hunted. You can find a bear just about anywhere, so why venture so far if you don't have to. Plane rides cost money, and that river is mainly used in winter by the Iditarod racers or the Natives.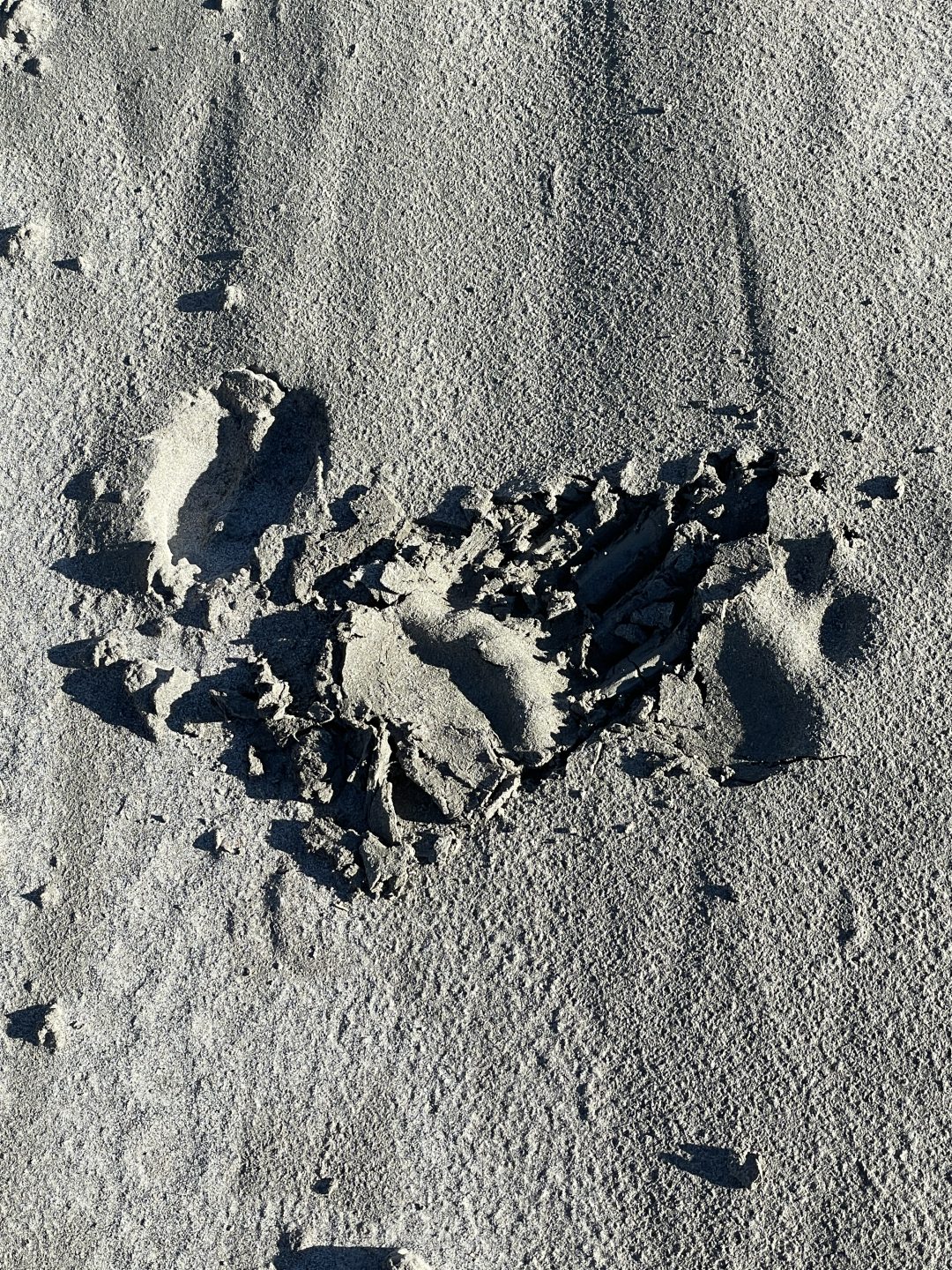 We scanned the area, all clear, so we decided to eat dinner. My thought is, and part of Karin's planning was, if the bears do come back, they'll go for the easy food and not us. I wasn't planning on sleeping, and while I did doze off, I immediately woke with a startle, fuck, don't sleep, you fool, there are bears out there, and potato chips have a thicker bag than this tent. Clearly, it was fine; we continued with our breakfast routine in the morning, repacking the boat before heading North towards Nikolai.
North towards Nikolai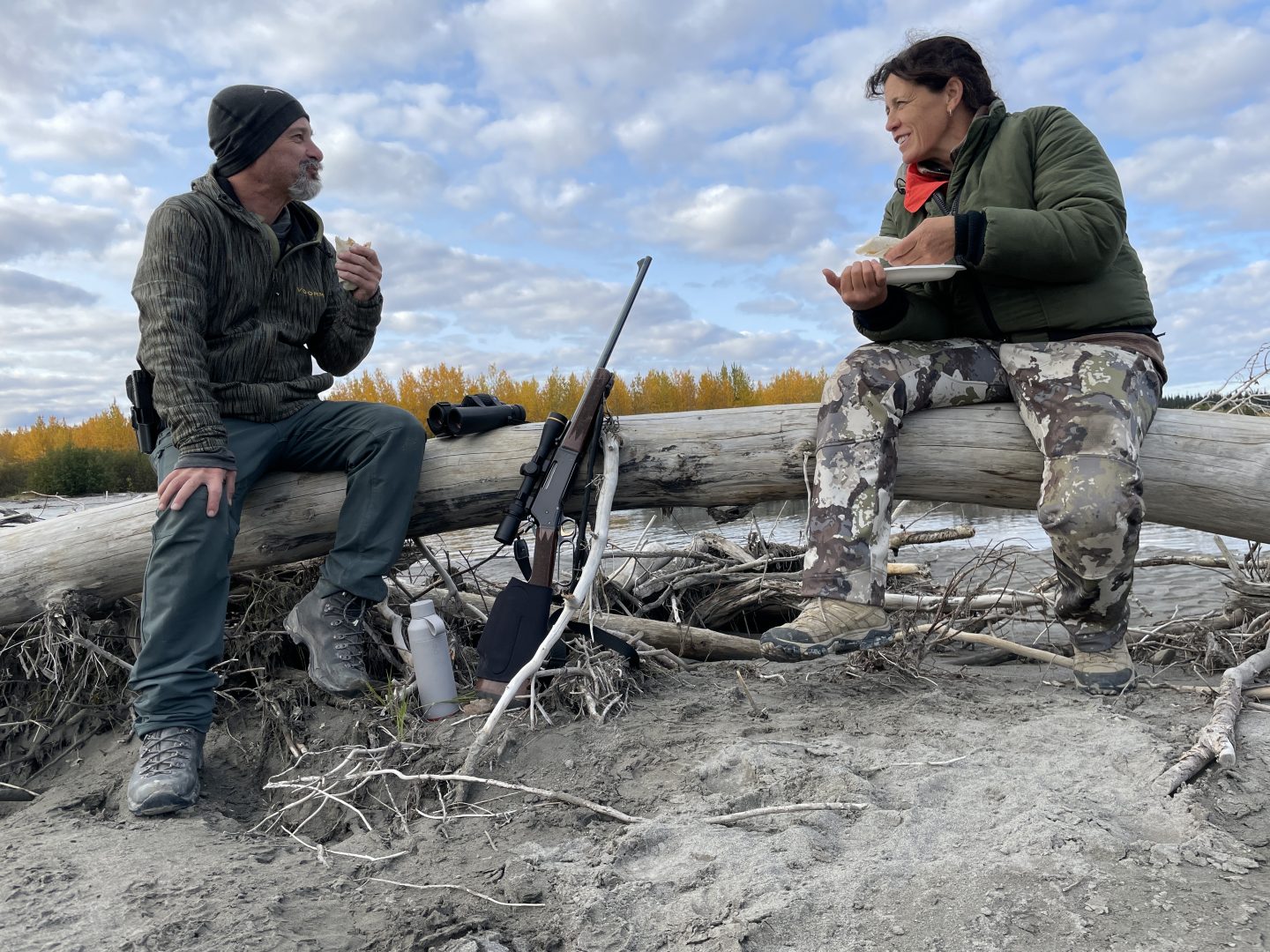 This morning we saw some hunters heading back. Five guys in two large rafts, one just for the single moose they had harvested. We said "Hello" as they passed us and continued to pack. Again we had Bison all around our camp early that morning which was an incredible sight.
Maybe an hour later, we hit the water. We had to be on our A-Game because of the sweeper and log jams, just like the book predicted. This part of the river was tricky; it choked down tight with the sharp curves made paddling super intense for about an hour. It would be super easy to get pulled into the logs and dragged under, so we dug hard. As we rounded a curve, we saw smoke from a fire. The hunters in front of us had stopped for lunch, and it wasn't too soon before we caught up.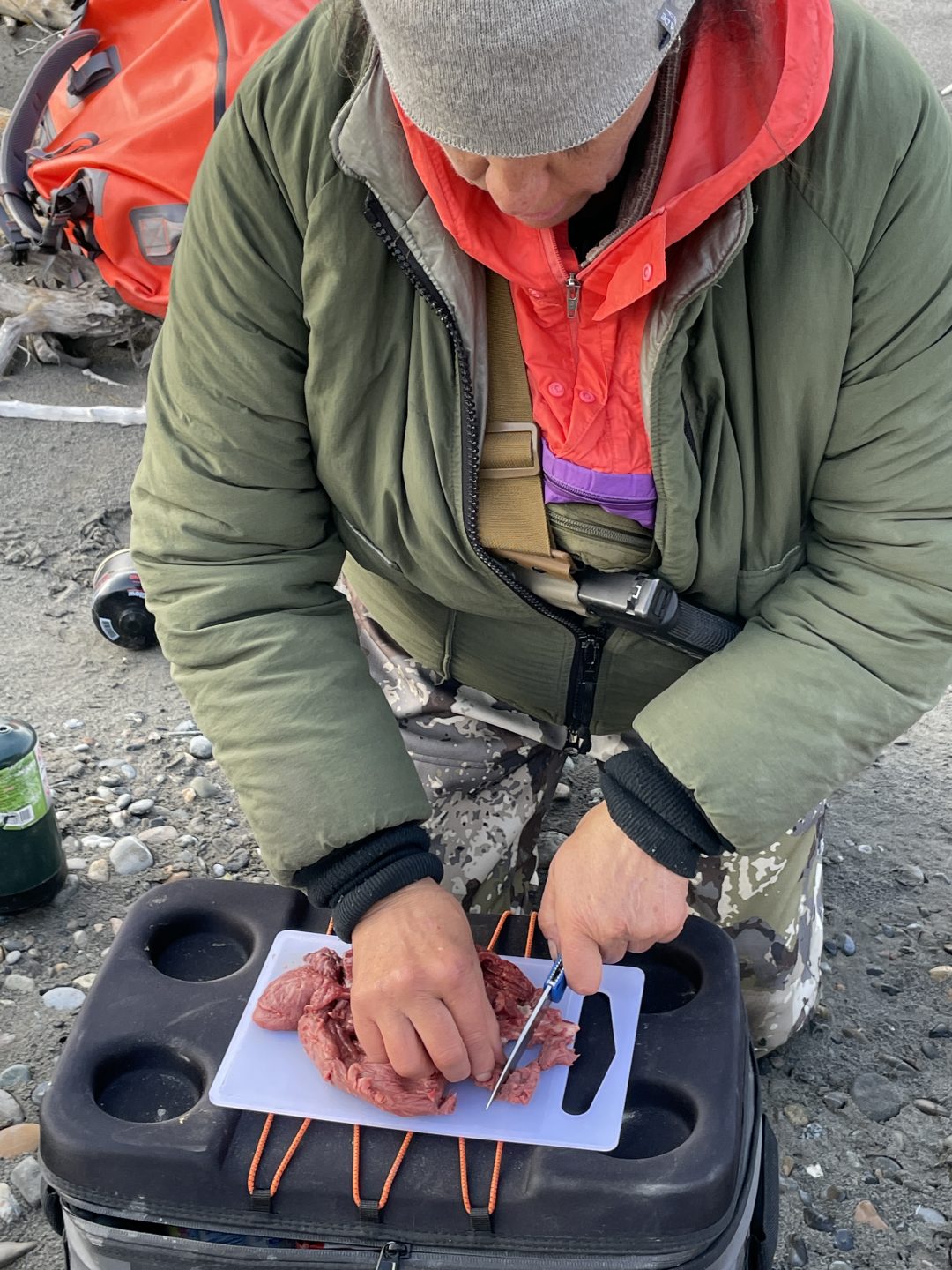 We chatted on the water, and they offered us some Moose meat, so we pulled to the side for a short break. One of the guys was Steve Hornady; he denied it, said he was a sales rep when one of the guys outed him. I didn't recognize him; I don't think I ever met Steve even though I had been to be Hornady. He threw me off when he said he was from Wisconsin instead of Nebraska. I have no clue where he lived. But after exchanging pleasantries, we passed them and headed on our way.
We had to decide how far towards Nikolai we wanted to go. Karin was super conscientious about venturing onto Native lands. We didn't want to camp in their territory and knew we had a little time to kill before our flight took off back to Willow.
We stopped on a heavily trafficked area, lots and lots of moose tracks. I scouted the area looking for signs of bear. None, so I felt safe. Each location we stopped had many Wolf tracks; this one had even more, with many tiny pup tracks alongside the adults. We didn't sweat the wolves; in fact, we hoped for an encounter.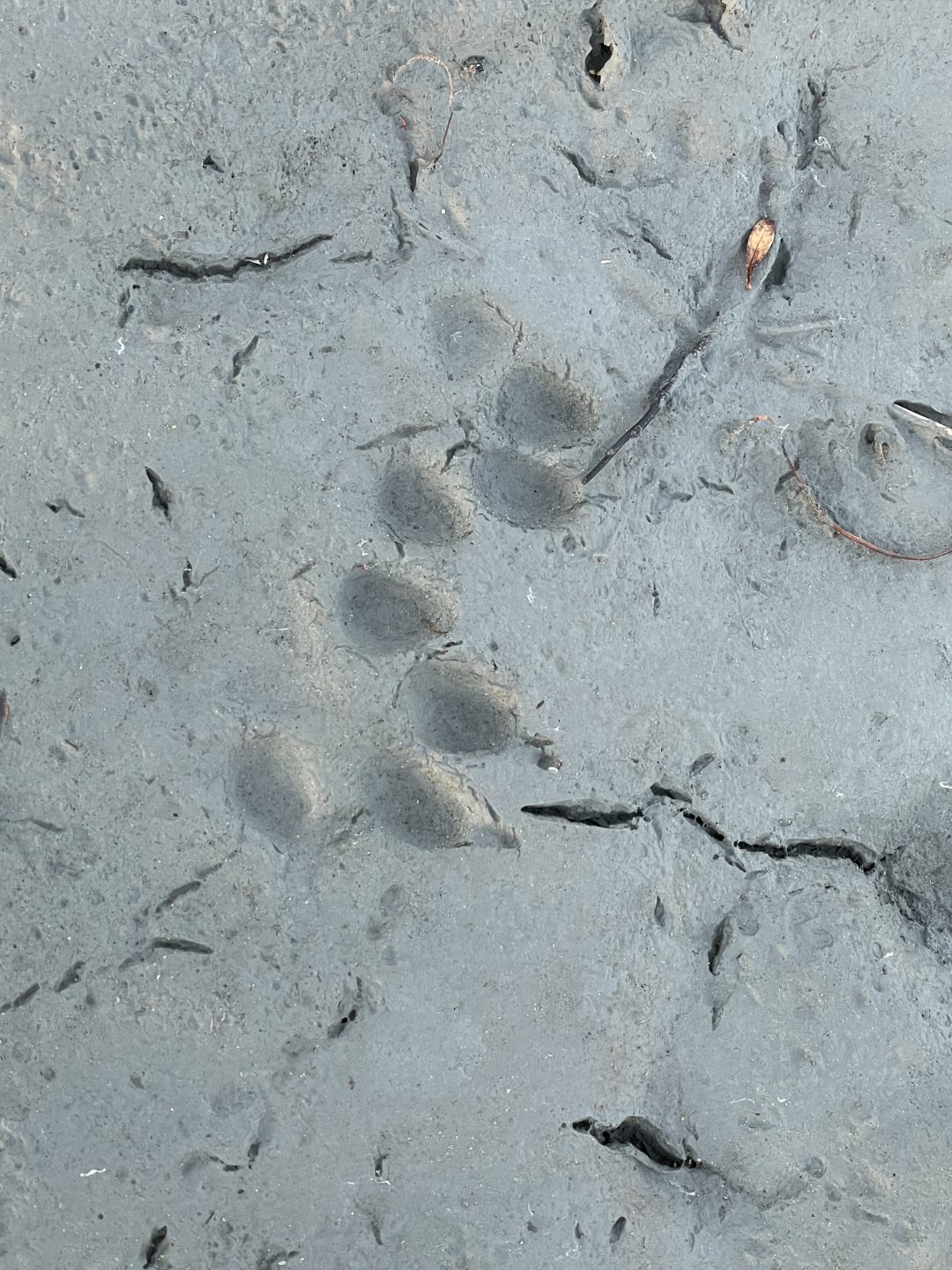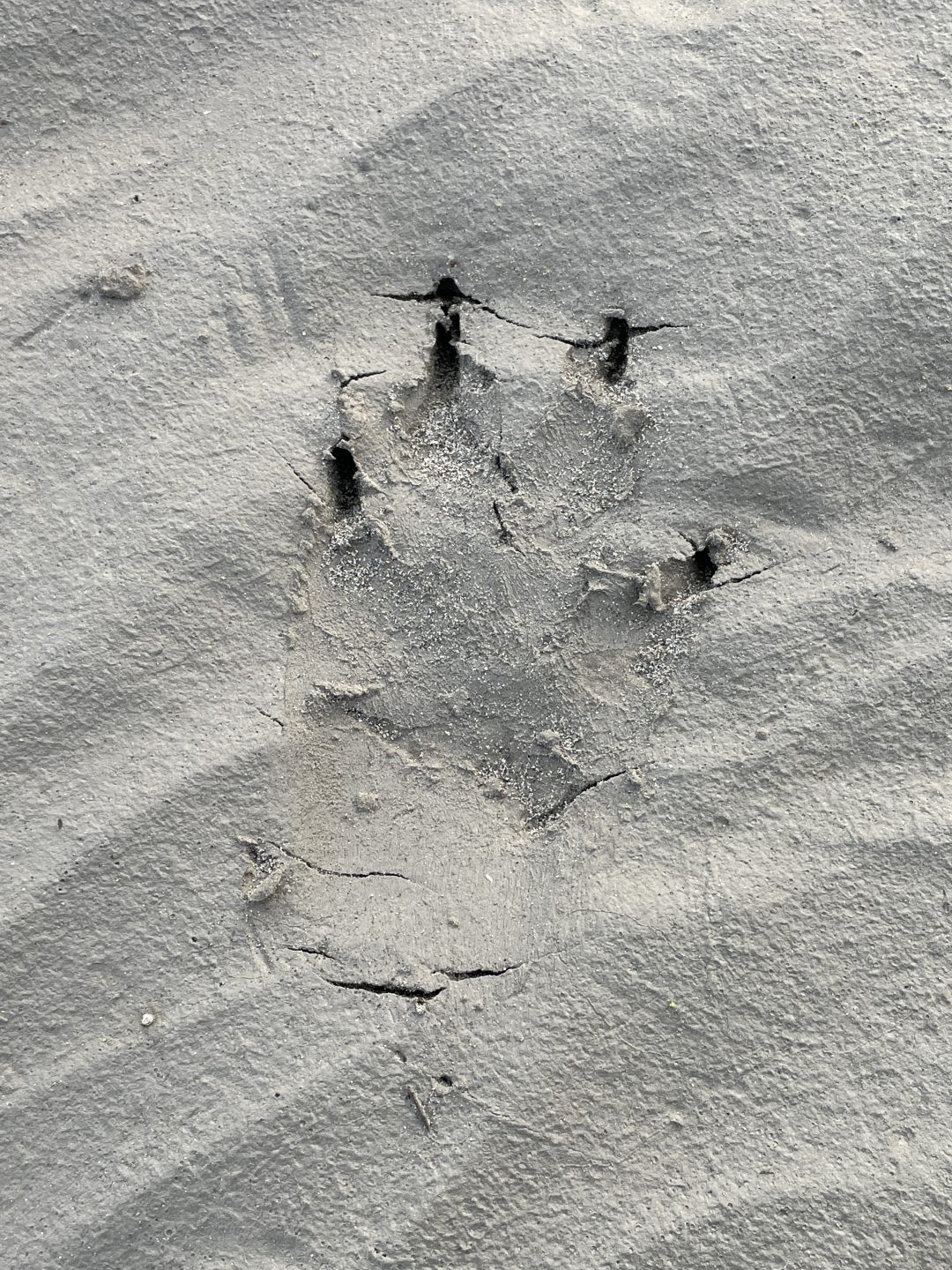 I found a great spot with a lot of stand-off, a bit of concealment, and a vantage point that would help us spot any animal. We continued to call moose in case one came through. We almost always had moose arrive after calling, but usually, they showed up later at night. I can hear them pass by most times, and their fresh tracks in the sand & mud were unmistakable. So the calling she did definitely worked well; it was just the timing of their arrival that sucked. Not to mention their size.
The following day I got up to relieve myself, and on this morning, I made another discovery. Ah, Karin, these weren't here last night. Bear prints right passed out tent. Like 3ft right past our tent. I was sleeping like a baby, thinking we were in a great area sans bear, she even remarked to me. "No, I like we saw them early versus the one that stumbles on us in the dark." She was right again, but this one just passed us by. Around midnight, it had hailed and rained for a short bit, so who knows, but clearly, he paid us no mind.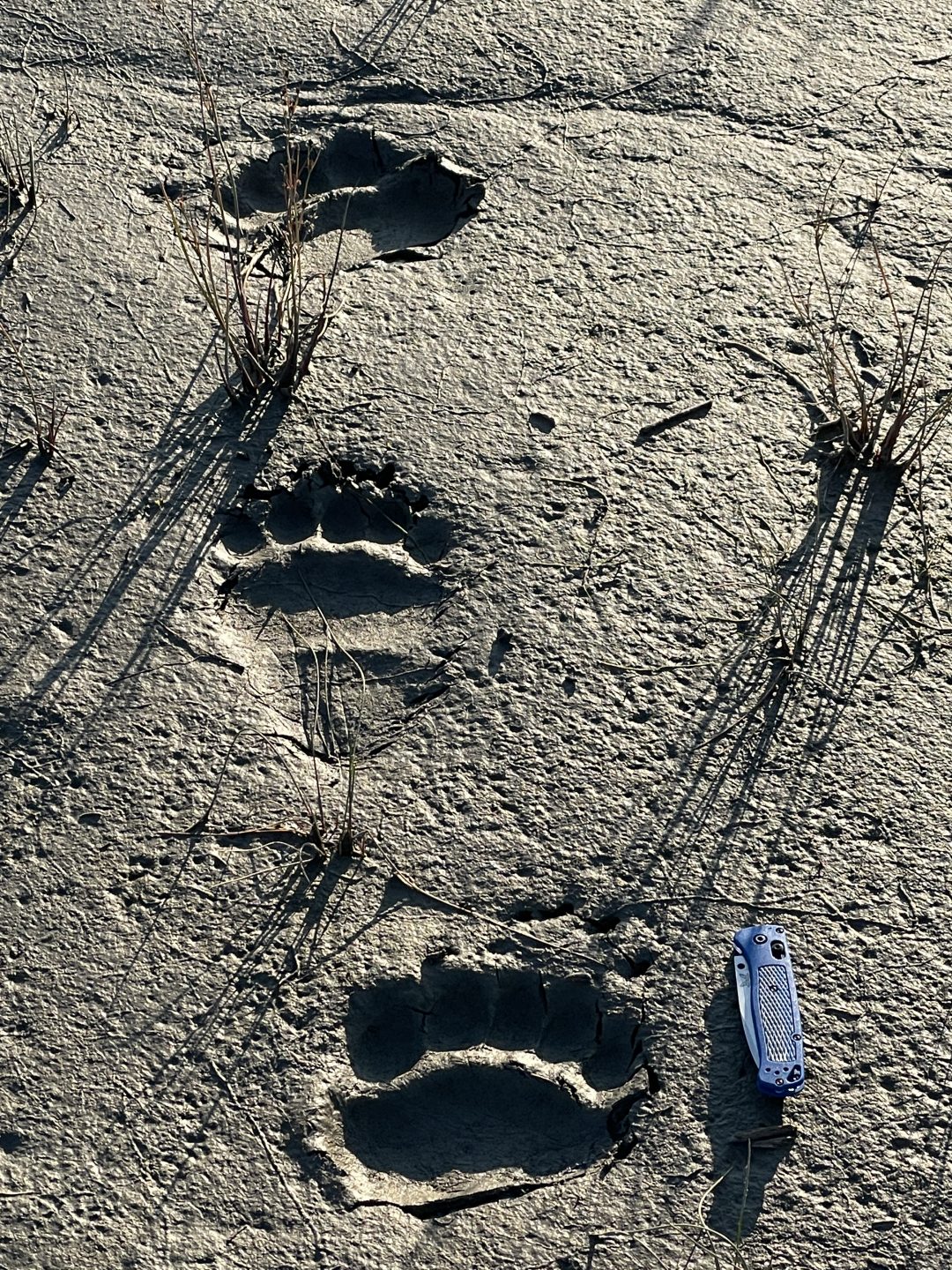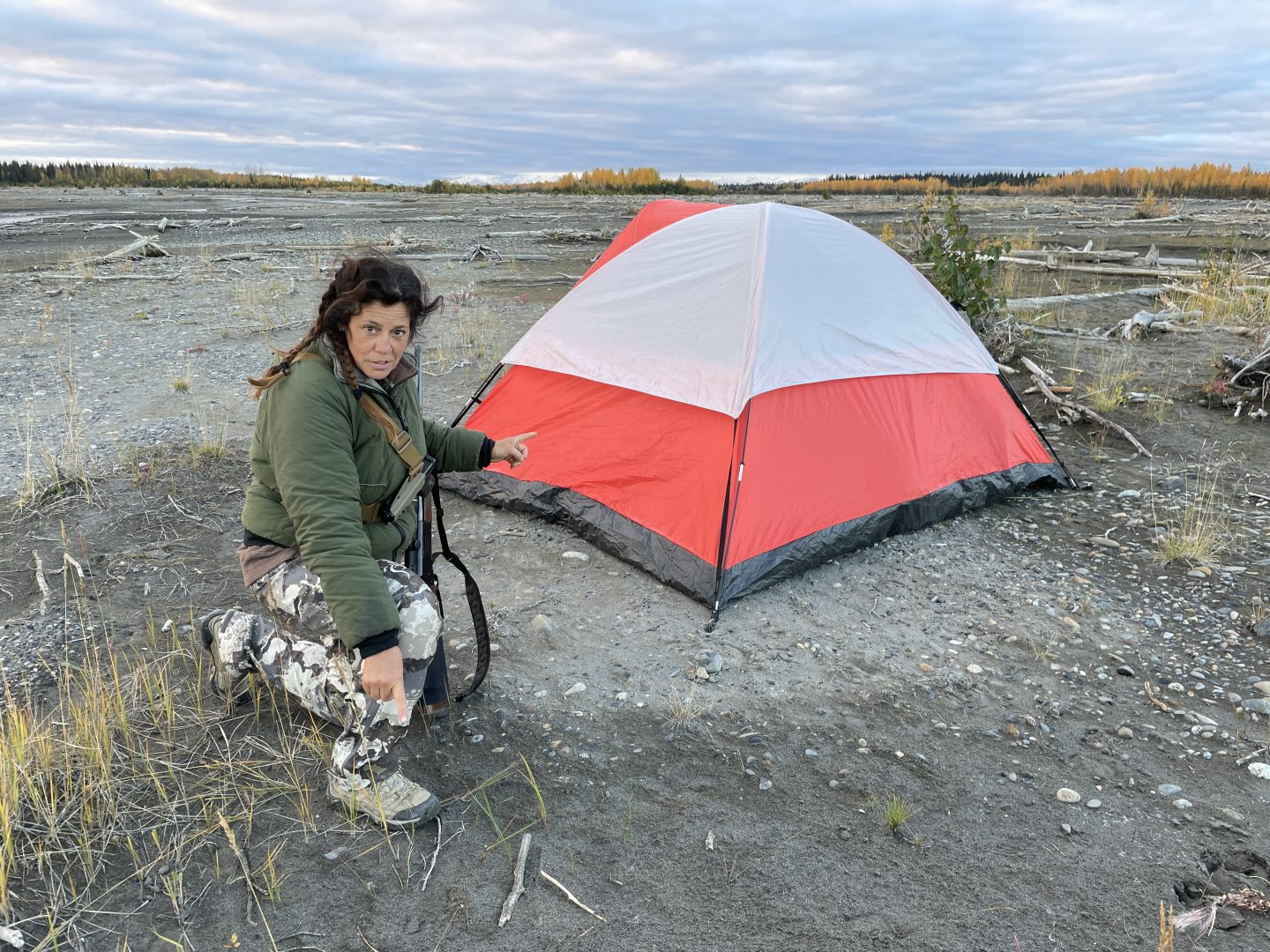 Looking back near Rohn, the mountains were now covered with snow as far down as we could see. When we arrived, only the mountain tops had snow; the weather was clearly turning colder. Our water was 3/4 frozen in our bottles, and we had to stack on some extra layers. But still, the morning was crisp and clear, making paddling pleasant.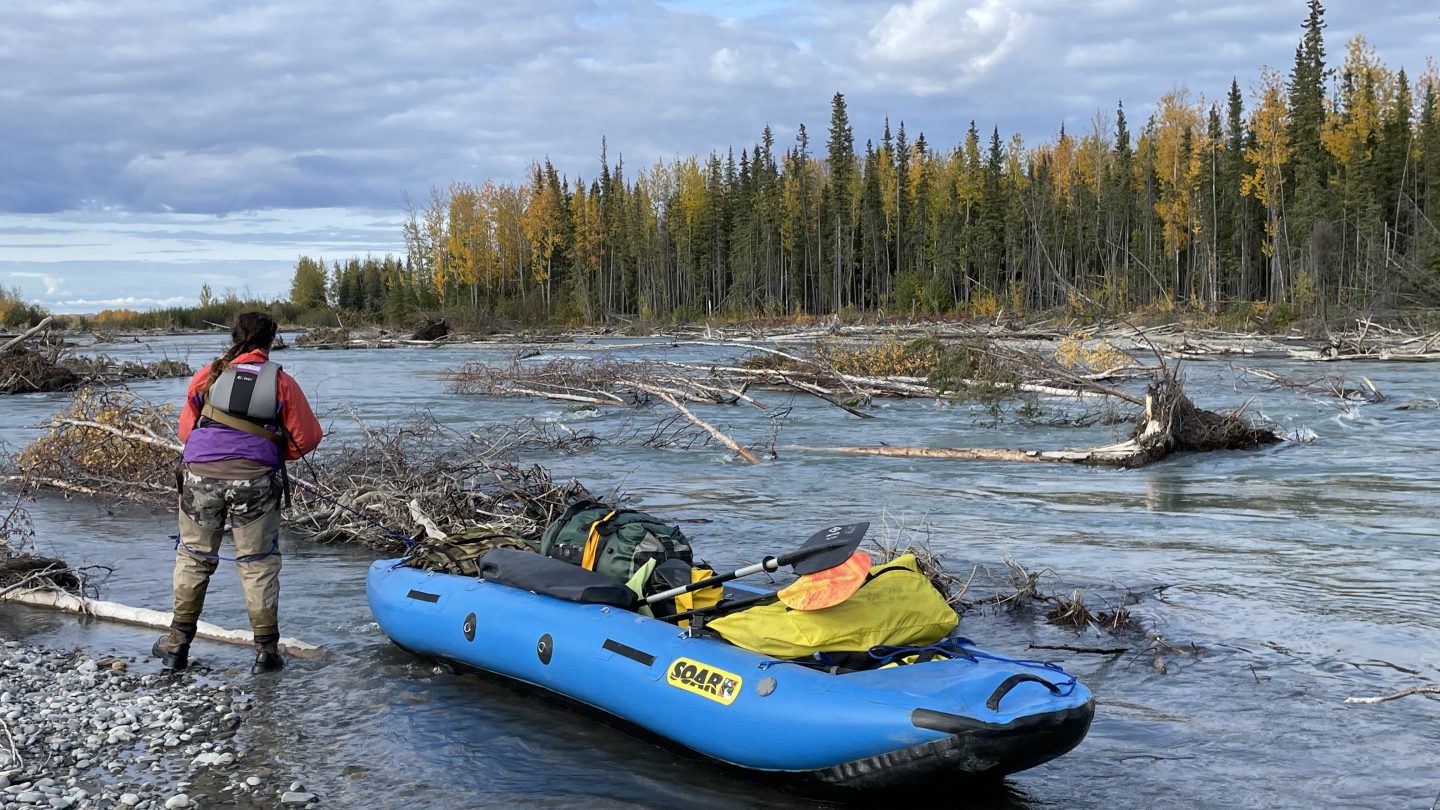 This section of the river was very tricky branch-wise. We had many gravel bars to contend with, and a few times, we chose to line the boat through rather than risk the choke points. Patricia was working, but she was a pig and not very maneuverable without an extreme amount of effort. It was nice though, we were able to move at a steady pace, and as we approached Nikolai, we decided whether to stop short or continue on towards the Village.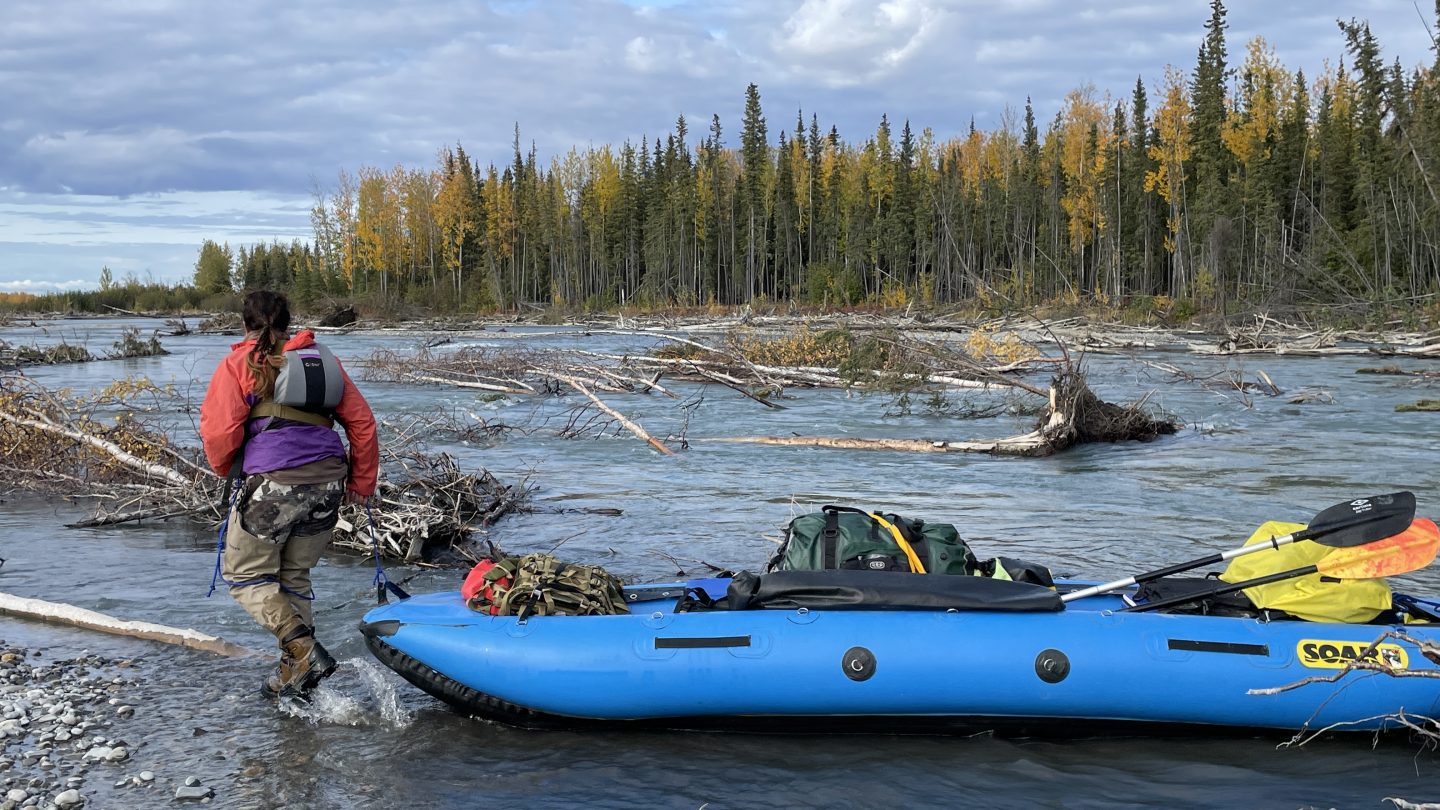 The terrain tightened up to a thicker spruce forest with higher banks and smaller areas to land. Our stand-off options were clearly shrinking, so we decided to press on to Nikolai.
Landing in the Village of Nikolai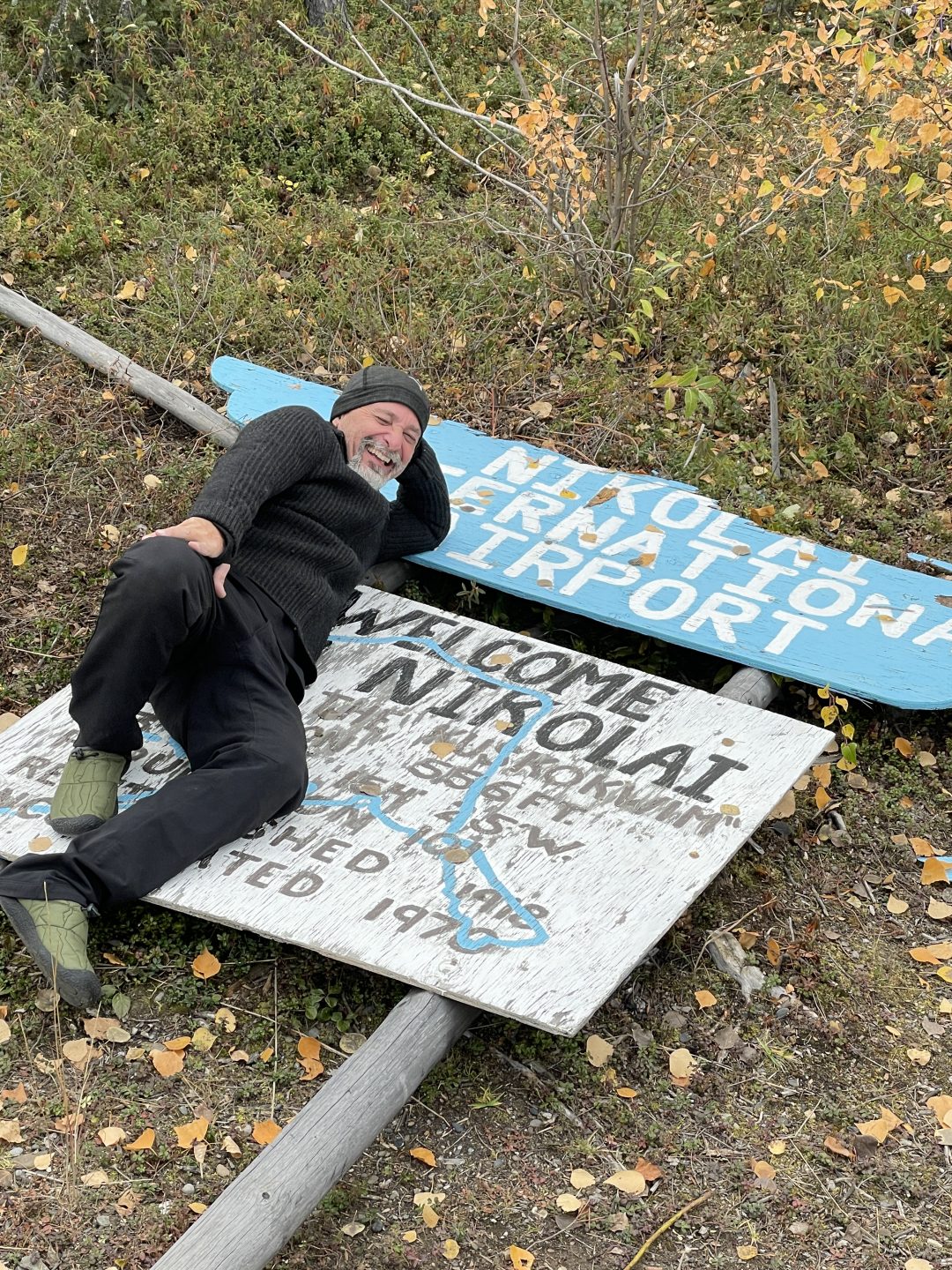 When we landed in Nikolai, 4 men were working on a boat. The Village is tiny, maybe 100 people with really depressing shacks. As we pulled up and exited Patricia, we said "hello," and the Natives immediately looked at Karin and said, "Hey, you're that Musher lady, another, Ya, the one who broke her back." "Hey, that is Karin," they even got her name right, as it's (Kar-In), not Karen. They were super helpful, very nice people. They asked about the trip, and when I said we passed on the moose about 50 miles down, they said, "thank you for not wasting it." Clearly, she knows.
We set up camp by the airport; I use the term airport in a very generous way; it's a strip. There are no services there. No cell, no WiFi, it was just a cut out off the river, really. We changed costumes got into some different clothes as we prepared to depart the following day. Early that morning, we had a visitor who brought us a Pot of Coffee, but we had already made our own. It was funny, they were coming to see Karin. A few minutes later, the only woman we saw walked up and said, "Hey Karin, Mark is trying to get a hold of you." Mark was at Regal Air; he was confirming our pick up. He is a big part of the Iditarod team and knows Karin.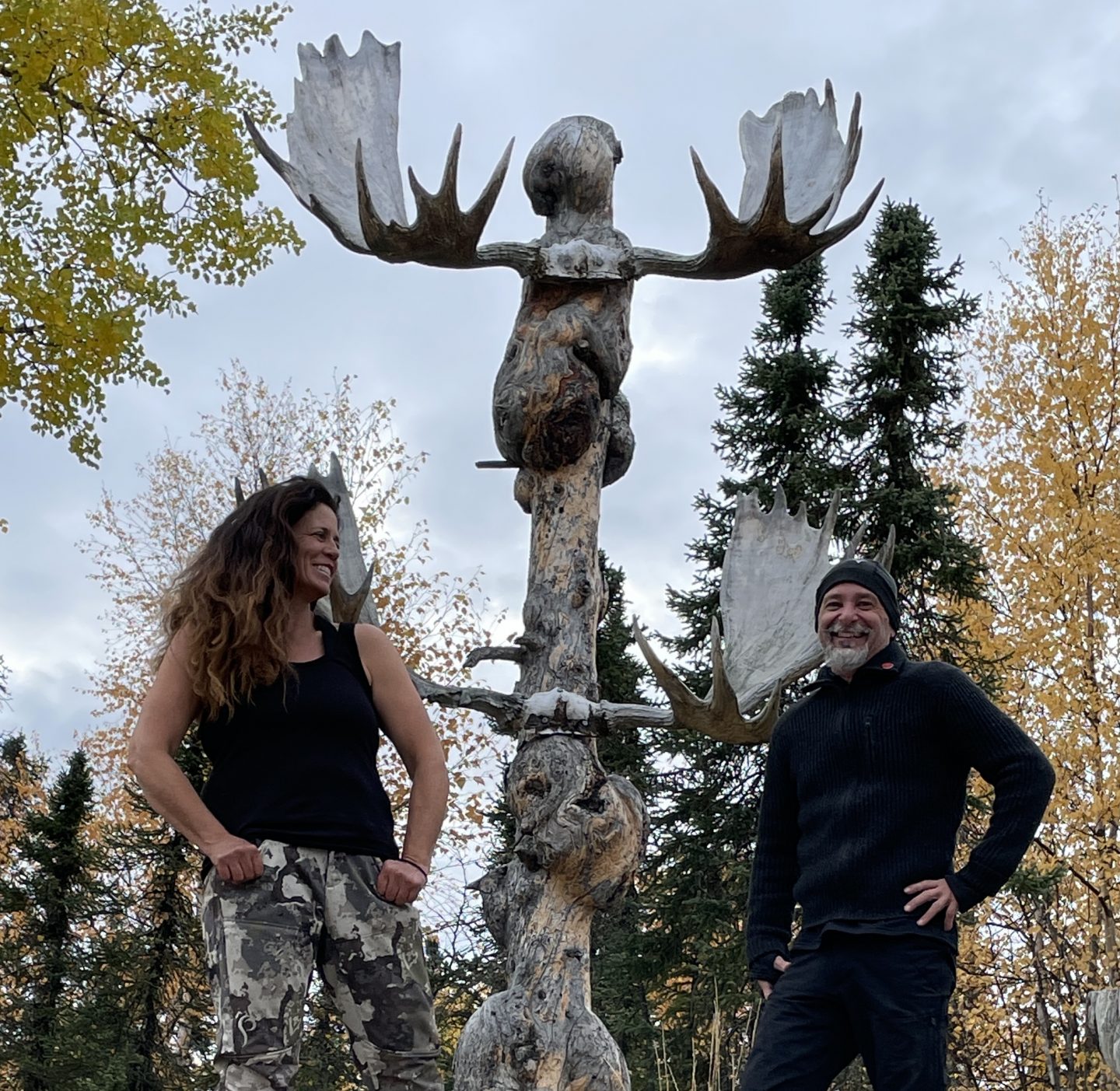 We had an emergency Garmin GPS that linked back via satellite; she could send some important text messages should we need it. The woman passed us a number to text them, and It confirmed our 11AM pickup.
Regal Air was fantastic; we had a different pilot Ry, who was happy to take a different route to Willow through the mountains. He was a great tour guide heading home. We even managed to stir a black bear and watched him race across the mountainside.
I learned so much this trip; Karin was a constant mentor. Everything was posed as a question, and every command had a purpose. It wasn't about the hunt for me; it was about the experience and just getting away. I really never expected the education. I mean, I only really ever spoken to Karin in the Lodge over drinks. Just being around her was motivating. She never stops; when our first flight was canceled, we went to her house and ran her Dog team. 9 O Clock at night, raining, chilly (she only runs the dogs at certain temps). As I write this, waiting for my redeye flight home, she has already taken two teams out, the first at 5AM. It's raining now, and she's out there.
I hate we had to pass on the moose, more for her than me. I got so much out of this trip; she just got to hear me tell funny stories all day and night. I am seriously humbled and honored to call her My Friend, and even that seems to fall a bit short.
Lessons Learned, My Trip Takeaway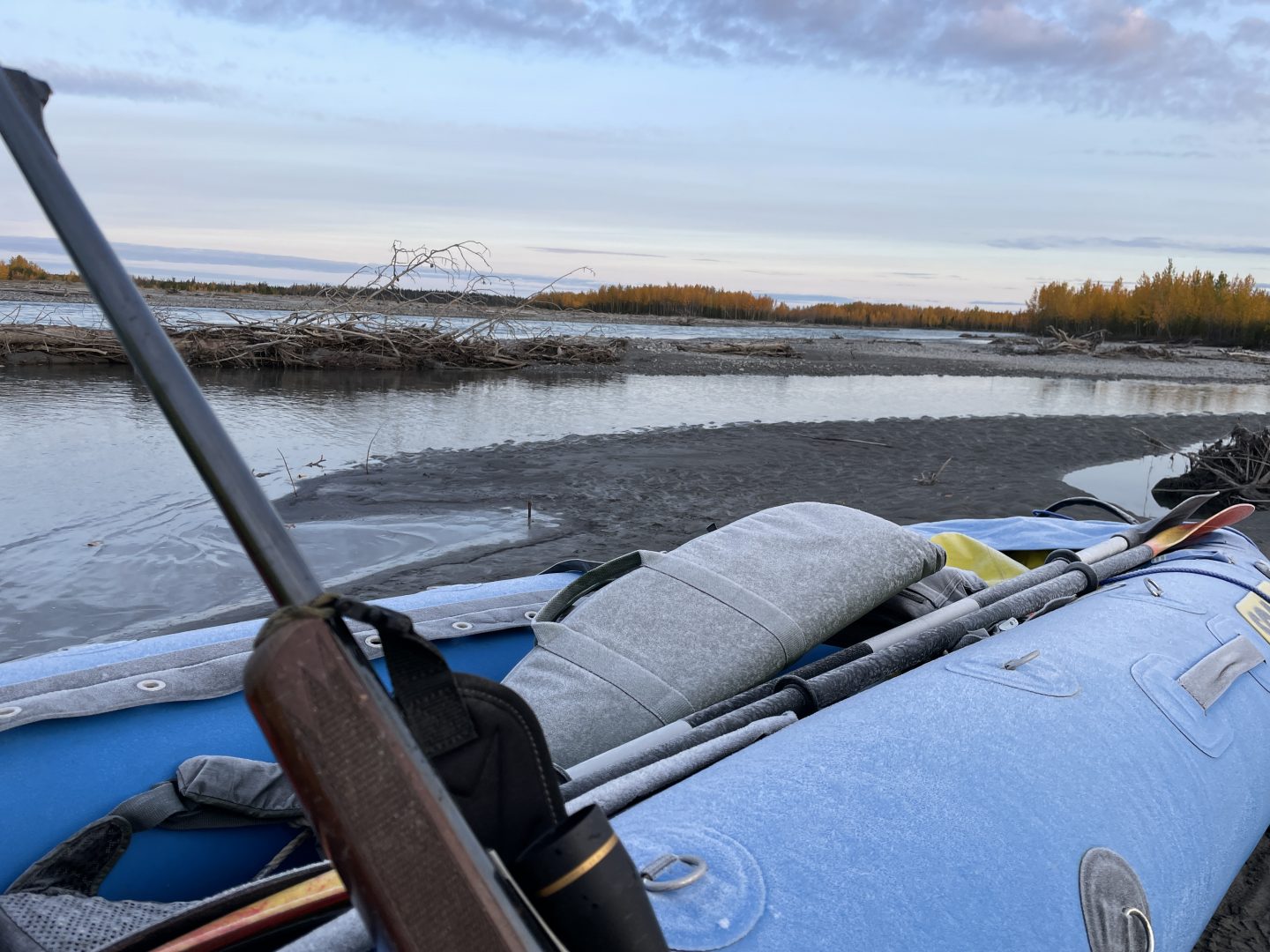 As I process and unpack my education, there is more to take away. For instance, the rifle, a big bore lever action, but man, that is the wrong gun today. It's an 1800s assault rifle; the muzzle velocity with a 200gr bullet is only 2450fps. Speed kills; we can have a 200+gr bullet going 2800fps out of a little package today. That means predictability; I know the lever gun is practical; I know that is how they have always done the hunting business, but man, it's 2021; we can do better.
The scope, sure, low power, simplistic, but nothing there to help the shooter. Everyone zeros at 200 yards and wings it from there. It takes no extra effort to put a working reticle in there, yet they keep making these duplex variants. I get some use a BDC, that is designed around speed for the user, poorly. But if you are camouflaged up and give yourself some distance, you have time and opportunity. Sure, if we are in thick bush and you can only see 10 yards in front of yourself, use an Assault Rifle, but the opportunities to shoot beyond 300 yards were plenty. With such a slow muzzle velocity, the drop and drift are twice as much as one would expect. That is why guys miss shit. It makes me want to design a new reticle that actually helps.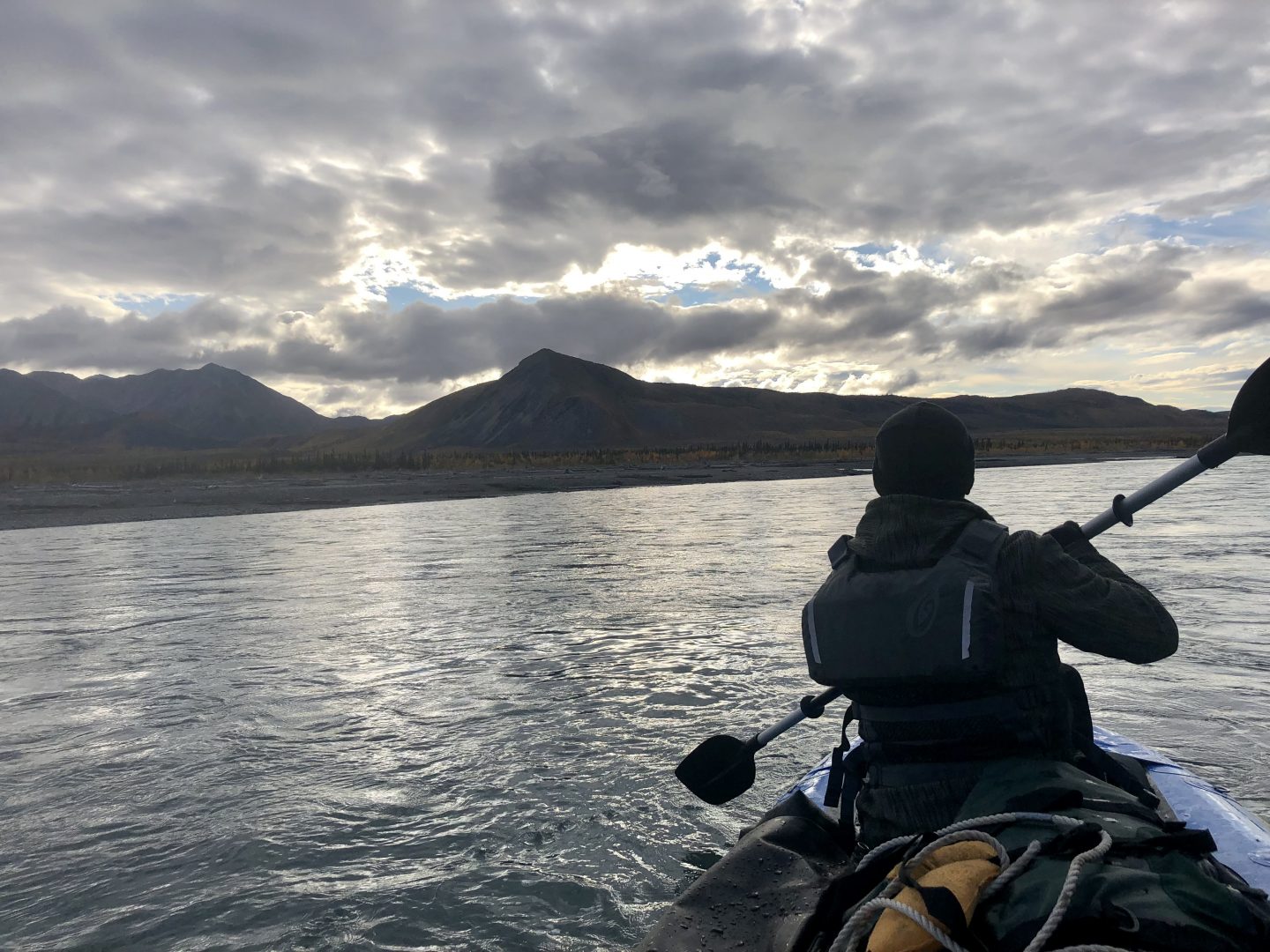 The wilderness out here is no joke; you have to be armed. It's the ultimate example of why we carry firearms. You have no idea what is just inside the tree line. I told Karin several times, I want a silk scarf like a WWI fighter pilot; your head is constantly on a swivel. It needs to be. After the bears charged us, I said how happy I was; nothing in the water wanted to eat me, but the water will kill you just as fast. It's so cold; you are dead in minutes; there is no help if you screw up.
All this is what makes Her chosen life as a musher even more impressive. They do it at minus 60 degrees. They have moose block the trails and go after the dogs. They have to stop, take breaks in the cold at night while traveling across the ice, which can break and get them wet. When she ran the checkpoint in Rohn this year, she called in a Black Hawk Helicopter with PJs because a racer had crashed and got a life-threatening head injury. The calm under pressure is vital to their survival. If you fall off a sled, the dogs keep going; they don't stop, you are done. This is a rugged land, as they say, the Last Frontier. Seeing it from a different vantage point changes your perspective on it all.
Hunting in the Lower 48, or America as Karin calls it, is soft by comparison. I get you can find areas to hunt here that are easier, but it still involves risk. We have removed a lot of the risk from the States. I am not a hunter, I am a city kid from Bridgeport, Connecticut, but looking at the situation like a stage at a competition, you can clearly see we can modernize a lot of how people operate. The survival part, you have to study and learn. There are no services out here, back home; we complain if you have a bad connection.
Each place has its own set of challenges; however, you are primarily on your own up here. I really enjoyed that; it opened up the senses. You start to tune into your surrounding very quickly. Tons of people do this from the Lower 48; the majority I saw work in much bigger teams. I'm not taking away from any effort; I am simply pointing out that this is an everyday lifestyle for some people. My risk lasted 5 days; the guys we ran across it was 10 days; for Karin, it's nearly every day. She's not a professional guide making money; we hire guides to mitigate risk and increase the potential for reward. She does it because she loves it.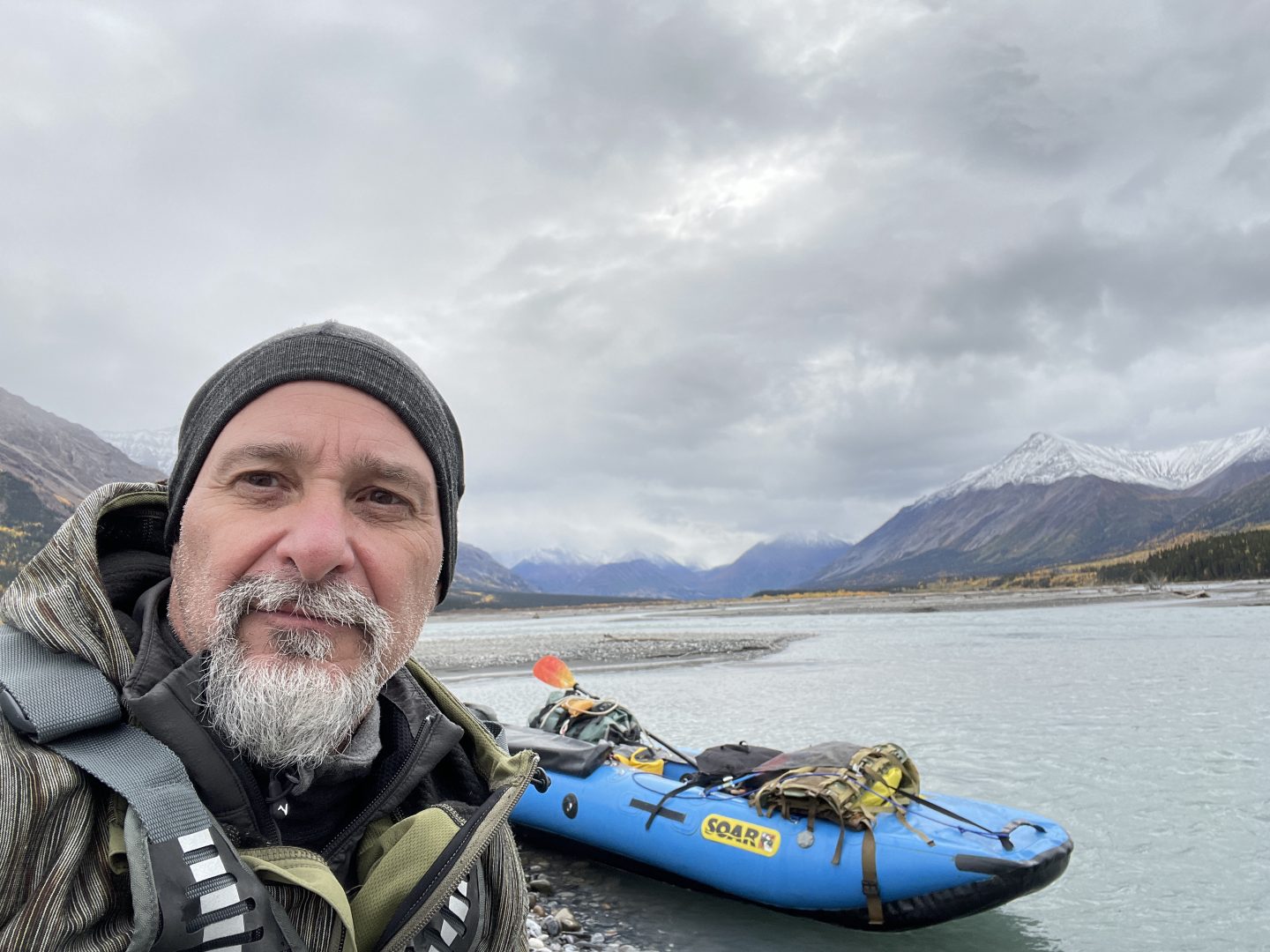 I will always cherish the experience and hope to do more. We are already talking about an annual Adventure, whatever that might entail. Knowing Karin, we'll be up on the Arctic Circle hunting polar bears or something equally dangerous.
Karin Hendrickson Blue on Black Kennels Willow, AK
ULowlight – Frank

Owner of Sniper's Hide, Bigfoot, The Loch Ness Monster, Aliens, & UFOs