Private
Full Member
Minuteman
Started building my new .22 creedmoor. (.224/6.5 creedmoor)
I had the pleasure of Dave kiff at Pacific Tool and Gauge build me up a finish reamer and full length die reamer for a .22 creedmoor. The main objective was to shoot the 90grn bullets at a respectable velocity and use it in various types of match style shoots/competitions as well as a hunting rig. According to Berger's 90.0 grn Ballistic Coefficient (
.551), velocity running around 3100fps-3200fps and a modern match grade case geometry to boot, the .22 creedmoor became a very intriguing cartridge. After running the numbers everything shows that it does very well in both trajectory and kinetic energy not to mention very little recoil.
Here is an example of the .22 creed against the parent 6.5 creed. Using the 6.5 and a 130grn berger running 2800 FPS drops about 8.0 mils vertically with a 100yrd zero and 1.7 mils horizontally in a 10mph cross wind with 734 ft-lbf @ 1k according to strelok ballistics . Under the same conditions the .22 creed with a 90.grn berger running 3100fps drops 6.1 mils vertically , 1.45 mils horizontally and has 676 ft-lbf on impact.
So far for testing purposes I have acquired the following... Remington M700 SA, PTG lug, Bartlien 7.7 twist varminter barrel finished at 26", jewel trigger, Custom K.B Precision Scope rail, H-S police Stock skim bedded and PTG BDL bottom metal. Started the build and should be ready for load testing over the weekend.
.22 creedmoor left and 6.5 creedmoor right
View attachment 19762
finishing the FL sizing die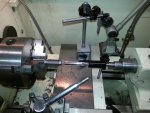 PTG removable pilot reamer
a look into the FL die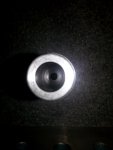 Last edited: