I'm open to some constructive feedback on where to start troubleshooting my most recent day at the range. I have a pair of T3x .223 rifles - a CTR and a Varmint. The CTR currently has a 3-15 Viper PST Gen2 and was shot for the very first time yesterday using Federal gold medal ammo. It shot well and my groups were on par with what I'm used to shooting with the Federal gold medal ammo. I mention the CTR only to validate the fact that I can shoot reasonably and was not subject to some gravitational vortex of horror yesterday.
The other T3x .223 is a varmint model in a KRG Bravo stock. This rifle has about 500 rounds through it but was wearing a brand new Vortex Golden Eagle scope that I mounted last week and had never shot. I was cocky and put just enough rounds on paper to get a bullseye with the Federal gold medal, with dial adjustments between each shot and then started my strings of freshly reloaded ammo for groups at 100 yards. The weather was cold, raining, and a little bit of wind.
The components were as follows: Win white box 5.56 brass (1x fired in an AR), full length sized with a Forster die (not small base), trimmed/deburred/chamfered with a Giraud, and decrimped the primer pocket. Powder is 8208 with CCI 450 primers under a 75gr ELD-M that was seated with a Forster micrometer die. 6 powder charges between 23.2gr and 24.5gr, 5 rounds at each weight for a total of 30.
I measured with a Hornady OAL gauge and my base to lands with a 75gr ELD-M in the varmint was 1.875" and in the CTR it was 1.908". That's a .033" difference between the varmint with ~500 rounds through it and a never-fired CTR. I subtracted .020" from the 1.875" and used that as the conservative OAL and came up with 1.855" base to ogive and 2.412 COAL.
During the first string, one piece of brass looked like this. A ring of soot around the mid body of the brass and noticeable soot around the neck. Most rounds had soot around the neck and only 2 or 3 had the ring around the body.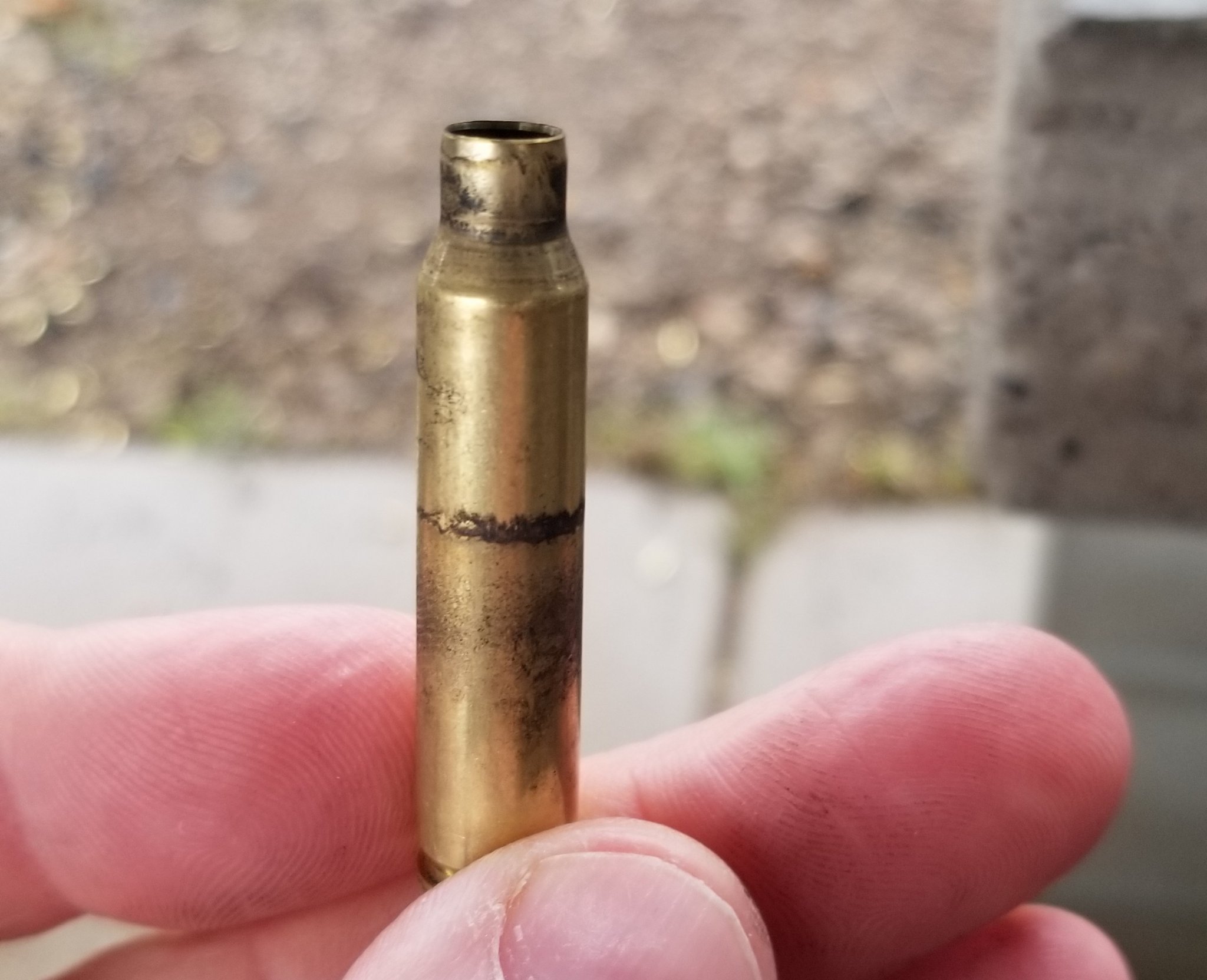 Then I started cranking out groups like this. At 23.4gr I had 2 shots in the same hole in 2 different spots and a flyer.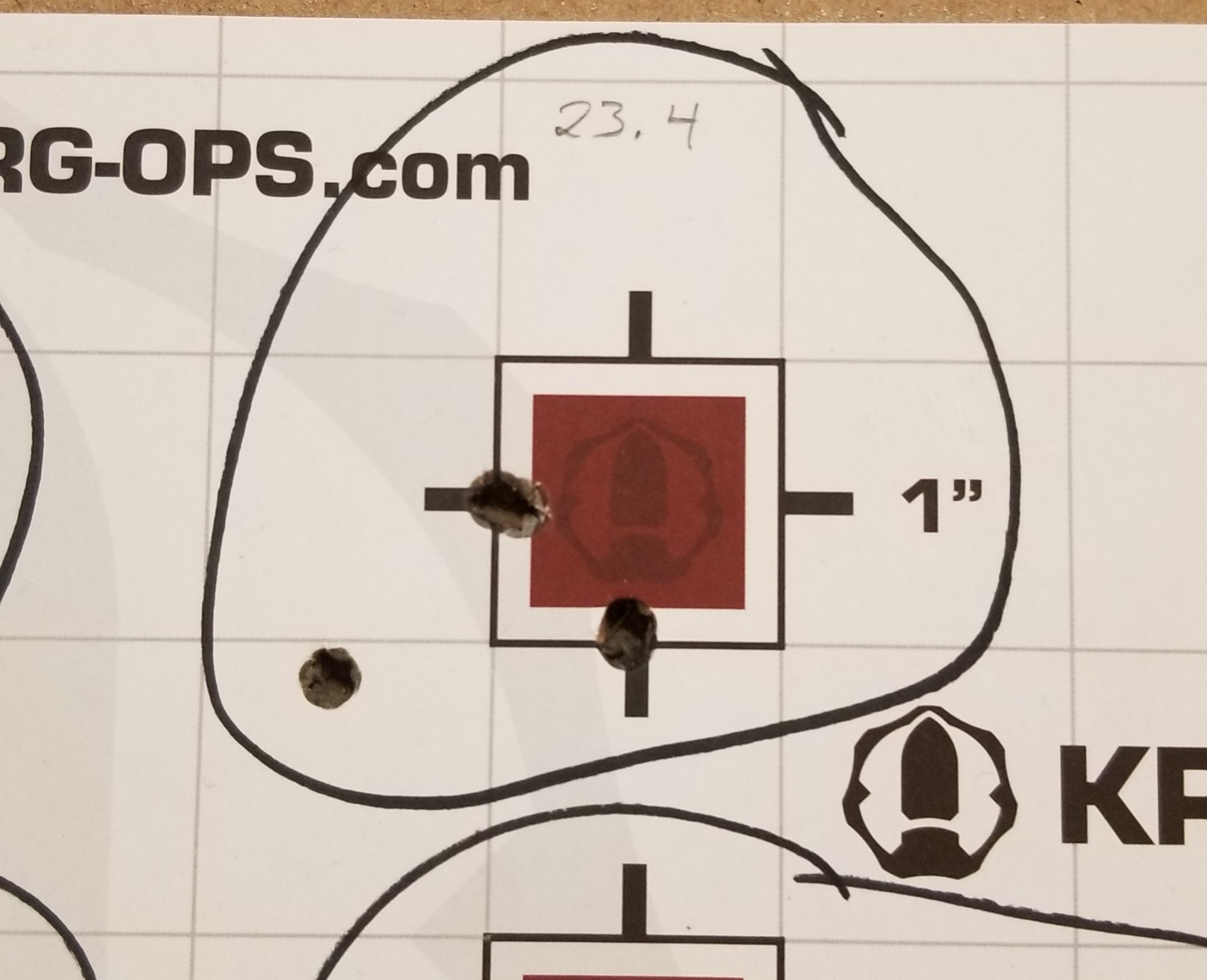 At 24.3 it just looked like a shotgun pattern.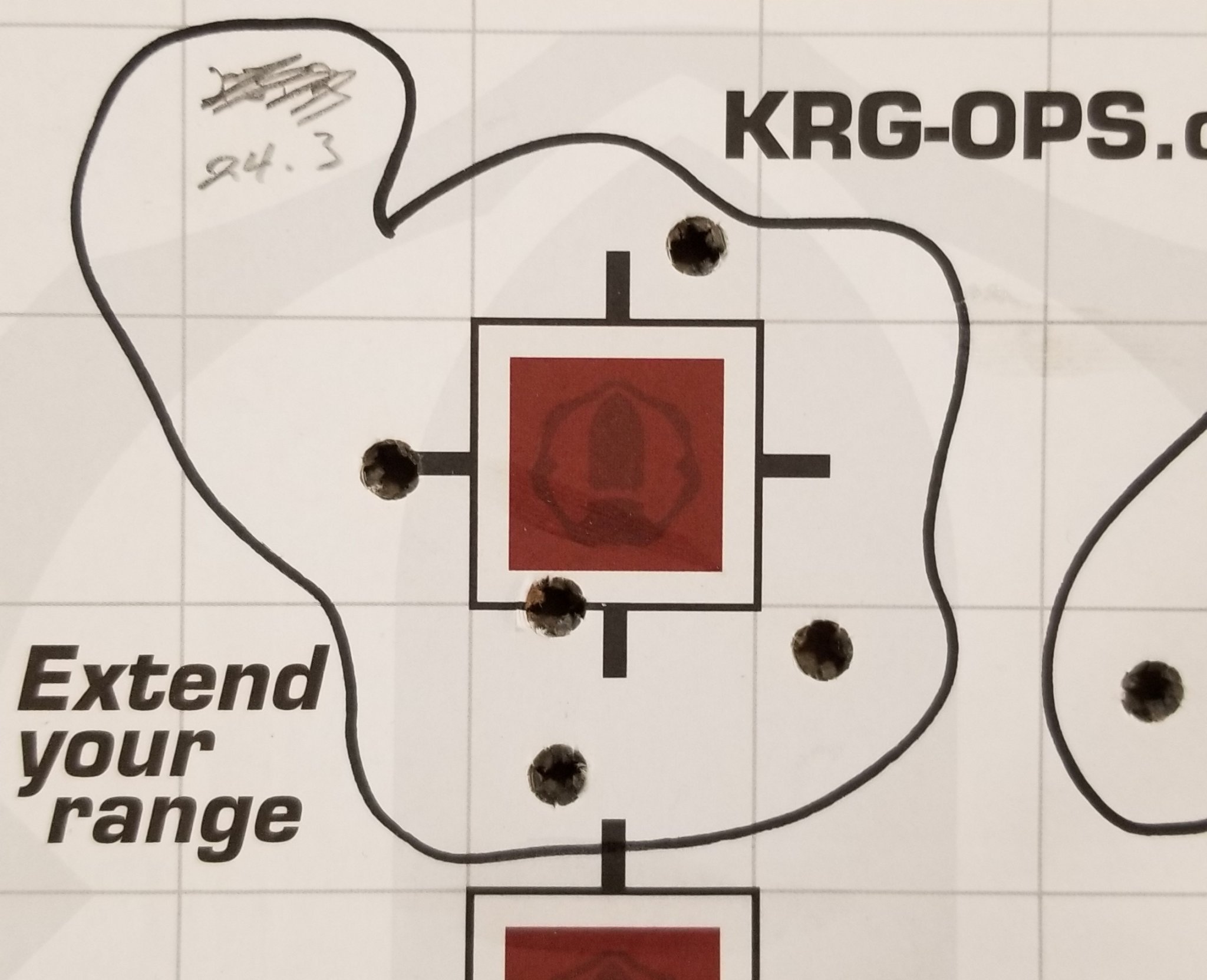 I'd already made the trip to the range, so I slogged through all of the rounds and laughed about how bad things looked.
Where should I start?
My plan is to return to the range with both rifles. Shoot a few strings of Federal gold medal through the Varmint with the Golden Eagle scope. If the groups are bad, swap to another scope and see if the groups improve. Pick a powder charge and load ~10 more rounds to allow for a group from the Varmint and the CTR.
Do I need to be concerned about the chamber on the Varmint being ~.030" shorter than the CTR? I can borrow a bore scope from a friend if needed.
Should I switch brass and try some of the Federal or Hornady I have sitting under my bench?