HMFIC of this Shit
Staff member
Moderator
Supporter
Minuteman
Apr 12, 2001
32,957
26,588
Sniper's Hide has paired up with
Ashbury Precision Ordnance
to offer a Sub $2k Precision Rifle.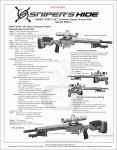 Background:
I wanted a rifle I could recommend to students and followers that was a turnkey system. Over the years we would tell students to get the Ruger RPR, the Tikka T3x, etc, but we found ourselves upgrading them. They are great entry level rifles but when it was all said and done, most guys were ending up with $2400 variants due to the changes we'd recommend. This rifle has been spec'd to meet the need of the precision rifle shooter, from both a training and competition standpoint.
Why the Remington 700, because it's the Chevy 350 of rifle actions. Ashbury Precision Ordnance employs a team of former 2112 Armorers who take these barreled actions and clean them up, upgrade the trigger, and then test for accuracy. APO Rifles flat out shoot thanks to the attention to detail they put into the rifle. They have an upgrade path either from APO, or you can take them to your favorite gunsmith and the sky is the limit. Finally, I looked at it from a resale value, the APO Saber Chassis is modular, by pairing it with a Remington 700 you maintain your value over time.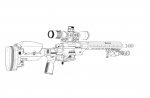 Saber Chassis, it's a truly modular chassis system. The APO chassis allows the shooter to adjust the fit to them individually. In my mind, this promotes marksmanship because it's designed to adjust as well as grow with the shooter. We spec'd out the version of the chassis that meets the need of a turnkey system. We could have offered it in a variety of different ways, with numerous options. I get asked every day, "what do I buy" so I wanted to answer that question without you having to immediately upgrade the choice from what is offered to what is available. While APO continues to refine the options, you have the ability to keep up without needing a new system.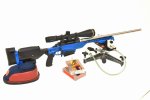 Why Ashbury Precision Ordnance
The easiest answer is, because of their quality and my longstanding relationship with the company. Morris, Matthew, and Company are able to meet my needs in terms of accuracy, upgradeability, and modularity so the rifle is not obsolete in a years time. Their 2112 Armorers and Custom Shop can produce these rifles while making sure the Sniper's Hide Members buying can be supported at all levels. Customer Service and Support is every bit as important as the accuracy I demand. There is a long tradition of supporting the Marine Corps warfighters and that speaks volumes to me. Cap this all off with the ability to bring this rifle in under cost while still giving the end user all the best features.
The rifle was born out of the APO Saber M700 sold at Cabelas.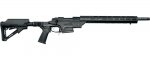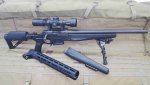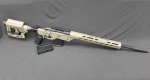 The Price
Everyone talks about Precision Rifle as the fastest growing sport. This is not new, we have been for years now. Because of that, we have seen the prices go up, and then recently many companies jumped into this space by bringing the prices down. I wanted a viable option under $2000 that was a turnkey system. We made sure it hit every mark, from front to back. As well we wanted an upgrade path for those who enjoy a tiny bit more. Change the forend, change the buttstock, folding, fixed, modular, you can change it. The Base
Sniper's Hide Edition Model Retails for $1950
. We cut out the middle man, so you are not paying more than you have too.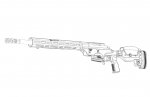 Trigger Tech Triggers
This was important to me, aside from completely going over the Remington Barreled action, I wanted, not just a good trigger, but a great trigger without having a $400 upgrade cost. Enter the Trigger Tech Triggers. Trigger Control is key, it's our point of human contact with a rifle. A good trigger goes a long, long way. The base rifle comes standard with a Trigger Tech Trigger installed.
Turnkey Solutions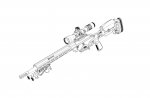 Simplicity is key, guys want a solution without having to hunt for upgrades. Just add your scope and you're in the game. Whether you are taking a class, shooting a match, or just enjoy shooting on the weekend to clear your head. It's a great looking rifle, sure to stand out on any public firing line. The accuracy standard will make you look good too with the old-timers at the public range. We picked the two most popular calibers, 308 and 6.5CM as the base system, but you can modify that to anything you like. At $1950 you are not overcommitting in cost. You can test the precision rifle waters without breaking the bank.
We have been discussing this on the
Everyday Sniper Podcast
, so if you want to hear more about this, check out the podcast.
As noted above, this can be ordered direct from
Ashbury Precision Ordnance.
Last edited: