Flag-Sword-Cross
PX Member
Minuteman
Wow its been a crazy year. I went from being a scope snob
http://www.snipershide.com/shooting/threads/scope-snob-in-remission.6877345/
to selling everything and buying 2 new XTR2's with H59. This whole year as been fun competing with a scope that tracks phenomenal (what I rank #1 on the scope wish list) that happens to have the wurst glass in the world that you cant see the side of a barn with (what snipers hide ranks #1 on scope wish list) BUT to my great happiness, Burris has really stepped up and answered the call (admittingly I don't like the name just going up to "3" but I don't get to make any decisions regarding sweet names.. my model choice of "BASMF" got rejected...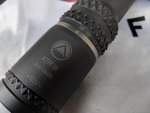 After a fantastic year of shooting, I was recently approached to spearhead the release of Burris new XTR3 at this years PRS finale.
Simple answer, if it tracks as good as the XTR2 I am in 100%. Now, the scope has landed. 3.3-18x50 and another scope with larger Mag range scope that hasn't been determined the zoom zoom yet but will be around 5-30 ish. They should be at shot and I have no idea on release dates. Im not an employee of Burris. Im now just a fanboy
My day job is construction and my family lets me shoot like a ninja on the weekends ha...
Features on the 3.3-18
-Substantially Better Glass YAY!!
-Actually don't know how to explain this, but when looking through the scope, the scope almost disappears, ie the scope "shadow/ring" is very thin. Very cool feature I think.
-10 mil knobs (thank you for not going to 24 thousand clicks per rev. so annoying to clutter the clicks up.
-20 yard parallax
-adjustable zero stop
-locking diopertererer thingy lol
-Larger knobs easier to grab and rotate and SEE...(and also write on!!)
-KNOBS way more tactile than xtr. reminds me of NF or Gen2 rzr.
-oscillating hash marks (ticks) on knob
-set screws on back of elevation knob so you can actually see to get the allen wrench in to re=zero knob. huge pet peeve of mine lol.
-New SCR TREE rect. hashtag2yrslatetotheparty
-LArgest FOV in class- this number actually surprised me roughly 15' more fov at low power is crazy...FOV has become one of my favorite features in scopes in the last few years, so when Burris told me 40' I didn't believe them...until I looked through the scope. VERY noticeable.
some numbers
XTR3 = 40.3'-6.6''
XTR2 4-20 = 25.8' - 5.4'
USO 3-17 = 25.25' - 8.03'
Kahles 3-18 = 27.8" - 5.5'
Bushy LRHS 4.5-18 = 23.5' - 6'
Bushy DMR 3-21 = 25.3' - 5.1'
SWFA 3-15 = 34.78' - 7.21'
SWFA 5-20 = 20.1' - 5.1'
Leuppy MArk 5 3-18 = 28.3' - 5.8'
Steiner 3-15 = 36.0' - 7.3' (was surprised to see this as high as it is, but I guess it makes sense...)
SO, I will be shooting it this weekend at the PRS Finale. Come check it out. I am very excited to check out how sensitive the parallax knob is. My other high end scopes like S&B and Minox and Henny etc are kind of set the parallax in the middle and forget it. I hope this is like that. I ran my XTR2 at 400-500 yards almost exclusively. I hope this one isn't sensitive.
Ill give a better review after I put 300 rounds on it this week and at the Finale.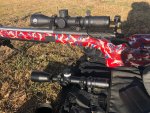 As more than a few have mentioned, it is a VERY good time to be a scope consumer!
Regards,
DT
Last edited: