So about a week ago I notice my dog has some scabs on her back.
Did not think much of it we live in the country. She's inside most of the time.
Today I'm outside working my wife tells me the dogs hair is falling out or got pulled out gently when they were looking at her back. They put medicine on her.
I find this out after the fact.
She's been with us over a year we have had no problems. We have an inside cat , he is fine. A few months ago the wife got a hedge hog. It's fine. The hedge hog is next to the dog create.
I can't think of anything new.
she takes flea and tick medicine that hasn't changed. Same with heart worm medicine.
We have gotten an above ground pool and she has been sprayed with that water . Chemical burn?
here is a picture of her back with the medicine on her.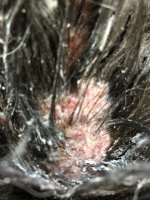 like some ideas of what to do for her. She acts fine.
can try more pictures.