Breaker of Things and Fundamental Fanatic
Supporter
Full Member
Minuteman
Ok so this is just a quick little review of a Hodge Defense upper. Over the last couple years I've seen a lot of folks and particularly some very reputable fellow instructors praise Hodge for their accuracy and speed…
…I've also heard folks dismiss Hodge Defense as nothing more than fanboy hype of what is essentially a standard FN CHF barrel.
Full disclosure, I've been a tax payer funded professional gas gun shooter for the last 20 years with that time split between the Marines and Army Special Forces as a rifleman, designated marksman, sniper, sniper instructor and administrative bitch and I now teach under contract for Ridgeline Defense in New Hampshire.
Sufficiently said I am not really a gun nerd when it comes to specs and shit, so I won't bore you with something you can google. I am solely interested entertaining what this barrel might be able to do in the context of the SPR/DM roll. I (well technically the company) came by this 14.5" Hodge Defense complete upper directly from Hodge along with another for review at our leisure. I don't know if we're giving it back but I have every intention of keeping at this point.
Test Bed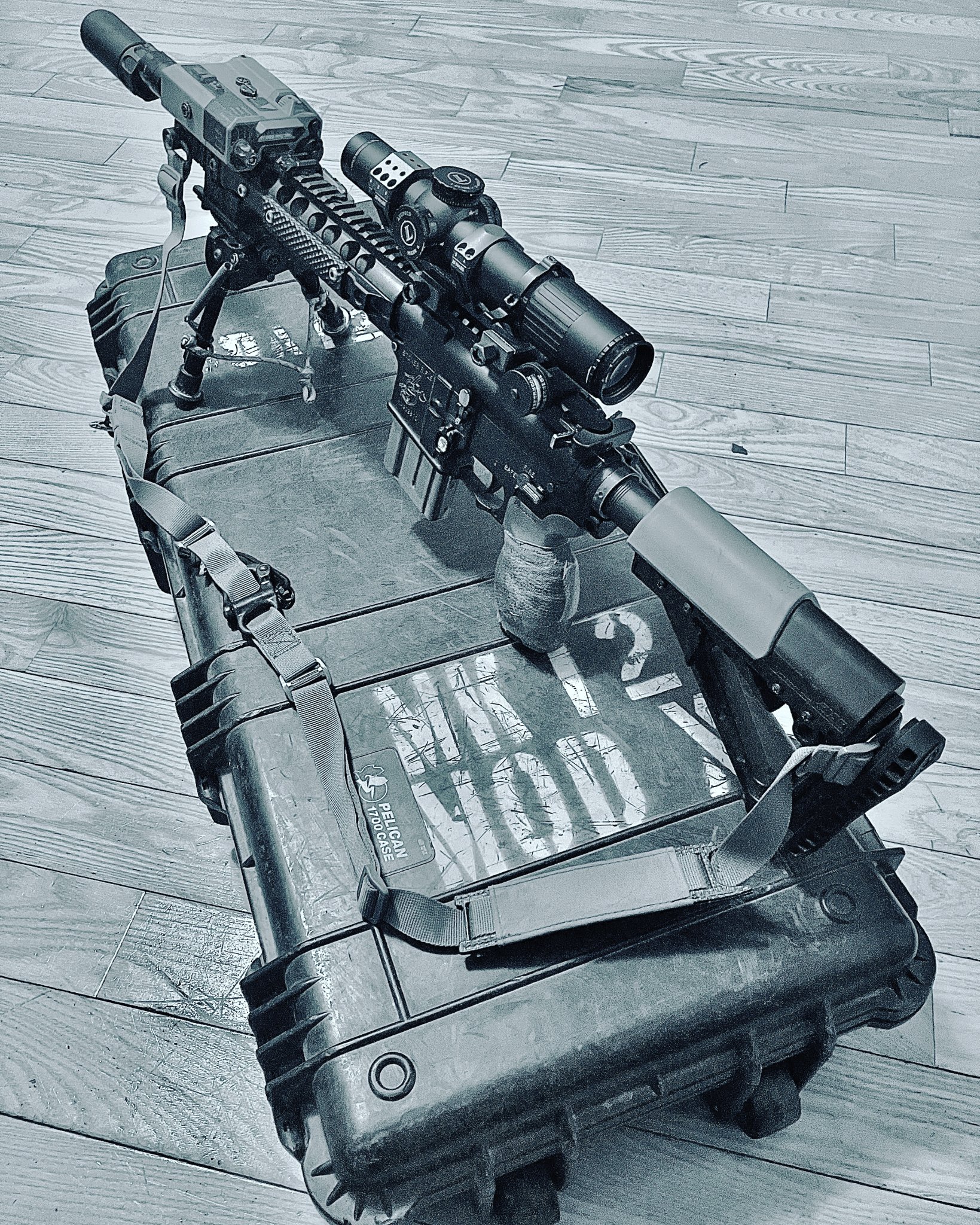 Notes on the test bed: Standard Knights SR15 lower, the Hodge upper was disassemble out of curiosity as I wanted to inspect the barrel extension/receiver fit. I have found that along with the general quality of the barrel, the barrel extension/receiver fit is paramount to accuracy and precision. And lets just say It's fuck'en tight!
I reassembled the upper with a KAC URX3.1, the standard Hodge rail is sound but not aesthetically pleasing to me personally so I switched it out. I mounted a Leupold Mk6 1-6x w/CMR-W, which may sound like an odd choice and I agree at 1-6x is a bit light for truly effective DMish work in this day and age but the 0.5 MOA center dot makes great for 100y grouping. The parallax is technically set at 150y but I notice no discernible effects at 100y. Additionally I like only having 6x, I can't really tell exactly where my impacts are so it's kinda like shooting blind until your done, which is mentally preferable for someone as excitable as me.
The initial review I shot here took place about an hour before our Advanced Precision Class. I ran about 20 rounds of some steel cases commie bullshit through her to test function and foul the bore a bit and get rough zero.
I then let the gun cool and then shot a quick series of 5 round groups using some standard DODICs. Rate of fire was approximately 5 rounds a minute with about 5 minutes between groups. All shot prone off gravel with a Harris bipod and Armageddon rear bag. Environmental conditions are as follows:
Station pressure - 28.22 inHg
Temperature - 21F
Relative humidity - 41%
(Grid is 0.1 MRAD)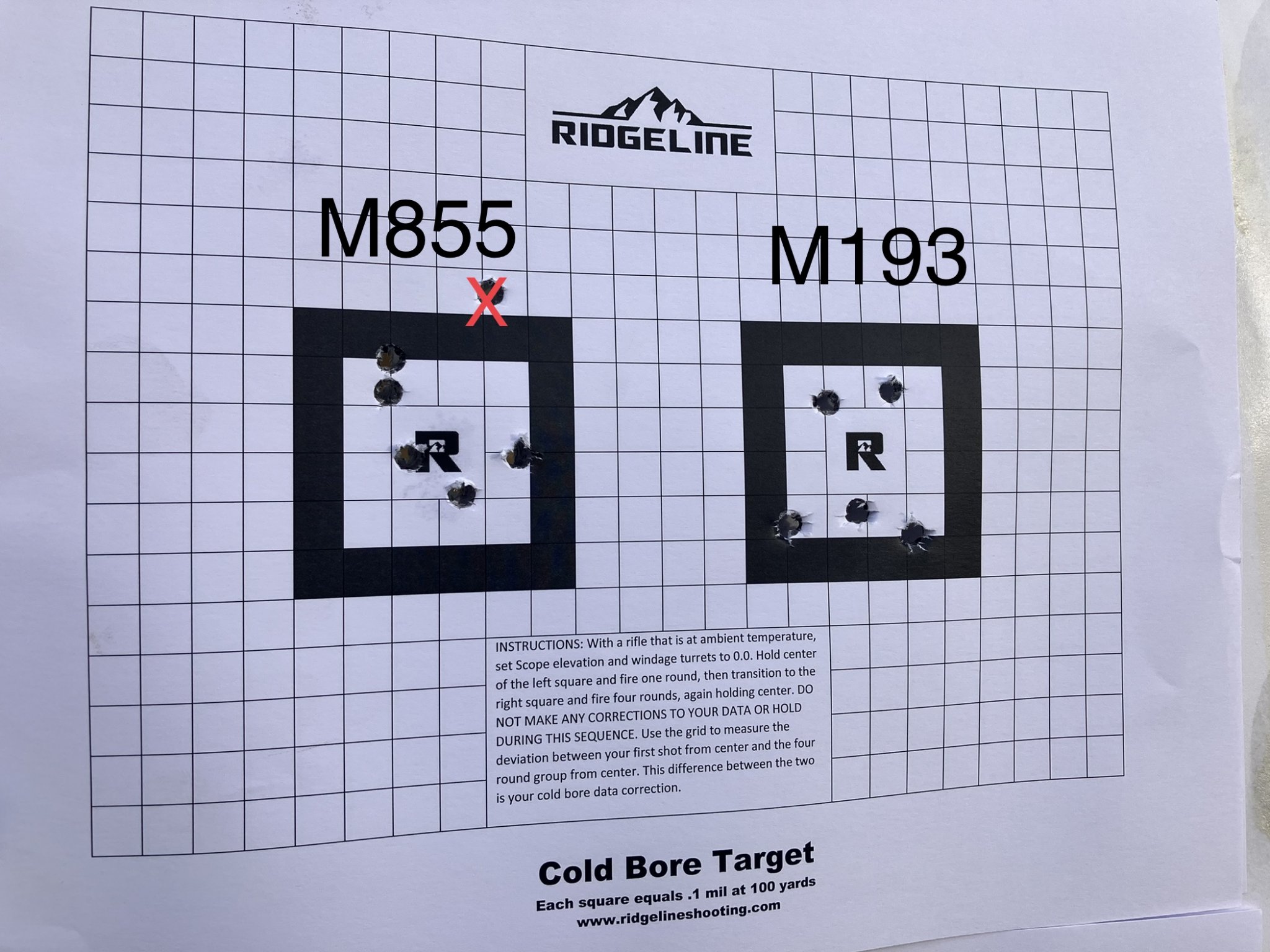 (The red "x" was a called shot)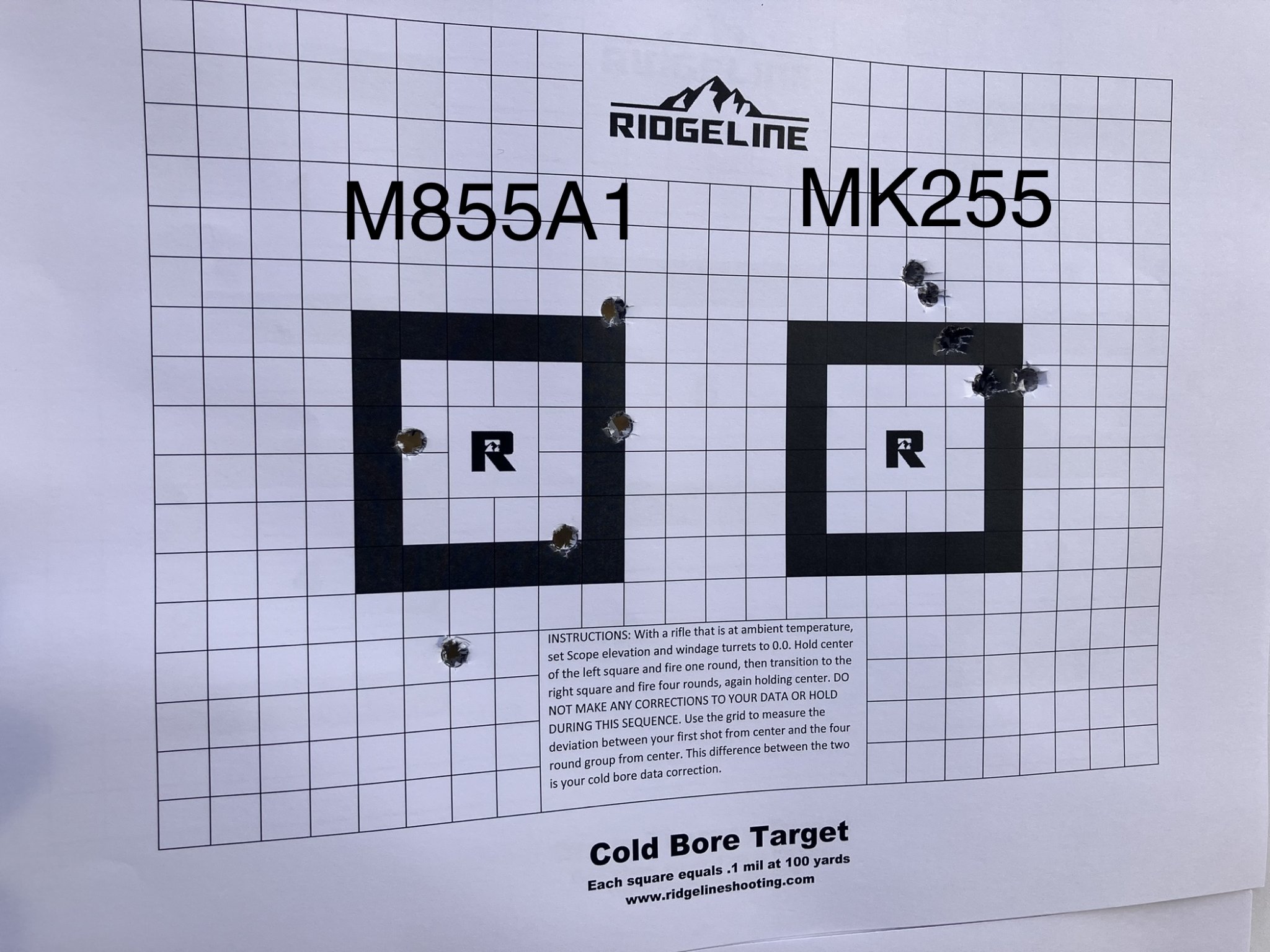 The initial 5 round groupings showed some interesting trends. Standard ball seems quite capable of about 0.4-0.5 MRAD and with little POI shift which while not particularly impressive is more than adequate to pay the bills at 500-600y. The solid core A1 didn't seem thrilled to be there. I suspect this might have been due to the alleged "tightness" of Hodge's barrels/chamber and the solid copper core of the A1. The Mk255 also performed within those standards but with a slight POI shift, which wasn't surprising for frangible.
Following this I was curious to see if the barrel would exhibit any POI shift under the rapid rate of fire. The following 5, 5 round groups were fired in slightly less that 60 seconds, all with M193.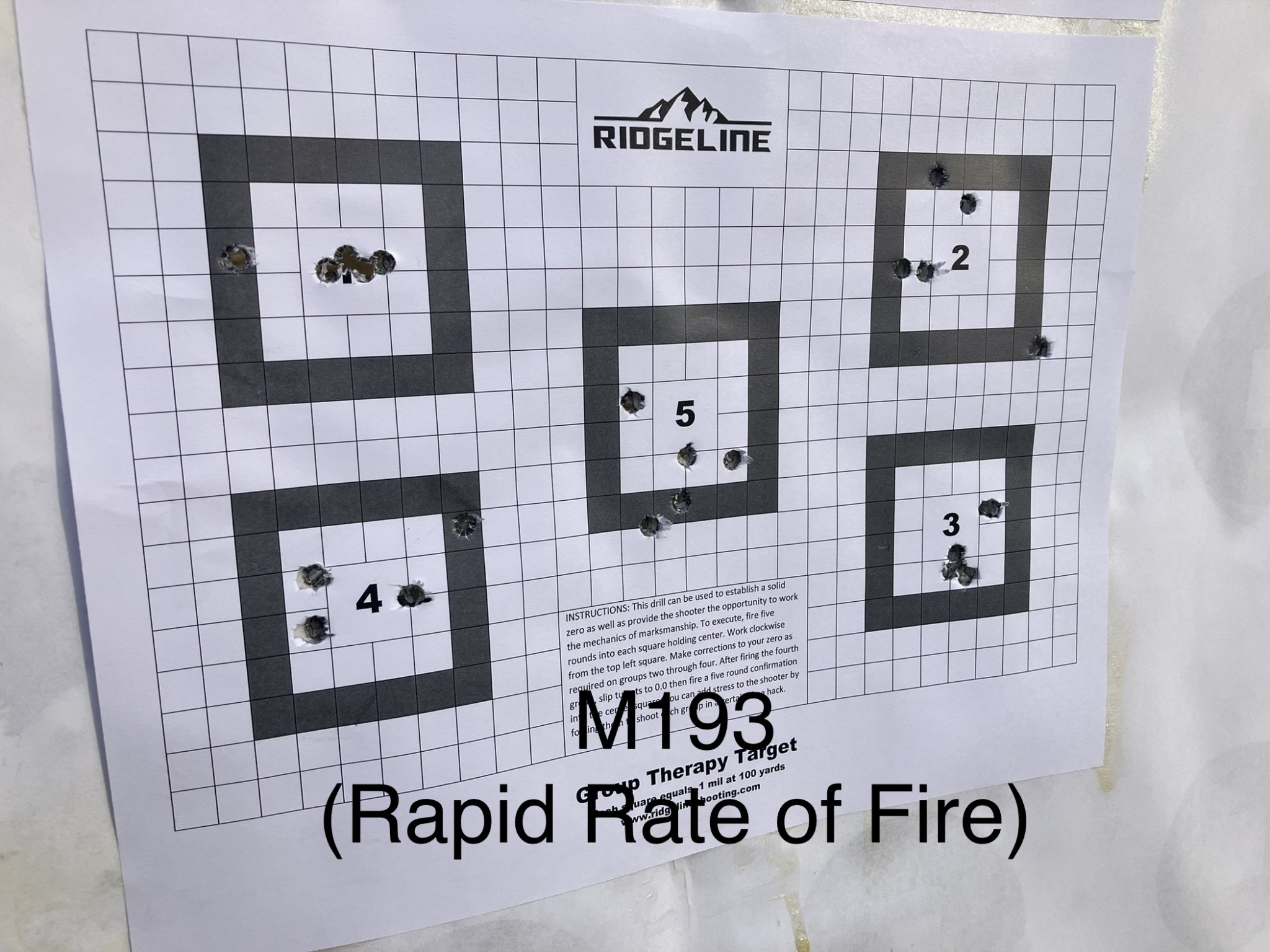 You can see it's probably not my best work being rushed but fairly consistent POI in regards to the earlier slow fire groups.
Lastly I want to see what some match/special ball might produce.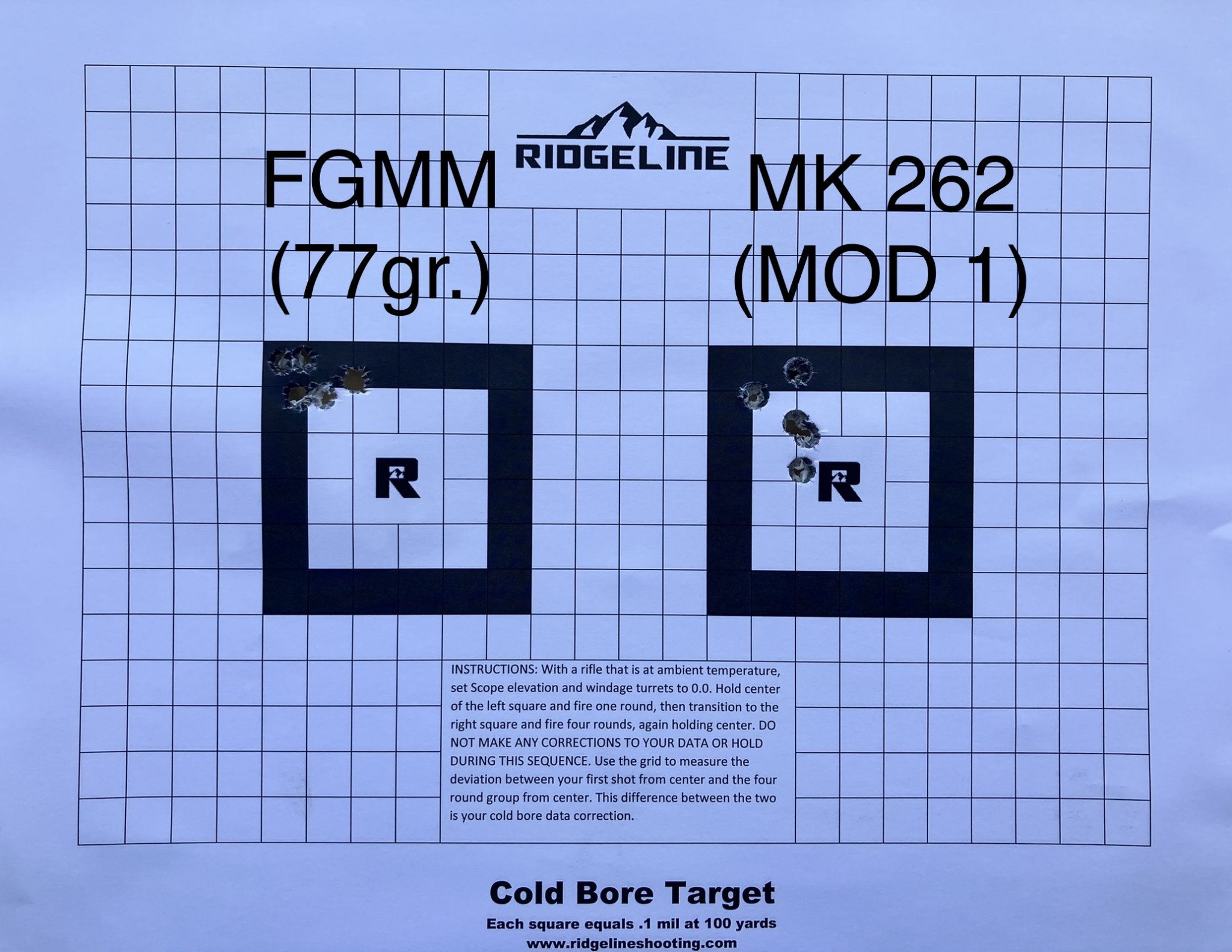 The FGMM performance was splendid as expected and the Mk262 gave a heart warming show as well. Simply put the performance of QUALITY match ammunition is a notable thing. Both interesting trended high left in their POI, I made no adjustments in elevation or windage throughout the review.
Overall this quick review is pretty limited statistically speaking, being one barrel and handful 5 round groups of different ammunition types, this is anecdotal. The reality is AR barrels are something of a lottery as discussed frequently here.
However I do think it suggests the Hodge Defense barrel warrants some serious considerations given it's performance with match ammunition alone but also it's willingness to digest quality ball ammunition in a pinch and take rapid strings of fire without POI shifts.
In short this barrel is a keeper for sure.
P.S. - To everyone wants to know if I chronograph the barrel…no I ran out of time. I'll get a chance later this year after the holidays.