Voltron ⚡️ Beard!
Supporter
Full Member
Minuteman
Supporter+
Hi everyone. I shoot prairie dogs from a swivel bench or a tripod out to 600 yds. I am thinking of upping my game and want to know other people's ideas and workflow, especially during UKD hunting.
My goals here are to increase my first round hit % and to minimize physically writing out dope cards for 3-5 rifles.
Currently we use two LRF binos (a Fury 5000 and Leica 15x Geovid-R) with the 15x replacing the spotting scope and the shooter uses the Fury. My iPhone 13 Pro Max (with Strelok on it) is used for filming the hits on a spotting scope that's co-witnessed with the spotter's LRF binos.
For dope display I use a Cole Tac Cheat Sheet strapped on my scope. StrelokPro generates that dope for factory Hornady ammo in 204, 17 Hornet, 22 Hornet, and for rimfire I use CCI 22 LR segmented subsonic.
I really don't like handwriting extensive dope for 3-5 rifles onto those small (but excellent!) Cole Tac dope cards. See below: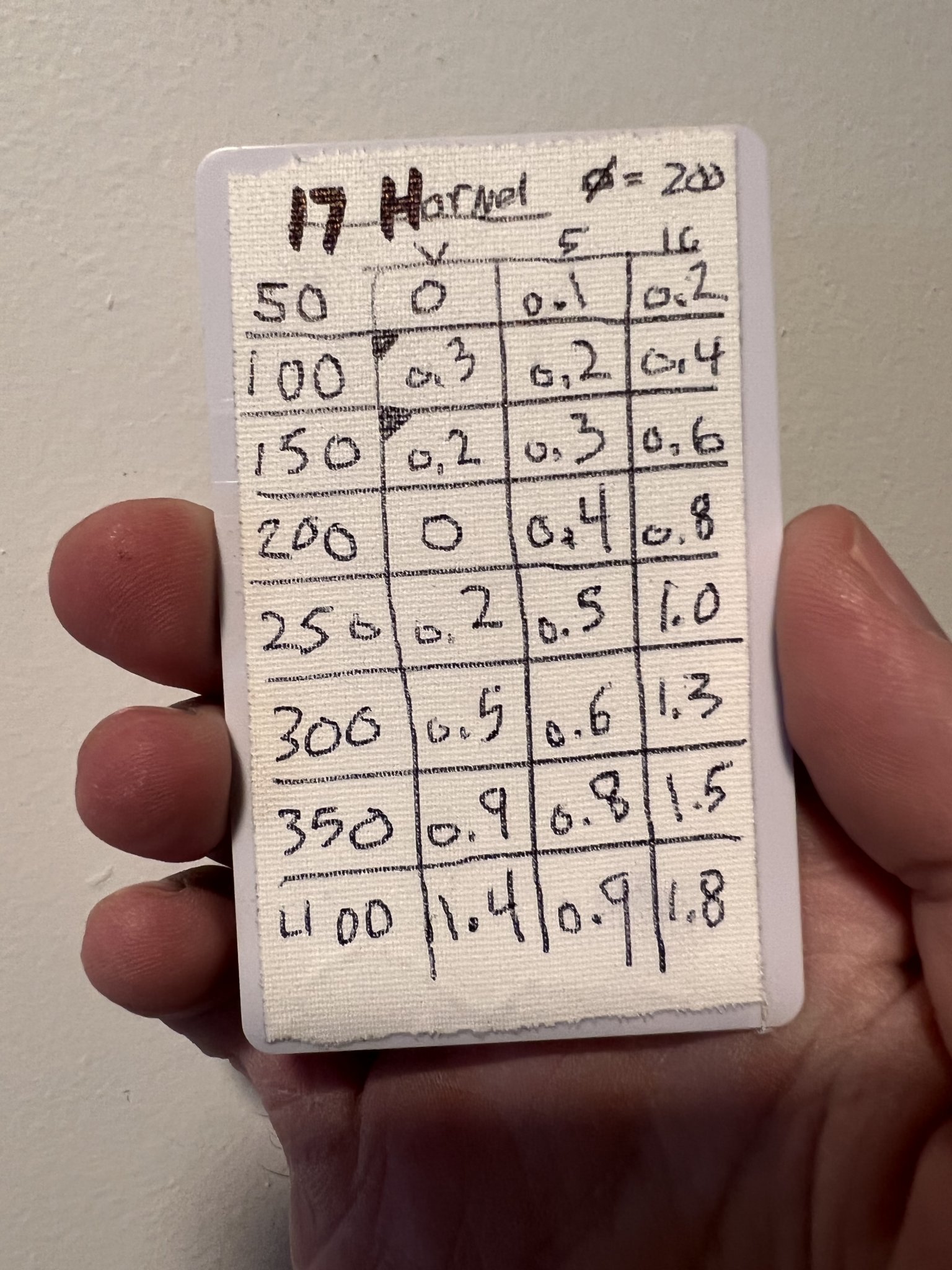 Yes, 350/400yds for 17 Hornet is optimistic. I know.
My research has pointed me towards these general directions below. Keep in mind the spotter will remain using the Leica 15x LRFs and the following describes the shooter's gear:
The Full Monty: Kestrel 5700x on a tripod with the wind vane, LRF binos (Fury 5000 AB, Sig 10k, or Leica 3200 Pros) linked to the Kestrel, firing solution displayed on a Kestrel HUD mounted on the rifle. Or maybe some binos will display the Kestrelized solution within their display? Then I could skip the HUD.
The Pretty Good: I estimate the wind, inputting that into a new Fury 5000 AB which shows me the firing solution. Or maybe I get the Sig or Leica.
The Cheap-ish No Writing A: I buy an E-Dope display and stick that on the Cole Tac. I believe one can have multiple cards in an app to pass to the unit.
The Cheap-ish No Writing B: buy a cheap wind meter and pair it with Strelok and use its HUD (a feature I recently discovered)
The Dirt-Cheap No Writing: I don't buy anything except clear badge holders that I affix to the Cole Tac. I print out dope either before the trip (estimating temp etc) or haul a portable printer out to the motel and print there. I drop the dope into the badge holder and done.
They all have pros/cons of course.
#1 is $$$, more involved to set up, and I have to move the HUD to each gun (unless I can use the in-bino solution). But I suppose this solution may be the most effective.
#2 is moderately expensive and has me estimating wind, although I could use a cheap wind meter and just look at it. Wind at target is probably different anyway. The good thing here is the Fury AB gets me localized weather info. Not sure how involved it is to input wind into the Leica or Sig, and don't think either measures the weather.
#3 has me moving the E-Dope from gun to gun but no writing! I could use a cheap wind meter and just look at it. Can't get real time wind into Strelok as my phone (with Strelok) is attached to the spotter.
#4 has me dealing with my phone in the field. Kinda hard to see in bright light, battery issues, and then I need to find a high quality replacement for filming the hits. $$$
#5 has no moving anything from gun to gun, and is cheap. Again, I could use a cheap wind meter and just look at it (phone on spotter).
Anyway, what are your thoughts? Are my analyses correct? What do you use? What's the state of the art?
Last edited: