Official Sniper's Hide account of Griffin Armament
Commercial Supporter
Full Member
Minuteman
CLICK HERE! To see the NEW GP-N
(A2 attachable 5.56mm) Suppressor!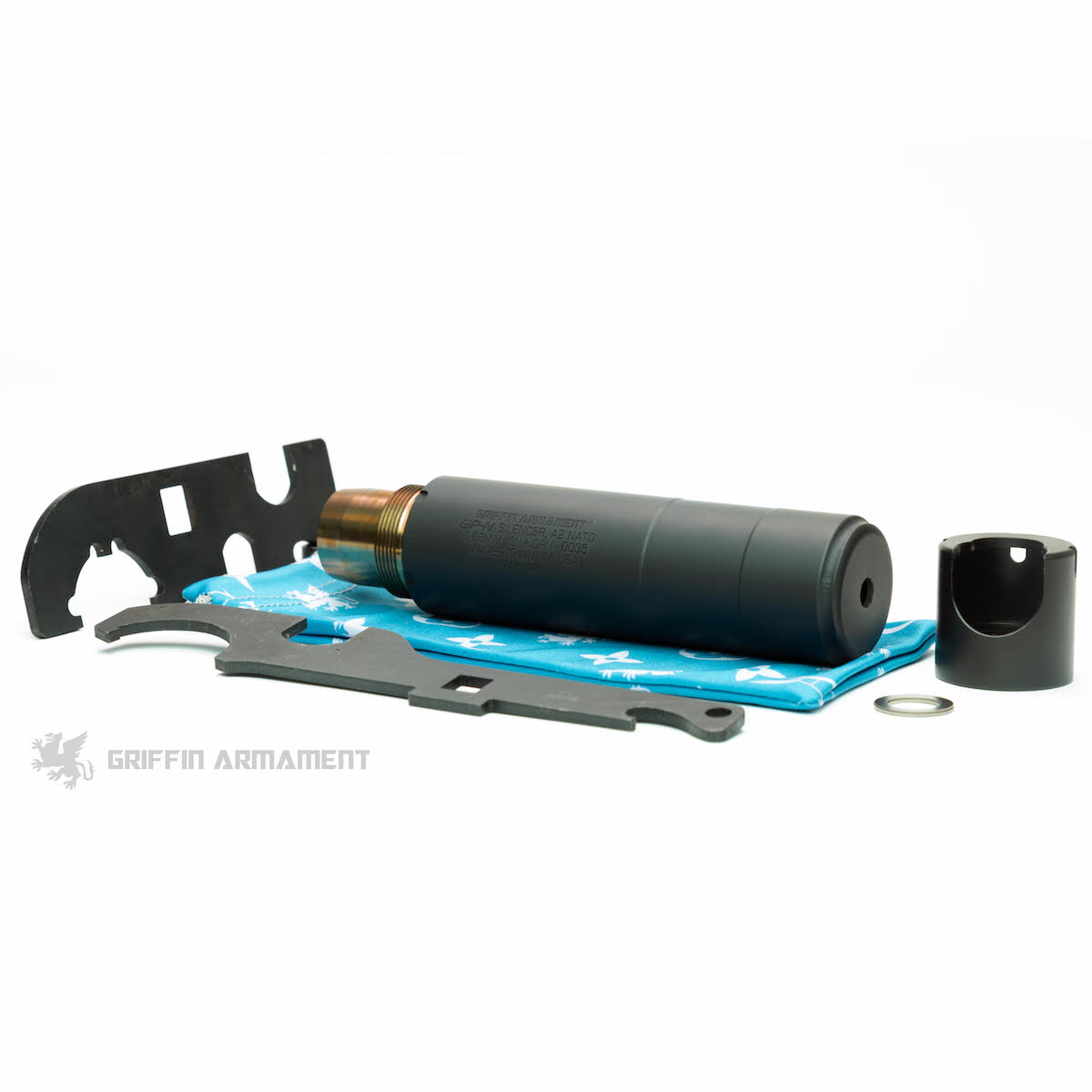 Griffin's new GP-N™ (A2 attachable 5.56mm) suppressor is a robust, dedicated 5.56mm suppressor which provides secure fitment to common A2 compensator. The A2 compensator is a familiar muzzle device to nearly all AR15 rifle owners. This simple, inexpensive, yet effective compensator has served the military for decades. The Griffin GP-N™ was designed to bring modern suppressor technology to the A2 mountable class of silencers which started in the late 90's with the Gemtech® Halo.
Fully machined from 17-4 stainless steel, the GP-N™ offers users with an extremely durable welded general-purpose suppressor. Full H900 heat treatment further increases strength and service life to the product. The mounting collar is QPQ nitrided and the suppressor is spray-coated in Cerakote® to provide a smooth, heat resistant, and desirable finish.
Cutting edge materials and composition aren't the only upgrades to this suppressor. Griffin's ECO-FLO™ baffles provide substantial blow-back reduction on semi-automatic systems while balancing sound pressure levels at the shooters' ear and the muzzle to optimize sound performance.
"There are hundreds of thousands of firearms globally that use the A2 compensator. This is a highly fielded, low-cost muzzle device that has served free world military units for decades. This silencer brings modern materials, construction, performance, and durability to this simple, robust attachment system. The objective of this product was to offer a modern suppressor that could provide a direct fitment to those firearms. " – Austin Green, Owner & Lead Engineer.
Attachment to the host firearm is simple, quick, and secure. Included wrenches and interfacing geometry ensure rock-solid mounting security that you can trust. The GP-N™ suppressor's premium material composition, ECO-FLO™ baffles, and 16oz mass ensures that full-auto fire is well within its performance limitations.
The Griffin GP-N™ is a modern A2 flash hider compatible suppressor, inspired by a legend, and built on years of dedicated research and development.
To find out more on Griffin Armament's entire product line, please visit their website at
www.GriffinArmament.com
.
Key points - price and inclusions:
$745.00 MSRP
A2 Collar Mount machined into tube body for ultimate strength and precision
½" shim set included
Wrenches included
Full 17-4 H900 Heat treated stainless steel
ECO-FLO™ baffle system provides market leading suppression
Cerakote Finish resists heat and abrasion
Fits most 22mm NATO A1/A2 flash hider & Griffin's Gate-LOK Hammer Comp
Specs:
1.5" diameter - 6.5"length
16oz weight including mount collar and shims
Rated for all .22 caliber cartridges
Full Auto Rated for 5.56mm down to 7.5"
Last edited: