Sergeant
Full Member
Minuteman
2019 Manners Snipers Hide Group Buy
We at Manners Comosite Stocks have been fond of and fortunate enough to be supported by the great community of Snipers Hide. Because of this, Just like ever year on our new products, we are offering a group buy to all Sniper Hide members, to say thank you for all your great support . Without you guys we wouldn't be growing like we are.
New MCS-CS2.0


MCS-CS2.0
The CS-2 is an updated version of our popular MCS-CS released in 2018. The main modification to the new version is one the fore-end to accommodate those shooters who wanted a compact stock on which they could run night vision. We lengthened the fore-end and added a slight flare at the very top end, then widened the tip to 2.4 inches.
* MCS-CS2 Retail $695 standard shell, group buy price $590.75
*Elite Carbon option Retail $149, group buy price $126.65
*Light weight cheek option Retail $125.99, group buy price $107.09
New MCS-UC ( ultra classic )

MCS-UC (Ultra Classic)
The design and shape or this stock was the result of a group effort with Crescent Customs and ACGG member, John Vest. Our aim was to produce a stock manufactured by modern technologies and materials for durability and accuracy while still maintaining the custom feel and shape of a high-end, handmade classic wood stock. The Ultra Classic was made possible by a new layup process we developed which incorporates some new and old-school technology. We've incorporated some 1/4" carbon fiber recoil pins that tie the high-stress areas into the proprietary newly designed 100% carbon-fiber shell.
The MCS-UC is the perfect starting platform for that classic lightweight mountain rifle. The shadow-line cheek piece is designed to help position your head for modern-style optics while still maintaining a straight comb. This shadow-line cheek flows elegantly into the 22-lines-per-inch checkered grip area with the same perfect show lines as the fore end.
-Average weight only 17.5-18.5 ounces
-Able to withstand magnum calibers
-Designed for right-hand Remington 700 short-style actions
-Can accept up to a Bartlein #2B barrel contour
-Comes std in matte field grade clear with your choice of optional speckle color-not designed for camo's or paint.
* MCS-UC Retail $689, group buy price $585.65
Mid 2018 year release MCS-T4Ateam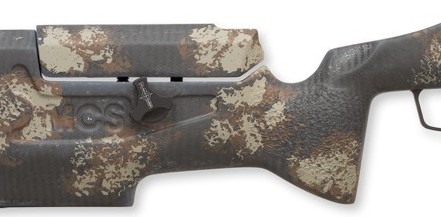 Mid year 2018 Release – MCS-T4Ateam
The MCS-T4Ateam stock is an updated version of our very popular MCS-T4A. The main modification to the new version is the addition of a right hand thumb shelf. This is done to help aid shooters maintain a better balance while shooting off barricades.
*MCS-T4Ateam Retail $655 standard shell, group buy price $556.75
*Elite Carbon option Retail $149, group buy price $126.65
Group Buy Details
*This group buy is available on all new 2019 products or stocks and options ordered along with stock.
*To make it easy, we are offering 15% off on the complete stock order, including all other options
*One stock maxiumum per hide member
*Group buy starts on Friday 2-15-19 and ends on 2-25-2019.
*Only available on Remington 700 or clone actions ( defianc, surgeon, bighorn, stiller, gap, ect. )
*Hide group buy discount cannot be used with any other offers, discounts or certificates.
To Place order for group buy
*Fill out the attached order form in the bottom of this post and email to
[email protected]
*Please do not use the online stock builder on our web page. ( these orders will go into the system as a block of orders )
*Make sure that you give your hide name at time of order
*All the 2019 group buy orders will go in the system at one time. This means confirmation emails along with build numbers and specs will be emailed by the end of the day Thursday 2-28-2019. If you do not receive a confirmation email by 3-1-19, please contact the office or shoot me a PM here on the hide.
Thank you very much,