Victor Company USA
Commercial Supporter
Full Member
Minuteman
When I started shooting a few years ago I ran out and bought a nice large Blackhawk drag bag (~$250?) thinking that it's what I needed. After some time shooting and learning, I've come to the conclusion that it was waay too heavy and had a lot of extra space and features I didn't really need. (plus I had to carry a shooting mat on the side)
So I've been looking for a while for a decent lightweight rifle bag/mat combo that was reasonably priced and wasn't really excited about shelling out another $250+ for another bag.
Well my search is over, I found the Eagle DB-BS rifle bag/pad. It had all the features I need-- holds the rifle securely, easy to carry, much lighter than the full drag bag and it's a shooting mat! All for $120!! In addition, it's made by Eagle which I prefer over Blackhawk (personal preference). So I went to triad tactical and within a week, I had my new lightweight rifle bag that looks a good as it works.
Here is the khaki bag carrying my .308 A5 McMillian stock, 22" barrel... still has a few inches to spare. I bet you could get a 24" bbl in there easy.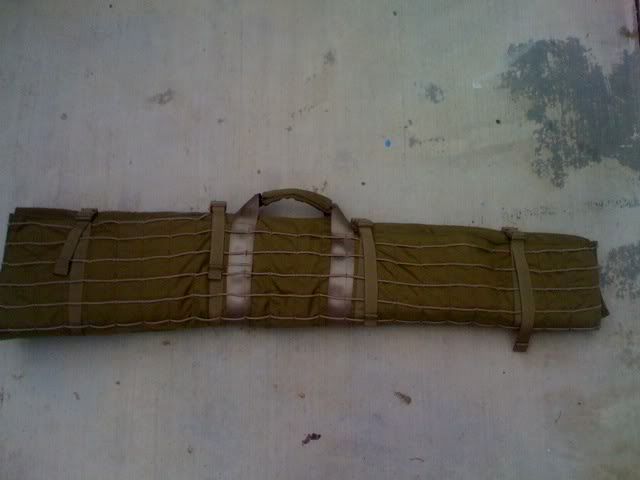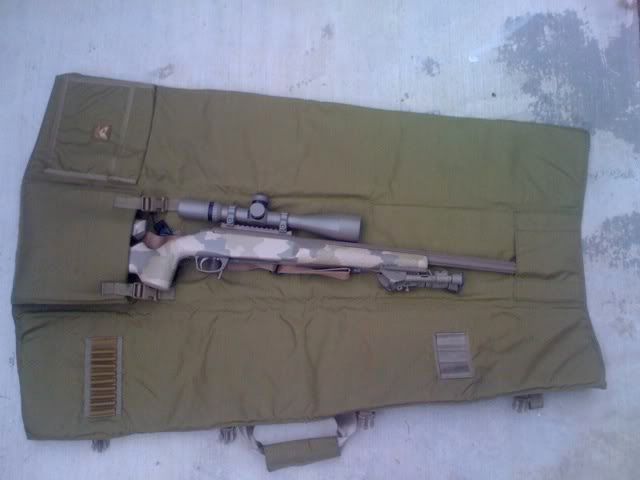 bye bye big expensive drag bags!