Apr 13, 2012
2,192
1,814
219
I've had this rifle over a decade now, and I used it to shoot NRA High Power with. I don't shoot that type of competition much anymore so I decided to scope it.
First the specs of the rifle
Glen Nelson built SM from 1996
Rear lugged receiver
Douglas heavy air gauged barrel in 308
TRW bolt
NM front and rear sights
Unitized gas cylinder (AMU style)
NM spring guide
All other parts are genuine USGI
I installed an ARMS 18 scope mount. I previously had a Smith Enterprise mount and the ARMS mount sits lower and fits better than the SEI. Rings are Burris Signature rings with pos-align inserts. The scope is a Bushnell Nitro 3-12x44 FFP mrad. The rear sight aperture needed to be removed to mount the scope as low as it is. This isn't a big deal because the iron sights can't be used with this mount.
Anyway, here are some pictures.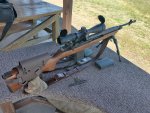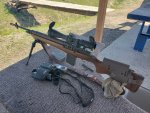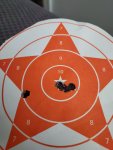 The flier was on the 2nd shot of a five round string. The wind came up just before the shot broke. Really frustrating, and shots 3-5 went right back to center.
Ammo used was SSA (Nosler) 168gr match. For as inexpensive as it is I am very happy. Velocity was right at 2650 with an SD of 3.5 over 5 shots. Now I want to develop a 175gr load for it. I've never shot 175's out of this rifle, but I think with the 168's I'm leaving some long range performance on the table.
Regardless, this rifle is extremely accurate, and always has been. Plus its super fun to shoot.
Last edited: