So, just yesterday I became the beneficiary of some new and exciting glass. New for me anyways, it's actually been around for 10 years now but from my research has stood the test of time quite well. I'm referring to Nikon's Fieldscope ED 82, it is quite the behemoth. The shear size makes my Sightron SIII 8-32x56 look like a child's toy. To ice the cake it is outfitted with a stunning Manfrotto tripod.
I've been looking to replace the underwhelming POS spotter I acquired years ago. Interestingly, I would not have thought to look at Nikon for this replacement but has exceeded my expectations. When I think excellence from Nikon, my mind goes to cameras. I own their D90 DSLR which the spotter has a special attachment for (Nikon DSLR's). This is not the traditional bracket that positions a camera behind it but rather an adapter that incorporates the eyepieces to fit IN the camera, essentially mimicking a telephoto lens for a fraction of the price. Very interesting- There also special attachments for 'point and shoot' cameras as well, including a universal bracket but sits behind the spotter with a remote shutter cable to minimize vibration.
In this field (scopes, rangefinders etc...), I tend to associate Nikon with budget friendly offerings. While the ED 82 is no longer the creme de la creme of the mix, it represents a high level of optical quality and is highly regarded in various nature observation circles (maybe relevant, maybe not). Before the introduction of their absurdly priced EDG, this was indeed their flagship model. With all of the advancements this industry has made in the past 10 years and this still regarded as outstanding indicates that its design has stood the test of time very well.
Specs- Dimensions: 12.874" x 4.251"
Objective: 82mm
Weight: 3.472 Lbs
Glass: Fully Multi Coated, (ED) Extra low dispersion
Additional: Water Proof 2m/5min, Fog Proof (Nitrogen purged)
Eye Piece Offerings: 11 types
**The selection of eyepieces below are for the 50, 60 and 82mm models. The numbers for each piece reflect the magnification produced by each model in that respective order. Eg. 20/30/38x mc = 20x for 50mm, 30x for 60mm and 38x for 82mm.**
1-3* Digiscope Eyepieces specifically for photo-16x/24x/30xWide DS27x/40x/50x Wide DS40x/60x/75x Wide DS4-11* Fully Multicoated Traditional
Eyepieces-20x/25x MC, 27x/40x/50x MC 24x/30x wide MC, 20x/30x/38x wide MC27x/40x/50x wide MC, 40x/60x/75x wide MC 13-30x/20-45x/25-56x MC zoom 13-40x/20-60x/25-75x MC II zoom eyepiece
First impressions-
The cover is nicely done, it is a well padded Cordura type material and appears durable. It also includes a shoulder strap that holds another durable, heavy padded pouch for additional eyepieces. Both covers on the eyepiece and objective lens can be pulled off while still attached with the eyepiece cover having the option to be completely removed. There is a pull string underneath to secure the plate that meets its Manfrotto tripod (completely closed when detached and snug when in use for complete coverage. It houses another pull string that covers the outer body of the eyepiece when the front cover is removed for additional protection. Lastly (aside from the zipper for removal), there is a combination of Velcro and two magnetic studs on the top and boh sides side that provide access to the helical type focus ring around the body of the spotter. It has convenient access through the magnetic studs where your hand has enough access to manipulate from either or both sides. A nice additional nice feature for left and right handed users. Additionally, there is small circular open access on the bottom for your thumb o grab to opposing side of the focus with all covers still in place. The top portion can be folded back completely through disengaging the Velcro for complete exposure.
The tripod, as expected is excellent. It is a Nikon branded Manfrotto, simple, smooth and very sturdy. No bells and whistles but I'm more than satisfied. It is the traditional two axis pivot not the multi axis variant or ball head type. It might be nice to have finer adjustments but I'm happy to take it over an inferior model with more features.
The Body-
Over molded in rubber it exudes a sense of durability. As you can see in the specs above its fairly heavy (can be taken either way). The focus as mentioned is a helical design, focusing is not as effortless as others. However, it won't be moving accidentally, it is a large heavy ring. Also incorporated into the design is a built in retractable sun shade that surrounds the objective lens. It can be extended to user preference and has an affixed sight on top that can be used to roughly acquire your targets area. It's open shape is remnant of the rear sight on a pistol except that the channel is almost 2 inches long.
Glass-
At 82mm, the objective is quite large and allows plenty of light. The picture is incredibly neutral; color rendition is some of the best I've seen. Resolution is also excellent. The extra low dispersion glass exceeded well in my viewing of brightly lit objects (especially white) and taking photographs. There were no aberrations or any other issues seen by my eyes that were distracting or noticeable.
Currently, I have two eyepieces, a 25x fixed and a 25-56x variable. Im expecting to pick up the mcII in 25-75 which Ive heard is strikingly sharp to full power. Both that I have are very nice and maintain a clear, in focus image to the outermost edges.
The model I have is a straight view and is a first for me. I'm eager to pick up one of the Digiscope eyepieces for my camera. I'm quite eager to get some more time behind it and bring it out to some farther distances to see just how capable it is. Around 200 yards, In front of my place... I bring all optics I purchase here first as I'm familiar with the dimensions and detail of the phone box which also in light causes distortion in most optics. Sorry for the crumby pic quality, I took it with my phone but it got down graded a significant amount after uploading. I can see with complete detail sizes down to 1/8" that are the same color but raised 1/16" even thought the original picture. I'm sure it will be incredible with the DSLR actually fitted to it.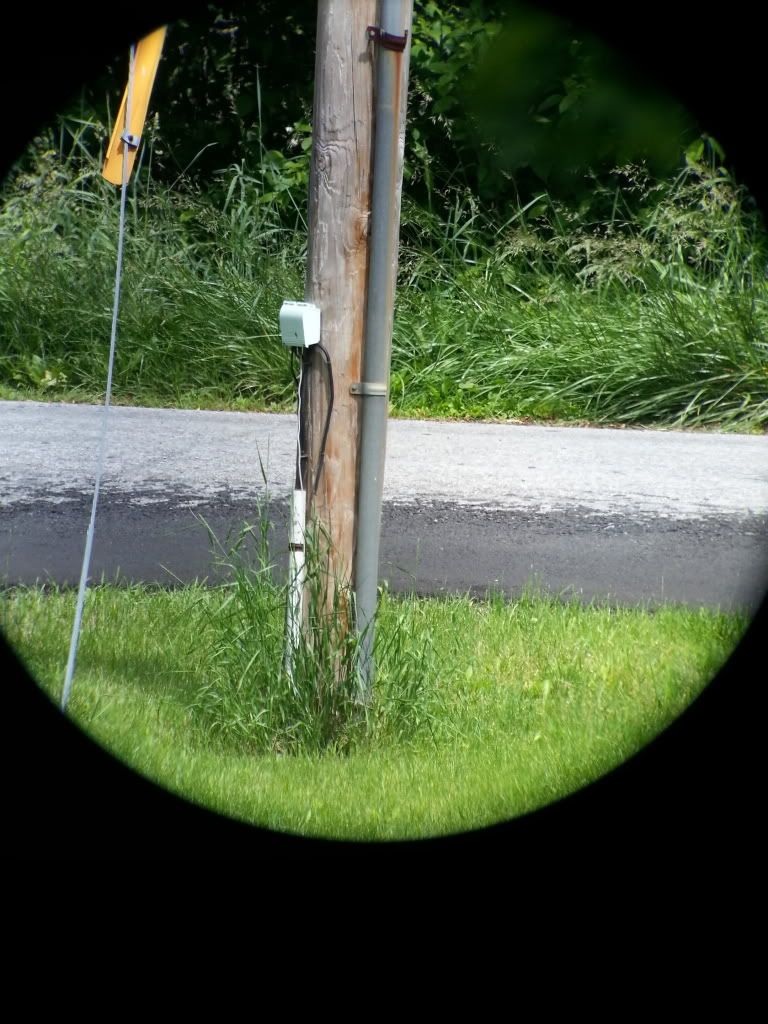 Overall-
In my opinion, this scope is phenomenal. Its a great overall package, the only downsides are the narrower FOV and shorter eye relief (commonly reported)compared to similar offerings. Honestly, the FOV doesn't bother me. For my purposes, I want my spotter to focus on a very specific area. I've pitted this up next to my 8-32x Sightron and was amazed. They are different ballparks, but before my scopes trampled my spotter... Rendering it completely unnecessary. This is a different story.
If any of you are using this spotter please feel free to chime in with any information or experiences.
i will continue to follow up when I bring this out farther distances and when I am able to use a better camera.
Last edited: