Gunny Sergeant
Full Member
Minuteman
I ordered my PST FFP 4-16x on June 16th and was a bit surprised to hear it would be at my door July 1st from Midway USA. Upon opening the package I found every thing present that should be minus a couple minor scratches to the sunshade, it came in contact with a turret during transport.
After running the turrets through their full range, I returned it to mechanical center and mounted it to a optics deprived 308 Remington Tactical. I leveled the scope to the base rail using the feeler gauge method and inspected the reticle. To my eye it did not appear to be canted.
Range day;
I spent several hours checking reticle spacing and adjustment and I am happy to report that, as best as I can tell, both are on the money. I did not see any reticle cant during movement through 15 mils.
View at 4x
View at 16x
How it looks from the drivers seat, Disregard the dots on the cardboard, but the tape measure dots are 5 mil and correct.
I was able to zero the rifle with no problems and install the zero stop shims with ease. I let the rifle cool for 30 minutes and check the resolution against an optical chart, some printed words of different text size and bullseye's of different size.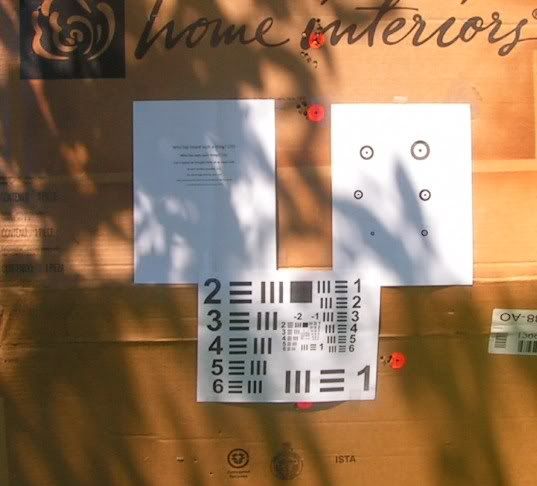 I will add to this shortly with a Leupold vx3 tactical m3 and Nikon monarch gold that has beaten every Leupold mk4 and vx3 I've put against it. For now I had my 3.5-15x Nightforce with me to make comparisons. Well this is no Nightforce… But it is very good and I will be surprised if it isn't as good as the Leupold's I own. The biggest difference was in the brightness of the PST, it was washing out the black edge detail of my chart/targets as compared to the view through NF and because of that I could resolve the next size smaller lines, numbers and target with NF. But all in all the view through PST looks very good.
The only fault I can find with the PST is the turret resistance. The turrets adjust way too easy for my liking. The clicks are audible and positive by feel; they just need a little more resistance to them.
Pictures of the system set up