Bubble Head
Full Member
Minuteman
Until this scope came out, offerings for a variable and lightweight low to mid power scope with side focus and a tactical reticle were pretty much non-existent. Nightforce discontinued its 2.5-10x24, which pretty much just left the 2.5-10x32. The Nightforce scope is pretty nice, but I refused to buy it because it is ~ $1600 and only SFP and it has no side focus parallax adjustment. For me, having a scope that dials down to 2.5 is essential because I need the extra field of view when hunting in the woods here in CT. I also wanted something that I could get up to 10 power for when I take the rifle to the range or get the opportunity to hunt with my rifle at longer distances (in my line of work I move every 3 years). I suppose I could've gone with Vortex's 2.5-10x44 Viper HS, but I've read mixed reviews on its glass qualities, it only comes with a v-plex or BDC reticle, no FFP, and no illumination. At just under $700, Vortex's new 2.5-10x32 pretty much fits the bill. It's $900 less than the Nightforce, and it is FFP, and it has side focus. It comes with all the features that make Vortex's PST line great: mil/mil turrets with a nice tactical reticle, as well as illumination (something great for those early morning shots). It is only a little more expensive than the Viper HS, but has an order of magnitude more capability. For those that hunt predators, this FFP scope should be a dream come true, as it is nice and light (just over 18 oz) and offers the ability to conveniently and quickly compute ranges at any magnification. It would probably work very on an AR platform as well.
The scope comes with all kinds of goodies. Vortex includes the inspection certificate, a CR2032 battery, a scope bikini cover, lint free cloth, shims, allen wrench, manuals, and a Vortex pin to put on your hat or stock pack (some companies, like SFWA, include absolutely nothing with the scope). I'm sure many people on this forum know this, but Vortex pretty much has the best warranty you can ask for (fully transferable, no BS, good for life). The glass is nice and clear. With Rob01, we were able to clearly make out vehicles traveling on RT-32 across the Thames about 1000 yds away. The sight picture remains nice and clear at all magnification levels, and the sight picture stays clear even at the extreme edges of the sight picture. As you can see from the pic below, the eye box is nice and big (1.63") and provides the user a generous amount of eye relief. The turrets have a nice and distinct tactile feel, and the illumination feature goes off between each magnification intensity level so that the user can quickly switch on and off between the user's desired illumination level.
Here is a picture of it mounted on my 270 Win hunting rifle: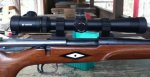 Another feature I love about this scope is that it has a long enough tube to let me mount it on a two piece base set with a long action rifle. I have had other scopes that too short a tube to allow this, which means needing to use a one piece rail that blocks access to the magazine.
I mounted this scope up with a NF two piece, 20 MOA picatinny rail and a set of low Vortex rings. Even with low rings there is lots of room between the barrel and the objective. With the butler creek cap, there was just enough room for the bolt to clear and not be in the way. (
The objective uses size 13-15 Multiflex
and
the eyepiece uses size 16
). I was able to boresight and get on paper on the first shot, needing only 0.5 mils right and and 1.5 mils down to get right on target. I then did my scope tracking check, and it was dead on at 2, 4, and 9 mils of elevation travel. That was enough for me to confirm the scope's quality and function on a cold (32F) and breezy March day.
I want to thank the folks at Vortex for getting me a great military pricing deal on this awesome scope, MidwayUSA on getting me the low Vortex rings, and Better Optics LLC for coming through with the NF two piece base set (very hard to find right now).