I took my 700P with AAC 762SD to the range today. I'd taken it once before and as I shot, I noticed quite a bit of mirage through the scope and towards the end of some strings of fire, some shots were WAY low. I blamed it mostly on myself, the weather was horridly cold and I got to a point where I could hardly feel my trigger finger. I also thought that maybe the mirage was affecting my aim and I've got a T.A.B. SAS - Suppressor Anti-Mirage Shield on order to help with that, not on the rifle yet.

Today I went out, and the weather was still pretty cold, but I was determined to run a few rounds through the rifle+suppressor combo before a match I'm shooting in at the end of the month. I shot my first 5 shot group at my normal pace, and noticed my 3rd shot was about .5 MOA low and my 4th was 1 MOA low. I waited between 1 and 2 minutes before shooting the fifth shot, and it was back within 1/4 of my POA.
Before I let the barrel cool down I took a shot at the smaller target at the top of the target and held about .5 MOA high. The shot went low. Again, before the rifle cooled down I aimed at the bottom small target and held exactly 1 MOA high (using an NXS NP-R1 reticle) and hit almost dead center.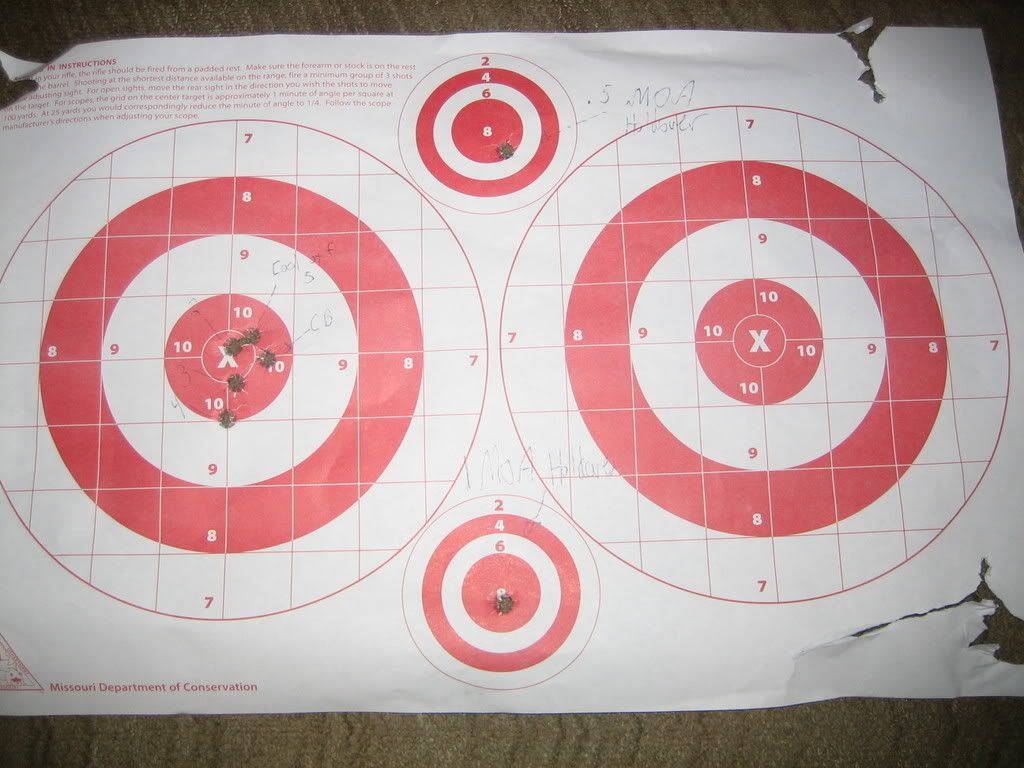 Range officer called a cease fire, so I changed targets and decided to take a little longer between shots on the next target. I shot 1-4 while taking about twice as long as normal between shots. After the 4th shot, I decided to shoot #5 quickly while the barrel was hot and it was exactly 2 MOA low!
I was pretty irritated, and sat for about 30 seconds, then decided to shoot a couple more on the target on the right. #6 was 1 MOA low and way off to the left, probably my fault. #7 was again 2 MOA low and approximately where #5 was.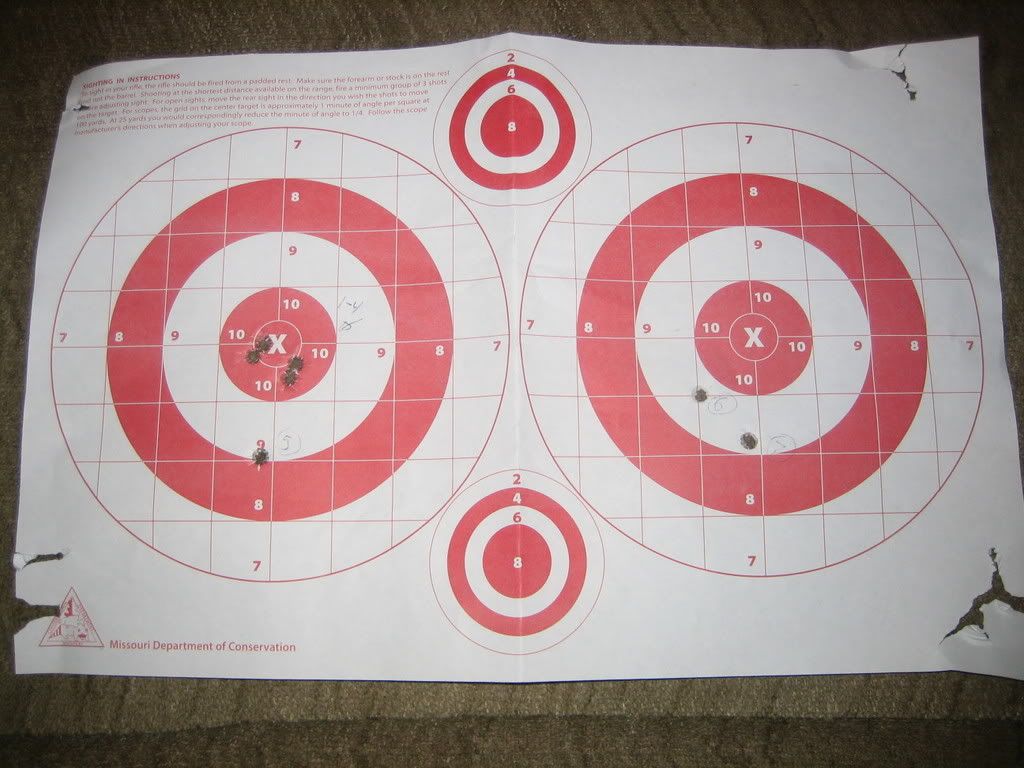 Range officer called for a cease fire, so I changed targets. I was determined to shoot a decent group and really took my time on the third target. I took a long time between shots 1-5, leaving the bolt open between shots. #4 was a little bit of a flier, probably my fault. I put #5 through the X ring and then aimed at the right target before the rifle could cool off much. I took a good shot on the right target and the shot was 1 MOA low.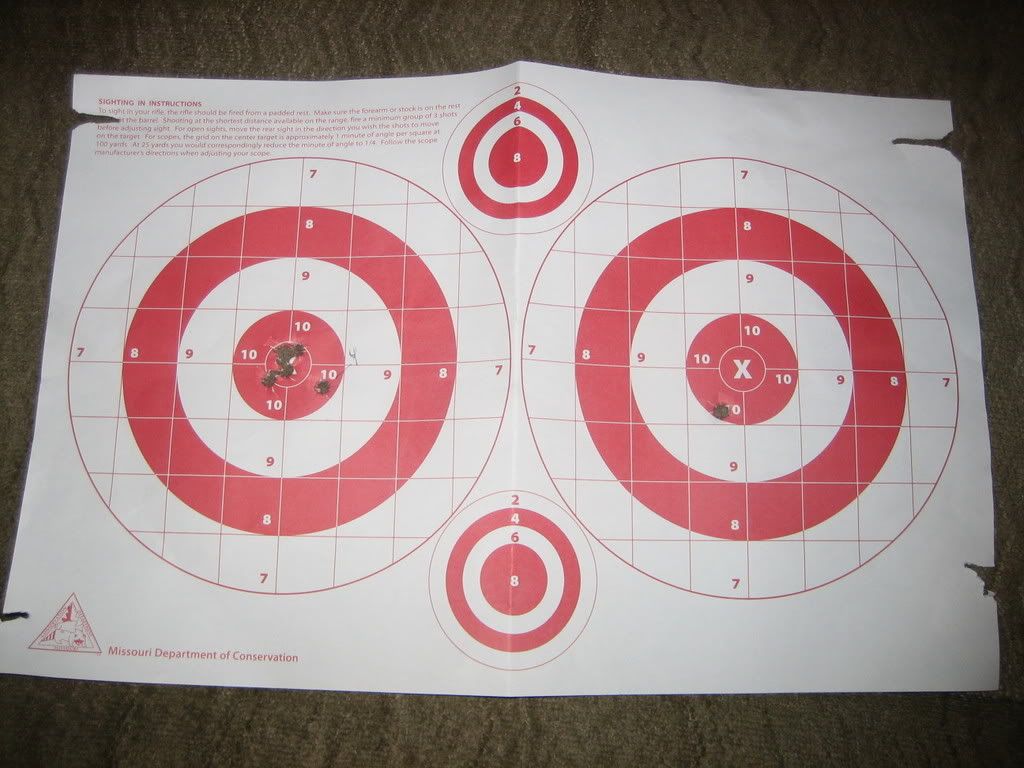 I'm not one to blame gear for my crappy shooting. I've had off days before, but this was different. I've shot this same rifle many times and have gotten 1/3-1/4 MOA five shot groups on multiple occasions. The rifle's quieter and easier to shoot with the suppressor on, I feel better about the shots I'm taking with the suppressor on, but I'm getting much poorer results.
Here's a target I shot on a different day before I put the suppressor on (both 5 shot groups):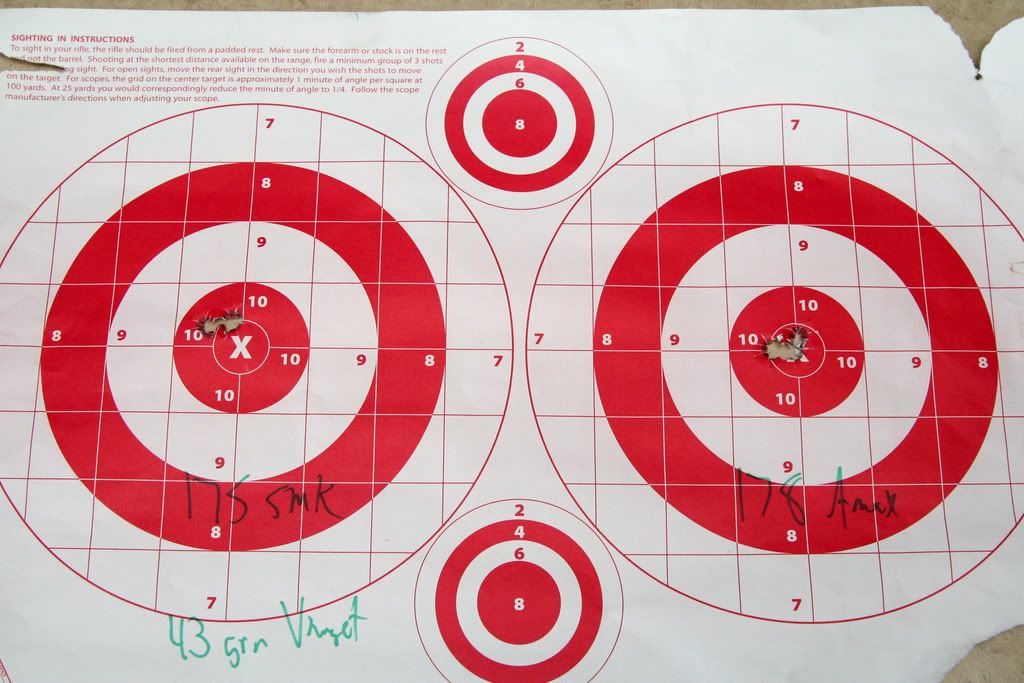 I checked the suppressor and mount, and they were on tight, it wasn't loose at all. No baffle strikes, no problems I could see at all.
I'm at a loss, I don't think there's really anything I can do about this. If anyone has a solution, I'm all ears.
Shawn