Inspired by a fellow members neat penmanship I was motivated to break out my "Billy Beroo" pen and provide a writing example after outing the other guy.
Since joining I had suspicion many on the site are adherents to the "Palmer Method" but only in relation to their alone time.....penismanship not penmanship.
People here being proponents of precision shooting also likely desire to present themselves as professionals, disciplined and with a sense of concern for how they are perceived by others.
School no longer teaches penmanship of any sort where I live. 4-5 years ago I decided I would no longer write any notes to the family except in cursive.
We no longer live in the more civilized world of written correspondence but it is important to try and keep the skills alive. Your handwriting is a first glimpse in to your soul in some cases.
The pen and paper matter......it's mightier than the sword.
Cursive to me is very mechanical.
It starts with the pen.....this is my instrument...a gift from the Fams.....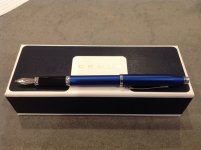 It took me ten minutes to get running because it sits so much between "the special" times I use it.
My writing......when I start its slow and I have to think each letter through.
It gets faster, flows better as I warm to it but than I note I may miss a letter, add too many humps in an N or forget to follow through.....wish I wrote more....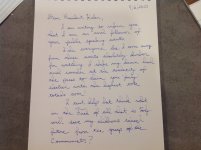 This is more my typical style and output.....
Last edited: