Hello, first time here.
This is my multipurpose hunting and range fun t3x(hunter) 308 .
Put it in a factory laminated stock and inlet it to fit ctr bottom metal. Barrel is 16" and suppreasor is Ase utra jet-z compact. Cheek pad is a formed factory piece velcrod on.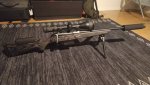 Some shots at 300m on 10cm plate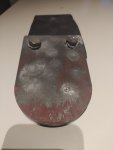 Nice reading everones posts!