A little something from the brighter side of things. Semper Fi brother.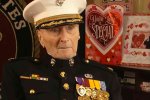 A 104-year-old U.S. Marine Corps veteran who served during World War II
received over 300,000 Valentine's Day cards
over the past month after his daughter took to social media to ask for 104 to be sent to him and the post went viral.
One month after the request, the Oaks at Inglewood assisted living facility, where he currently resides, was flooded with thousands of cards and gifts for Maj. Bill White.
According to Executive Director Diane Wright, "The walls are covered in them. We put them in the library, the living room, the media room, the activity room and an empty apartment."
Many of the cards were sent from military families, while others were handmade by elementary students like these first graders from Delaware.
Maj. White served 30 years on active duty and received a Purple Heart after he survived the Battle of Iwo Jima in 1945.