Full Member
Full Member
Minuteman
2023 has come, as has the first of this years review products so I guess it's time to start up the 2023 BigJimFish review thread. As with the previous
2022
,
2021
,
2020
,
2019
, and
2018
threads, the purpose of this thread is to provide a catalog of this years reviews and articles, give you a behind the scenes look at what I'm working on as I'm working on it, provide a place for input and comments, and, of course, give you something to bookmark that will ping you when a new article is done.
The majority of this years reviews will essentially be part two of the series of sub $1k long range scope reviews I did in 2018 and 2019. It's been a number of years since then and we now have a whole new crop of products in the category. I'm excited to see if there has been progression in the performance at this price point over that time or if perhaps Bidenflation has pushed things the other way. My expectation is that progression will be the order of the day.
Sub $1k long range scope reviews: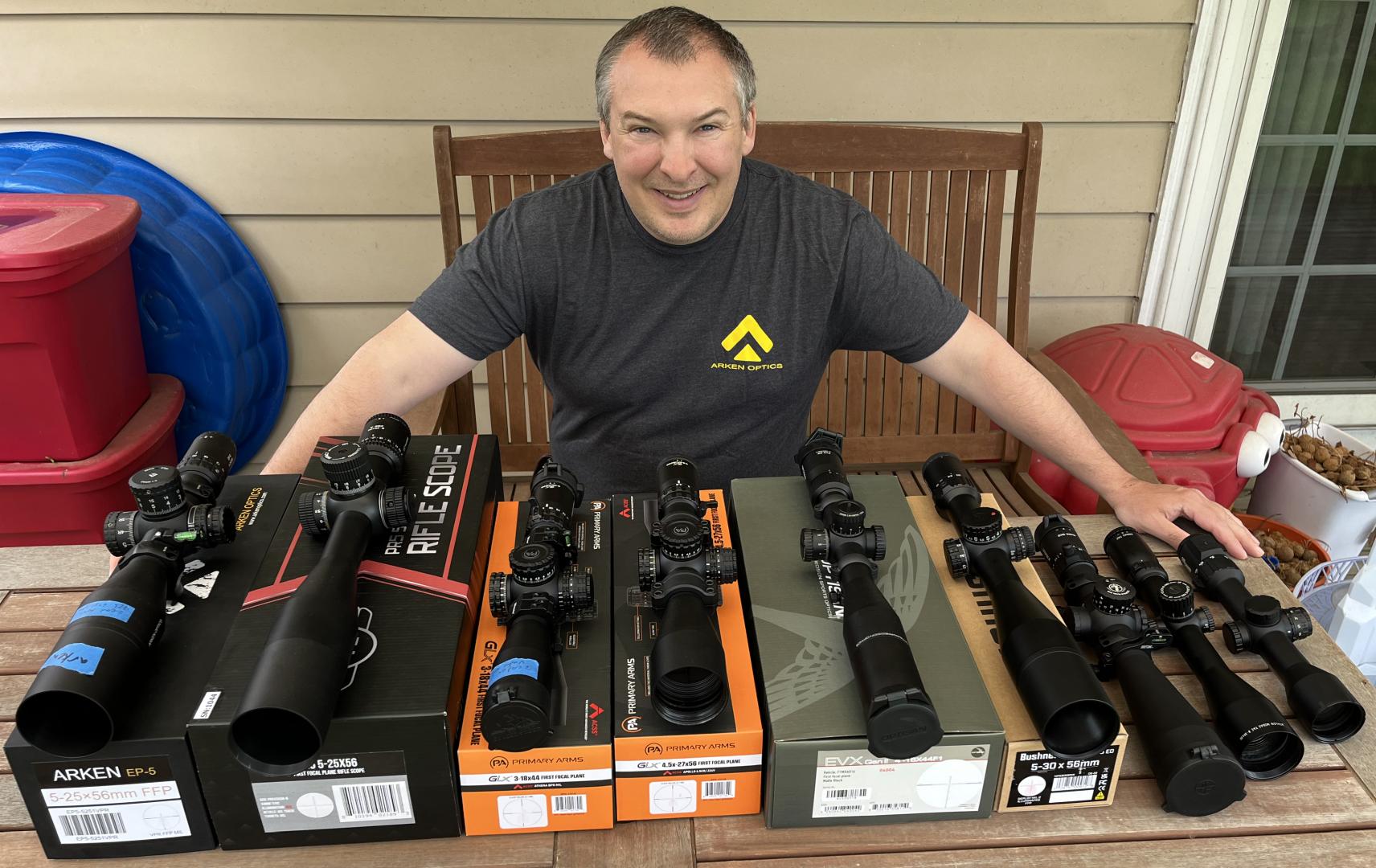 This years series of sub $1k scope review scopes from left to right: The Arken EP5 5-25x56, Hi-Lux PR5 5-25x56, Primarly Arms GLX 3-18x44 and 4.5-27x56, Optisan EVX Gen2 4-16x44 F1, and Bushnell March Pro ED 5-30x56 as well as some previously reviewed scopes used for optical comparison:
Leupold Mark 5HD 5-25x56
,
Athlon Midas TAC 6-24x50
,
Sig Sierra 6BDX 3-18x44
Arken EP5 5-25x56
:
Arken is pretty new to the scene. In fact, they were just getting their start as I was finishing up the last series of $1k scope reviews. However, in that time, I've basically heard good things about them so I decided to take a look at them during this round. The EP5 5-25x56 I'm looking at sure comes in at a competitive price at $529.99 direct from Arken and this gets even more competitive if you add in the "combo pack" to your cart with the scope using discount codes NSF$170 or Save$17 at your time of purchase. This gets you that whole combo pack for $41.99. That adds up to a scope, sunshade, bikini, rings, bubble level, throw lever, caps, ditty bag, lens cloth, and a tee shirt for $571.98.
Hi-Lux PR5 5-25x56 FFP:​
It's a bit surprising that this is the first Hi-Lux scope I have reviewed. For a number of years I have met with Christopher and John at ShotShow and spoken to them about their products. The company and it's history are rather interesting and I have always wanted to take a closer look. There was just never a particular product that lined up with what I was doing on a particular year. We are aligned this year though and I'm excited to take a look at their PR5 riflescope.
Bushnell Match Pro ED 5-30x56:
It really seems like Bushnell has been on a tear lately. It wasn't so long ago I remember them having very little interest in the long-range precision world. When they decided to enter it though, they did so in a big way. They have done product collaborations with long time precision rifle guys, PRS Match sponsorships, and shooter sponsorships. I was totally impressed with their
XRS3 6-36x56
I looked at last year and I hope to be so with the Match Pro ED 5-30-56 this year.
​
Primary Arms and Optisan:​
I expect to be adding Primary Arms and Optisan scopes to the $1k scope reviews this year. I'll put up more details when those are arranged.
In addition to the sub $1k scope reviews I'm planning this year, I have a few other articles and reviews with no overarching theme to them.
nVisti, Applied Ballistics device integration and laser rangefinding technology:
This article stems from my visit to nVisti a couple of months ago. nVisti is the partner company of Applied Ballistics and does all the device integration for the Applied Ballistics solver. In addition to that, nVisti does some laser rangefinding research, device design, and data analysis. This article talks a little about the future of laser rangefinding as well therefore.
Sightron S6 5-30x56​
This year Sightron launched an entirely new line of mid-ranged scopes with new and improved optical designs and ED glass called the S6 line. These will be made in their Japanese facility and the 5-30x56 should have an MSRP of $1,699. I'm excited to see what these offer as they should have even better resolution than the already good SIII line with substantially improved DoF and FoV resulting from the new optical design optimized for PRS type use instead of F-class.
Riton Optics 3 Primal 3-18x50mm Crossover scope
Riton Optics 7 Conquer 4-32x56
Frank has been quite pleased with his experience with Riton optics and asked me to take a look at a couple of their new offerings. The 3 Primal 3-18x50mm is a crossover hunting / precision rifle scope that has the zero stop, exposed turrets, FFP, and mil/mil (or MOA/MOA) of a precision rifle scope but in a smaller form factor and sub 30oz weight suitable for hunting. I'm a big fan of this concept as I have encountered at least some optics light enough to be of hunting use that really don't give up any important long range features or even optical performance to get there. I also see the added distance compensation potential of scope with precision rifle features as a huge benefit for hunters allowing them to greatly extend their ethical kill range. The second scope, the 7 Conquer 4-32x56 is a high end Japanese made optic in the ~$2k price range with a huge magnification range and fairly high 32x max magnification. This is very much in the current higher magnification trend popular amongst competitive shooters.
Levels for long range shooting:
I've been thinking about writing an article for a while on the use of bubble and electronic levels for long range shooting. It will feature the different level types and mounting arrangements. I'll also give some methods for properly mounting your scope and level so they are level with each other. Advice I have seen on this topic on the web has often been sub par. I'll also talk some about the Pros and Cons of different arrangements, pitfalls to avoid in their use, and some numbers on how much error you can introduce by failing to have the scope level. I've assembled most of the relevant level types and arrangements. I just need to put it all together.
I'll admit, all written out this certainly seems like a full year. I also wanted to go back and do an Everyday Sniper episode on laser rangefinding sort of summing up the
Sig 10k
and
BDX reviews
, the
Leica Geovid Pro review
, and the nVisti article as well as a second episode on the ~$2k scope reviews from two years ago. We'll see how much gets done.
Last edited: