Full Member
Full Member
Minuteman
As with my previous
2019
and
2018
threads, the purpose of this thread is to provide a catalog of this years reviews and articles, give you a behind the scenes look at what I am working on as it is worked on, and provide a place for your input and comments. Here are this years projects:
Vudoo
.22lr's have long been a passion of mine. For years I bugged several action makers about doing a full size .22lr to no effect. I even sent a few of them design concepts for getting the magazine and locking mechanisms to work. Nobody seemed to think there was much market or that they could get the magazines to work though. Then, Mike Bush and the Vudoo guys proved successful in both regards and I had exactly nothing to do with it. I'm still smiling though. I'll be doing a review of a V-22 this year and there will be a good deal of technical data on .22lr ballistics in their as well.
Proof
My interest in Proof's carbon wrapped barrels harmonics continues. Having spent a good time with the one on my
Mesa Precison Arms Crux 6.5CM
I will now be looking at their .22lr blank on a Vudoo V-22 action. The idea is to determine if these things have a substantial harmonic advantage on conventional steel barrels and to gather some data on the magnitude of the advantage. The results with the 6.5CM have been promising so far. This will culminate with an article on Proof's carbon wrapped barrels.
MDT XRS Crossover rifle stock
The last couple years I did reviews on a couple of composite stocks from
McMillan
and
Grayboe
. in which I spent a good deal of time talking about composite stock technology and that technologies strengths in general as well as the specific products in each review. I had been thinking of doing a similar thing with a chassis review. There were a few new chassis launched at Shot this year that specifically caught my eye because they added interchangeable grips more involved than just going with an AR15 grip. I think grip fit is tremendously important and very often is not properly addressed so that pretty much made up my mind to do a chassis this year. The MDT XRS is going to be that Chassis.
Lapua / Berger / CPG
Capstone precision group is now the owner of Berger as well as, sort of, Lapua, SK, and VihtaVuori (all are owed by Nammo and Capstone represents all in the U.S.) They have recently opened a second rimfire test center in the central Ohio area. I'll be doing a little
write up of that facility
, how to utilize it, and what to expect. I'll also be doing a bit of testing there for the Vudoo and Proof reviews.
RCBS Matchmaster
At the end of last year RCBS announced a new, higher accuracy (.04gr) and higher speed, Matchmaster powder measure. Along with their new high precision matchmaster dies, this measure is certainly directed at the long range shooting community. I'll be doing a review of these matchmaster products this year.
Zero Compromise
I still have planned to take a look at the Zero Compromise ZC420 scope. This review was delayed from last year due to scheduling and availability.
Athlon Midas TAC 5-25x56
and Sub $1k long range optics
The Sub $1k long range optics review series has now been running three years. Today I posted my review of the
Athlon Midas TAC 5-25x56
. This Brings the total number of reviews to six over a period of three years. The only specific thing I have remaining planned, at this time, is some sort of summary of what went down with the Nikon Black FX1000. This will not be a full review as it does not look like a replacement is forthcoming and it appears Nikon will be discontinuing all rifle scopes anyway. Still, some sort of summary is in order. Despite having no more specific scopes planned at this time, I do expect to continue the theme of Sub $1k long range optics in the future as it think it is an interesting area of development and quite compelling to many shooters. Here are the links to all the Sub $1k long range optics reviews:
Sightron SIIISS624X50LRFFP/MH
Athlon Midas TAC 6-24x50mm
Athlon Ares BTR 4.5-27x50 FFP IR Mil
Meopta Optika 6 5-30x56 RD FFP
Sightron S-TAC 4-20x50FFPZSIRMH
Athlon Midas TAC 5-25x56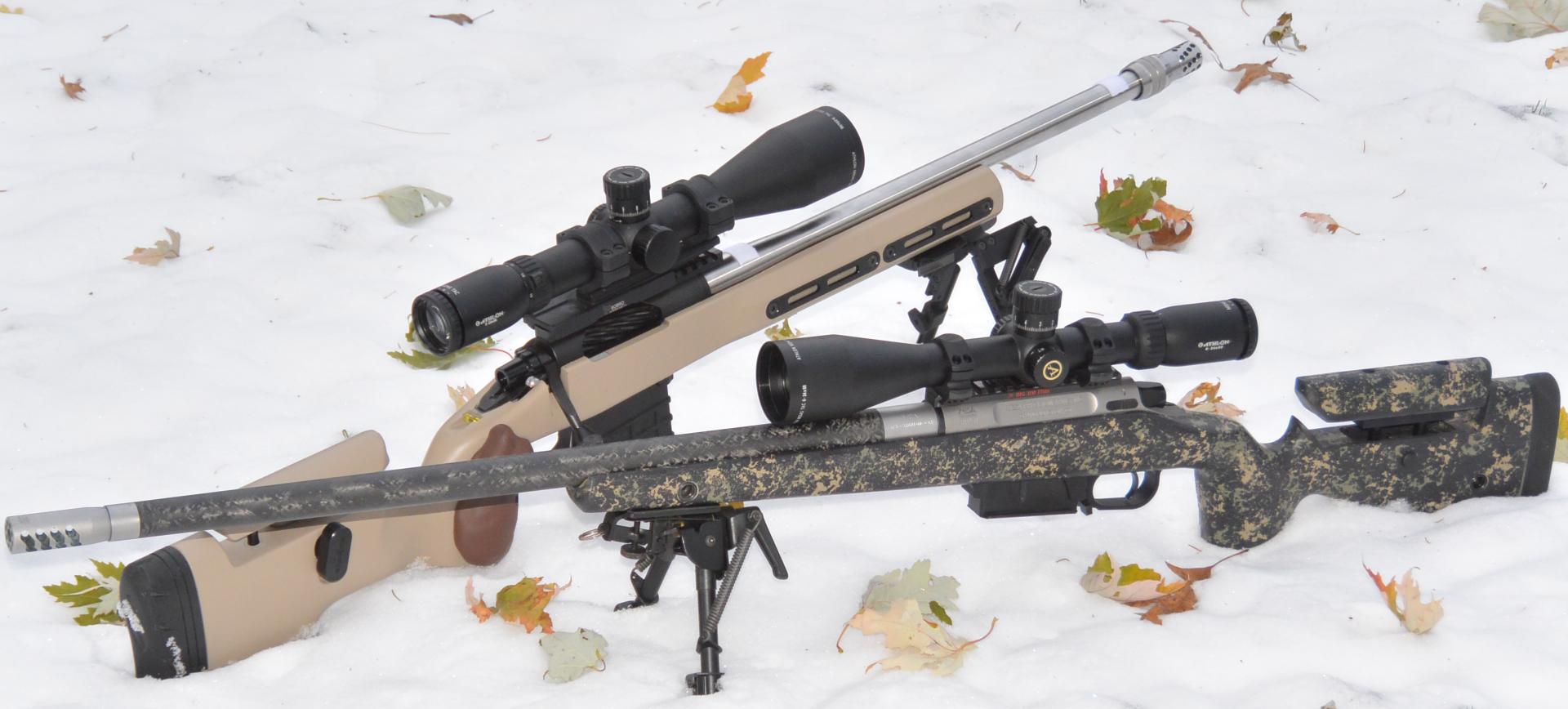 Athlon Midas TAC 5-25x56
(background on
Kelbly's Atlas rifle
) with the
Midas TAC 6-24x50
(foreground on
Mesa Precision Arms Crux rifle
)
TriggerTech Two-Stage 700 Platform Triggers
Another review to make the jump from last year to this is the TriggerTech 2-stage. I have previously done reviews of both the
TriggerTech single stage 700 platform stuff
and the
Bix'n Andy TacSport
line of triggers.
Grayboe Phoenix Ultralight Stock
A few years back I did a review on the
Grayboe Ridgeback stock
and was pretty pleased with the performance and value it offered. They recently came out with a new, ultralight hunting model called the Phoenix. At 2lbs with a ton of features I was interested and asked them to send one over to take a look at.
More Harmonics / Tuning
Last years
Barrel Tuning Factory Ammo?
did not yield the results desired or expected. I'm not done yet with my investigation into harmonics and tuning though. I expect there will be at least one more article this year on the topic.
How to quantify precision
I have never been satisfied with how precision is quantified within the precision rifle world. The general ideas of a half MOA rifle or MOA rifle are neither sufficiently defined nor particularly statistically meaningful. When we quantify the degree of precision in our velocity using standard deviation we have a good statistical tool and this greatly aids us. Measuring the 2 furthest out rounds in a 5rd group to quantify precision is not sufficient. I think that an important step the shooting process is to more meaningfully determine the precision of a particular platform. An article on why this is so and what ways are better suited (such as circular error probability CEP or distance root mean square DRMS) will be forthcoming.
Making grip build outs from oven harden polymer clay article
This was sort of a surprise bonus article. With my range closed and the whole world hiding in their houses I decided to do an article on making grip build outs from polymer clay since I was making one for the MDT XRS. Of course, the article got a lot more time consuming and in depth than I intended. Par for the course. The end product is good stuff though with respect to both the article and the grip.
Now that I have all this written down it seems like a busy year even without a few of the other things I have kicking around in the back of my head in the maybe column. Should be a good time.
Last edited: