Sergeant
Full Member
Minuteman
<span style="font-weight: bold">Falcon Optics 5.5-25x56 Menace Review</span>
First off, I want to thank Robert Snyder at RWSGunsmithing.com for allowing me the opportunity to review this optic at length and in detail. I'd also like to say...
<span style="color: #FF0000"> <span style="font-weight: bold"> This is a pre-production model and not a representation of what's on the shelf </span></span>
<span style="font-style: italic">Falcon 5.5-25x56mm Menace Counter Sniper on my Remington 700 VS</span>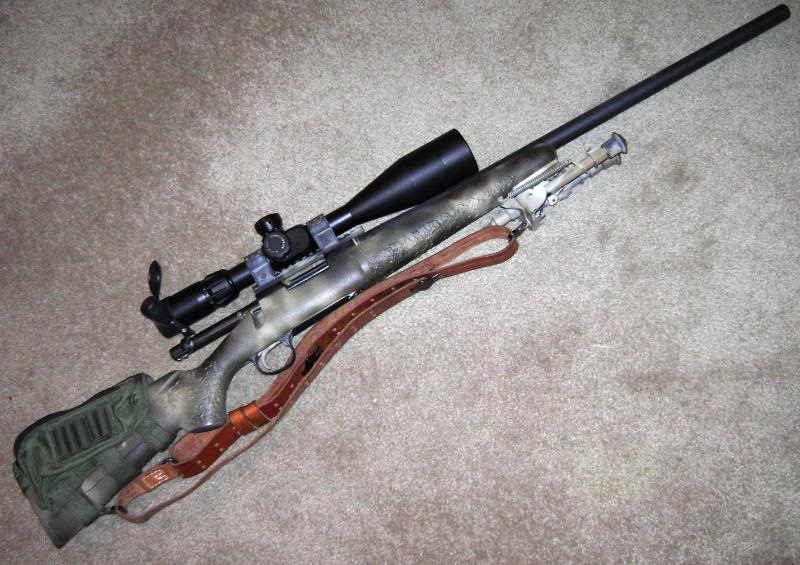 <span style="font-weight: bold">First Impressions and Length of Review:</span>
First, this is a pre-production model so anything can change between now and production, assuming they adopt it. I've had this scope for several months. In that time I've drowned it, frozen it, drowned it again, buried it in mud, buried it in ash, and molested it's knobs and yet it still works. At first I was energized about this scope, a 5.5-25 power scope in a FFP dress for under $500. But honestly, I'm not sure where this scope fits in. I really liked both the 4-14x44 and the 4.5-18x56. I used both as daily shooters and in competition. They delivered and were user friendly. I felt that they had a place in the product line but the 5.5-25 is different. It's an optic meant to deliver a product to those who desire/need a higher magnification optic without breaking the bank. But at the end of the day it leaves you in limbo of it's usefulness. But lets start with the basics before I really tell you how I think.
The scope resembles a marriage between a 4.5-18x56 and a 4-14x44mm, only on steroids. It's big and it's heavy. As noted above my example was listed as a "preproduction example" and it used the two piece maintube/bell configuration as seen on the 4.5-18x scopes. It came packaged in a black box with rubber flip-up caps and a lens cleaning cloth but no owners manual or warranty registration card. It was well protected, wrapped in a plastic bag and secured in foam blocks to keep it from getting banged around. There is a serial number on the bottom of the turret housing along with the model number. Controls are as usual; parallax is the port knob, windage is the starboard knob, elevation is the dorsal knob. The elevation and windage knobs are marked for 0.1 MIL and have had the single friction lock screw replaced by three set screws. While I'm sure they have a good reason for doing this, I preferred the older single friction screw type design as it was quick and easy.
<span style="font-style: italic">The W/E knobs are marked for 0.1 MRAD correction.</span>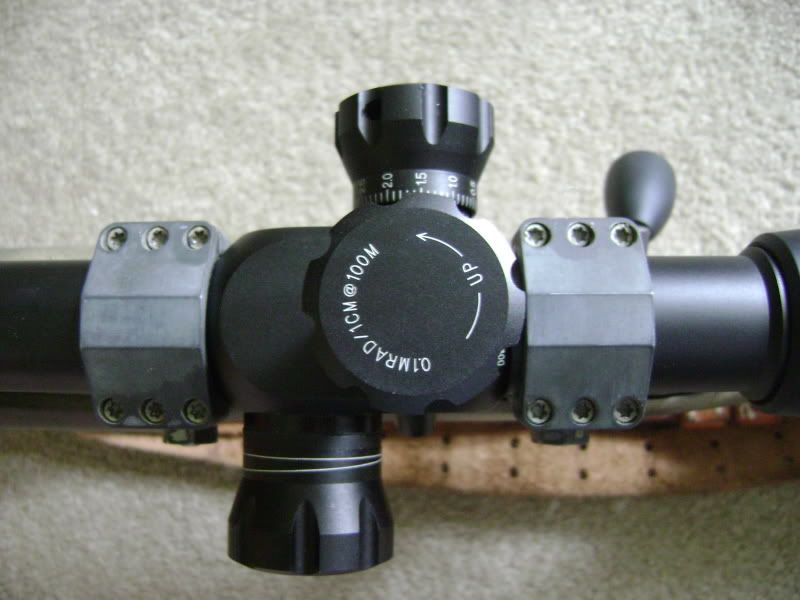 Found on the port side is the parallax knob that uses a depiction of an increasing angle to indicate distance. The control knobs are a bit mushy and the click, while audible, is muffled. In contrast, the parallax knob was VERY tight and so was the power ring, just not as tight as the parallax knob. The power ring is marked from 5.5-25 and it is a First Focal Plane design. The graduation is clearly marked and the power setting is not visible from the shooting position. But the lack of a dot, line, chevron, etc to note what power you are at is a let down. Critical? No, but it's something that we've become used to and nice to have when checking the Mil-Dot spacing.
<span style="font-style: italic">Falcon 5.5-25x56mm showing the power ring and the absence of a reference point.</span>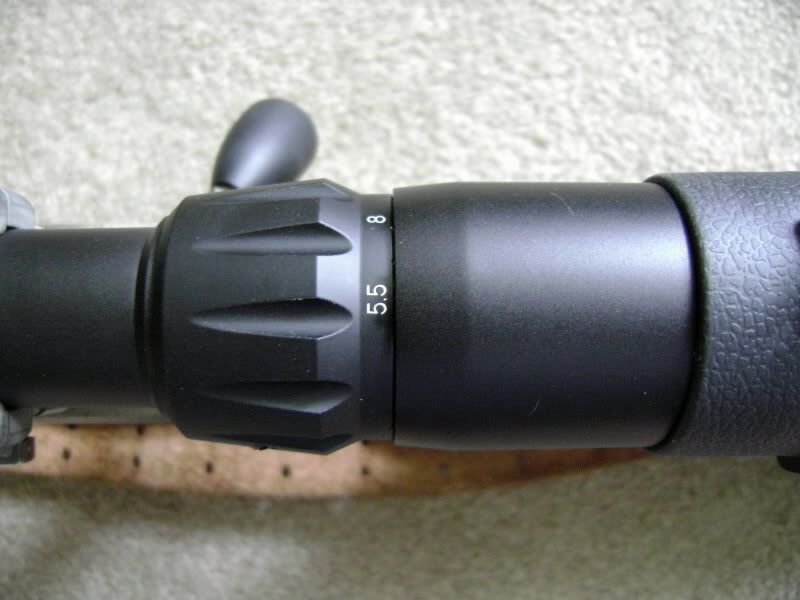 Image was clear, if a little milkier than the previous Falcon offerings. The real frustrating part, and one that I repeat over and over again in this review, is eye relief and proper sight alignment. Even at its lowest setting this scope was very demanding on where you had to put your eye in order to achieve proper alignment. When set to its highest setting it became almost impossible to maintain proper alignment… it never felt natural. Take into account that most of the shooting was done in fair weather, on a calm range with no pressure and most shots sent from the prone position (i.e. I was able to get in behind the rifle and not forced to contort my body to adapt to an odd position). If you're focusing that intently on keeping a good alignment it makes doing the other things, like reading winds or tracking a moving target, harder. Also, at 25x the bottom Mil-Dot reticule is at the edge of the sight. I wouldn't trust a reading or hold due to blur and distortion. So, while this optic has the magnification range that many are looking for it fails to deliver usability of that magnification. Overall, the scope is typical of the previous examples I've handled from Falcon Optics, clean body with even anodized finish.
<span style="font-weight: bold">In the beginning…</span>
I wanted to start off the tests with a clean unmolested scope so I took and put the 5.5-25x in a pair of standard height Badger Ordnance MAX30 rings. These were just tall enough to allow the bell to clear the stock barrel on my 700VS when using a Seekins Precision 20MOA base if I removed the front lens cap. The point was that I wanted to test the box test on the new, unmolested scope before I could potentially break it. What good would a review be if I broke the scope first. The test was simple, 5 rounds of handloaded Hornady 168gr BTHP match-grade ammunition at 100 yards. Once I got her sighted in she did the deed without complaint. It's at this point that I realized how many trips I was going to have to make to get this done right. All told, I made five trips to the range with this scope/rifle combination and worked from 25 yards to 1,000 yards. The scope never failed to hold true.
<span style="font-weight: bold">Wet, cold, wet, muddy, and dusty:</span>
So now that she had proven that she could do it unmolested I set out to see if I might be able to damage it by subjecting it some of the things a competitor might face in competition. Well, the first test was to freeze it. Since the rest of the tests would involve water or fine particulates I figured the freezing of the scope and its O-rings would be a good place to start. If they failed, the water would seep in and become evident in the later test. But before I could do that I had to make sure that the O-rings were good to begin with. So, I submerged it in 12 inches of water for 10 minutes. No, not deep and I know not a long time but this was under feasible and realistic controlled conditions. Besides, how many competitions do you go to where you linger in water, much less water to a depth greater than 12 inches and for longer than 10 minutes. At the end of those 10 minutes I retrieved the scope and carefully examined it. I could not find any sign of water penetration into the internals of the scope. Next was, of course, the 0° F for 2 days test. What I wanted was to really freeze those O-rings, get them good and cold. At the end of those two days I pulled the scope out and fumbled the knobs. The knobs were very stiff and mushy. As it warmed up the knobs became more tactile and audible but I'm not certain if the mushiness can be attributed to the O-ring, the grease, or a little bit of both.
Once thawed, the examination showed no signs of failure. Back to the bathtub I went. Again, I filled the tub 12 inches deep and put it in there for 10 minutes. It passed. So, I opened a bag of potting soil (it's spring, we're planting flowers and vegetables) and filled a 5 gallon bucket ¾ full of dirt and then topped it off with water. Insert scope and return 10 minutes later. Dirty, yes but after shaking it clean it worked fine. I wanted something finer than dirt… ashes. Once the 5 gallon bucket was clear of the mud, I filled it with ashes and buried the scope. I put it, the bucket, on my Hornady tumbler to allow the ashes to migrate and fill any voids or collapse any air pockets. While dirty, the ash did not seem to hinder the scopes operation. Although I'd invest in some new covers as ash penetrated the stock offering.
<span style="font-style: italic">All wet and doing just fine. The 5.5-25 in water.</span>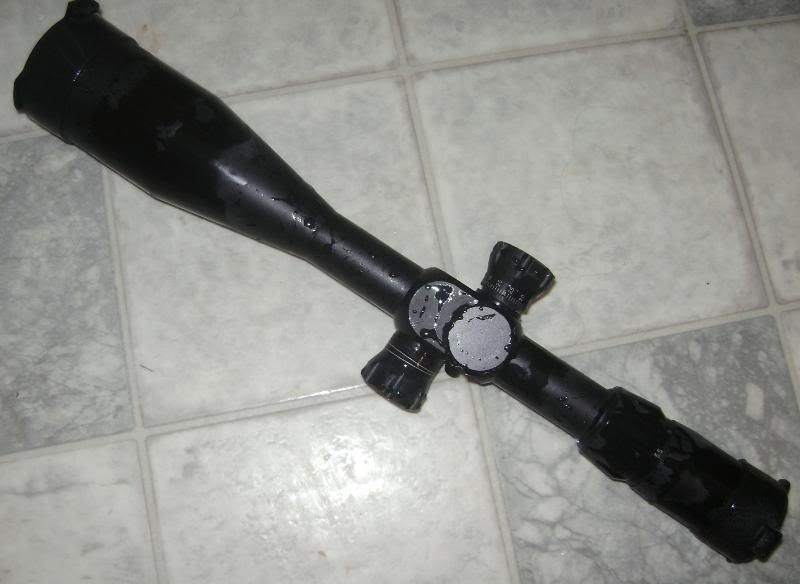 <span style="font-style: italic">
Dusty? Yes, but she still worked later that day at the range.</span>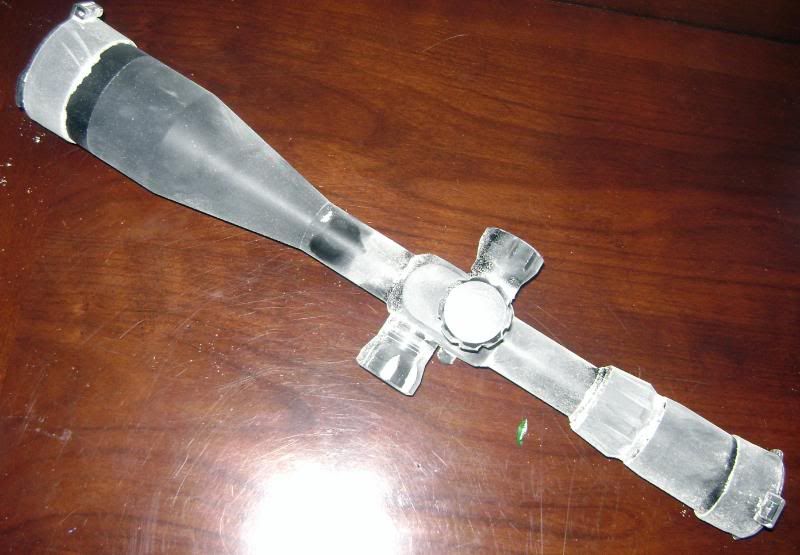 It's at this point that I've been to the line four times. Once for initial review, again after drowning it then again after freezing it and again after packing it in mud and ashes. Each time I did a box test. Each time it chugged right along. Good thing I live just a couple of miles from the range.
<span style="font-weight: bold">On the firing line, again:</span>
Well, once more I went back to the line. Only this time I was able to secure a co-worker's pasture to get to 1,000 yards. I used a LRF, topographical map, and GPS to make sure the distances were correct. I started with a resolution test using an optic resolution chart at 25 yards. I was able to pick out 8 at 5.5x and 11 at 25x under an overcast sky.
<span style="font-style: italic">Optic Resolution Chart used at 25 yards</span>
I changed ammunition this session to handloaded Sierra 175gr BTHP match-grade ammunition and zeroed to that load. I started with a 100 yard zero then jumped to testing at 500 yards and worked to 1,000 yards. Method was simple, take a shot, fudge the knobs and return to correct setting, shoot again. Repeat this process out to 1,000 yards looking for 5-shot hits. What I mean is, I wasn't shooting for groups but would the scope return to POI/POA correlation. Targets were 12" wide by 24" tall pieces of ½" steel. Aside from my bumbling the elevation correction at 900 yards and getting caught with my pants down on the wind calls a time or two she just chugged right along. At the end of the day I had nearly 70 cases to reload, introduced a friend to the challenge of long range shooting, and was exhausted (remember what I said about that eye relief and sight alignment being demanding and critical).
<span style="font-weight: bold">So… what do I think?</span>
The scope passed the tests and I give it two thumbs up for that. So why am I not all giddy over this scope? Because this is after all a preproduction scope and I think that Falcon missed the mark with this one example. As stated before, the eye relief and alignment is overly critical in my opinion. The blurred reticule at max power and milkier clarity reduce the usefulness of this scope. It gets additional points knocked off for being a two piece design and for not having an illuminated reticule. Lets face it, a FFP optic with an illuminated reticule, is repeatable, has user friendly eye relief, and has an MSRP under $800 is a winner. An FFP optic that's repeatable but uses a two piece design, has a non-illuminated reticule, and has almost unusable eye relief is lacking at the table. The market that Falcon is in now is riddled with opponents like Millett, Sightron, SWFA (if they get their variable on line), Vortex, and Wonder Optics. The only thing that this model really brings to the table, IMO, is a magnification advantage over these other manufacturer's current line. But with the uncompromising eye relief/alignment issue that advantage is a bit moot. So why the review? Because I think that Falcon is listening. You are, or else you wouldn't still be reading this. Because I feel that Falcon is on the right path, but that this scope just isn't the final call, so to speak. That a nudge here or there can open a whole new segment in the optics line that is void right now. That's also why I want to post your thoughts here for them to see. While overall I liked the scope I feel that something like this is the future:
- Built as a solid one piece set-up
- Reduce the power to 5-20x power
- Introduce an illuminated reticule
- Options for
- MIL reticule with 0.1 MRAD corrections
- MOA reticule with ½ MOA corrections
- Mil-Dot reticule with ½ MOA corrections
- Keep a chevron or line to denote the power setting
- Keep the objective bell to a maximum of 50mm
- Aim for an MSRP of <$800
Why those feature and that price? Look around and you'll quickly see that Falcon would own that market, especially the MOA/MOA market as they'd be the only manufacturer with FFP, 5-20 power, and an illuminated reticule brought together in one package for under a grand. But that's just me thinking aloud.