May 16, 2012
338
533
99
50
It was suggested on another thread that I post this request for information on this thread, since its dedicated to the Mk 13 Mod 0 stock, so here goes:
There is a lot of great information in this thread, and I am trying to learn more about the history of the Navy 300 Winchester Magnum rifles -
specifically the dates of when certain permutations occurred from the early 1990s to the early 2000s
- before their nomenclature became Mk 13 Mod 0. Why?
Well, I have an early Mk 13 grey stock that was painted tan while in service, but I don't have a McCann/MRS rail that would designate it as a Mk 13 Mod 0. Below is what I have gathered thus far: A 2003-dated Leupold MK 4, 16x scope; Leupold medium height Mk 4 rings, Badger Ordnance Mk 13 recoil lug (in white box), a 2002 dated Turner NM sling, and an original Navy issued Kalispel case for a Mk 13.
I have a long ways to go, and still need to find an early Remington long action with a C-prefix, but I am trying to build an accurate tribute/replica of a circa 2002-03ish Navy 300 WinMag rifle, hence my interest in trying to piece together the "pre-Mk 13" history.
First, I can't recall if anyone else posted this informative article on the Mk 248 cartridge, but its very good and discusses the Navy's interest in developing an accurate 300 WinMag cartridge. This article provides excellent historical chronology for the cartridge from 1987 to 2011, but unfortunately a similar history does not exist for the Navy's 300 WinMag rifles (which as noted by Alan Brown, were often customized for the individual SEAL team member).
.https://www.americanrifleman.org/articles/2017/5/24/unsung-hero-the-mk-248-mod-1/
Unsung Hero: The Mk 248 Mod 1
by Aaron Carter - Wednesday, May 24, 2017
1987: Navy solicits a 300 WinMag cartridge for use by both the Navy shooting team and for sniper use. Federal cartridge wins a small contract, but the ammo does not perform well beyond 800 yds.
1990: Hunter Shack Mfg (HSM) wins a small contact. Ammo is accurate enough, but testing reveals pressure in excess of SAMMI specifications.
1992: Federal Cartridge wins a contact with ammo using the 190 grain SMK bullet. Meets both accuracy and SAMMI pressure requirements.
1993: Ammo was approved for 'evaluation' as a sniper rifle cartridge in Nov 1993, and results were very positive. The ammo was designated as Mk 248 Mod 0. Effective range was 1200 yards.
My assumption: Presumably in 1994 the Navy started using their 300 WinMag sniper rifles in operational settings with an 'approved' cartridge. I will refer to these Navy sniper rifles loosely as the "pre-Mk 13" rifles or more correctly: "Rifle 300 Mag Rem 700".
Mid-2000s: Based on experiences in Iraq and Afghanistan, the Navy sought to improve the performance of the Mk 248 Mod 0 cartridge so it could be used effectively out to 1500 yards.
2009: Crane formalizes the specifications of the MK 248 Mod 1 ammo, which uses a 220 grain SMK bullet.
2010: Federal cartridge begins production of the Mk 248 Mod 1.
2011: First shipments of Mk 248 Mod 1 arrive in Afghanistan for operational use.
**
Researching NSNs, I found this info re M91 vs what became the "Rifle 300 Mag Rem 700":
"M91 Sniper Rifle

Weapon Specifications NSN 1005-LL-L99-5443 (LH) 1005-LL-L99-5442 (RH) Model M91 Manufacturer NSWC Crane Caliber .308 Cal Mechanism type Bolt-action Magazine type Ammo capacity Rate of fire N/A Weight (empty) 14 lbs 8 oz Overall length 44.5 inches Barrel length 24.0 inches

Ammunition: ball (M59, M80 & M80E1), match special ball (M118), match (M852), match short-range (A169), and match longrange (A170 & AA11). Logistics: In-service Date 1975 Life expectancy 6,000 rounds Technical Manual # NA Operator Manual # SW370-BF-OPI-010

Discussion: The M91 is a Remington model 700 modified for use at sniper schools. It has a Remington trigger, a 1 in 11.2" twist chrome moly barrel, a HS Precision fiberglass stock, a Leupold 10X scope, a Harris bipod, a cleaning rod and guide, and an aluminum case. The rifle has a 1.0 MOA accuracy with M852 ammunition. Accessories: None

.300 WinMag Sniper Rifle

Weapon Specifications NSN 1005-LL-L99-5364 (RH) 1005-LL-L99-5477 (LH) Model 700 Remington Manufacturer NSWC Crane Caliber .300 WinMag Mechanism type Bolt-action Magazine type Fixed box Ammo capacity 3+1 rounds Rate of fire N/A Weight (empty) 16 lbs 4 oz Overall length 47.5 inches Barrel length 26.5 inches

Ammunition: Mk 248 Mod 0 (A191).

Logistics: In-service Date 1975 Life expectancy 6,000 rounds Technical Manual # NA Operator Manual # SW370-BE-OPI-010

Discussion: The .300 WinMag is a modified Remington model 700 with a Remington trigger, a 1 in 10" twist chrome moly barrel, a McMillan fiberglass stock, a Leupold 10X scope, a Harris bipod, a cleaning rod and guide, and an aluminum case. The rifle is capable of 0.5 MOA accuracy with Mk 248 ammo. Accessories: None
***
I have reached out to some former Navy personnel, including the former Crane employee who invented the recoil lug for the 300 WinMag rifles. I have not spoken to Alan Brown yet, but will try to do so in the near term. With that said, here's my impression thus far of the basic chronological history -
this may contain errors
- but its a start in an attempt to piece together the "pre-Mk 13" history.
1990-1991: Crane made some 300 WinMag sniper rifles for NAVSPECWAR DEV GRU only. They developed a recoil lug that increased the bedding surfaces and bedding rigidity, given the 300 WinMag's recoil forces.
The other teams continued to use the 7.62x51mm sniper rifles built by Crane since 1982. In addition, around 1990-91, Redick Arms Development (RAD) provided the Navy/Crane with approx 300 long action sniper rifles in 7.62x51mm NATO, as replacements for the M86 SOCOM sniper rifle. (The M86 was a short action 7.62x51mm made by the defunct G. McMillan Rifle Company).
The Bausch & Lomb (B&L) 10x Tactical scope was initially used, which comports with the order of these scopes that the Navy procured in 1989-1990 for the old M14 Physical Security Sniper Rifle. However, the fixed M3A Ultra 10x Leupolds were also reportedly in the inventory and were presumably used as well. There is a well known picture on this thread of Kyle Defoor training with an early Navy 300 WinMag with the B&L scope.
Late 1993 appears to be when the DEV GRU teams with their WinMag sniper rifles get the new Mk 248 Mod 0 ammo, and thus were 'officially' married up, so to speak.
1994: Crane provides a sample recoil lug to Precision Reflex Inc (PRI) and they offered the lug as a commercial item, apparently called the 'Big Foot' lug. Not sure how long it was offered as a commercial item. I was told that some benchrest shooters used this lug.
1995: It is decided to provide all SPECWAR SEAL teams with 300 WinMag sniper rifles, and thus Crane converted the M91 rifles to the 300 WinMag caliber. The rifle was simply called the 'Rifle 300 Mag Rem 700'. (I have seen references to these as "M91A2" rifles -
but I don't think that is technically correct as that does not show up in the nomenclature. It might have been a RAD-based 'marketing designation,' as Earl Redick offered rifles commercially that were based on the Navy rifles
). Navy NSNs exist for both a right-handed action and a left-handed action (Right handed action: 1005-LL-L99-5364, and left handed action: 1005-LL-L99-5477). The Navy presumably ordered a bunch of solid gray McMillan A2 stocks for these rifles, and I get the impression from one Navy source that McMillan pre-inletted the stocks for the unique Crane-developed recoil lugs.
Regarding the long action receivers, I think this history helps explain why we see old Navy aluminum transport cases with stickers that refer to "C" prefix receivers from the early 1990s. These receivers were apparently the original M91s in 7.62x51mm - but like the M24 - the M91s were long actions, so the conversation was performed, along with opening up the bolt faces for the belted 300 WinMag case. Stock picture for the early Navy "Rifle 300 Mag Rem 700 (RH)", perhaps the 1995 era.

Mid-1990s: The Navy apparently purchased the Leupold Mk 4, fixed 10X scope with M1 turrets for the M14 SSR rifles, and vintage pics of the Navy 300 WinMag rifles seem to show that same 10X Leupold scope. I suspect this is also when the old B&L 10X scopes were replaced with the Leupold Mk 4, 10x scopes.
After 9-11-2001, Crane apparently made 200 or more of these sniper rifles per year to meet operational needs. Presumably this is when all the tan colored McMillan A2 stocks were ordered. I don't know what year they adopted the McCann rail, but I will keep researching this key piece of information. (UPDATE: McCann MRS rail introduced into supply system in 2004).
Anecdotally, per Alan Brown's comments to another forum member, some SEAL team members replaced the 10X Leupolds with the Leupold 16X scopes on their 300 WinMag rifles. The Leupold fixed 16X scopes had been used since the late 1980s on the M88 single shot 50 Caliber rifles, followed by the Mk 15 Mod 0 rifles, and thus they have been in NSW's inventory a long time. (BTW, the 10x Leupold scopes with M1 turrrets have 90 MOA of elevation adjustment, whereas the taller turrets on the 16x scopes provide a whopping 135 MOA of elevation adjustment.) I will use the 16X (top) for my 300 WinMag build, although the bottom 10X version is probably a little more 'correct' for a pre-Mk 13 replica.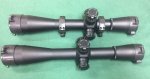 As shown by USMCSGT0331, there were 3 flavors of one-piece scope rails that were used from roughly the early 1990s to early 2000s on the 300 WinMag sniper rifles. They include a Crane scope rail (or more likely Leupold rail, per NSW personnel) with Weaver slots, (top) an early PRI rail with Weaver slots, that is about 1/2" longer (bottom). Both appear to be 0 cant rails. The 3rd and final rail used a Pictatinny style rail. With his permission, here's a picture of the unmarked rail with Weaver slots that looks just like the original M24 scope rail, along with the slightly longer early PRI rail that is marked "217" on the bottom. Both of these were used on Navy 300 WinMag rifles before the Mk 13 Mod 0 McCann rail was adopted.
Honestly, I think the top rail is the same early Leupold part used on the M24 SWS circa 1988, based on the identical physical aspects of the rail, and the fact that Leupold supplied the Ultra rings to Crane at that time.

(
Note
: The discontinued Badger Ordnance M24 rail as shown below is identical to the rail used on the early 300 WinMag
rifles and would be a good choice for someone making a replica of a "pre-Mk 13" rifle.)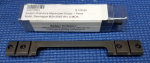 Here's a picture of US Army personnel using what I would call a 'late pre-Mk 13' 300 WinMag sniper rifle. Note the Picatinney scope rail, 10X Leupold scope, and black barrel. My guess is this configuration was probably the final version before the platform got the standardized Mk 13 Mod 0 designation and the McCann rail.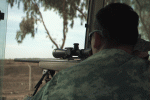 2004: McCann Rail System (MRS) rail was introduced and in 2004 or 05 the rifle and its nomenclature became the Mk 13, Mod 0 shortly thereafter. The repair Manual is dated December 2005.
I learned that in 2004 Crane ordered around 600 of the McCann rails, and presumably some tan McMillan A2 stocks. Not sure about the timeline of the NightForce scopes, as the Leupold 10x scopes still show up on rifles with the McCann rails.
The below pic from 2005 might be the same rifle as seen above, not sure. This is the configuration that I will seek to build with my early stock, including a black barrel, but as noted, I will be using the Leupold 16x scope instead of the 10x scope seen in this picture. I think I'll use a PRI rail that has been shortened slightly to match the length of the original rails - unless I can find an old-school/discontinued Leupold rail with Weaver slots or the Badger Ordnance M24 rail (also discontinued).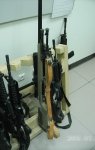 NOTE: This thread has a lot of info re the Mk 13 Mod 0, which can also be found in the Mk 13 Mod 0 Repair Manual (Dated December 2005).
Its the Pre-MK13 era before the McCann rail and NF scopes that is more of the mystery.
I have read that Alan Brown said there wasn't much 'process control' for the rifle in the early days and that there was a lot of variation/permutations depending on the preferences or requirements of individual SEAL team member(s). For example, one Navy veteran told me that circa 1992-93 a left-handed frogman on SEAL Team 6 had his 300 WinMag sniper rifle built with a McMillan Baker Special stock, as he preferred its ergonomics. I suspect he used a left-handed action too.
So I am sure there was some evolutionary variations in the decade before rifle got its official nomenclature as a Mk 13 Mod 0. Nonetheless, here's the topics I"m interested in understanding, to the extent possible
1.
What year did the nomenclature change to Mk 13 Mod 0, which is presumably the same year the McCann rail was introduced?
UPDATE:
The McCann rails came into service in 2004, so the Mod 0 Type Classification was likely 2004 or 2005 at the latest.
2.
What year did Crane start using Lija barrels?
(I have read that the 300 WinMags used Hart, Douglass, and maybe even Krieger barrels, but clearly the Lija became the standard barrel at some point, and I was curious as to when that might have occurred).
UPDATE:
1995.
3.
What year did Crane start doing the SAKO-style extractor on the bolts?
(I have read it might have just pre-dated the Mk 13 Mod 0 designation). UPDATE: Extractor Mod likely done to 308W bolts that were opened up for the 300 WinMag cartridge. Bolts for or from original 300 WinMag rifles might not have gotten the extractor modification...that is my impression.
4.
What year did Crane start using NF scopes?
UPDATE:
I recently learned that the NF contract was awarded in the summer of 2005, so any Mk 13 Mod 0s made in the late summer/early autumn of 2005 and later, could have used the NF 5.5-22x scopes.
5.
What year was the Mk 13 Mod 3/4 nomenclature created?
UPDATE
: NSN was created in 2006, but I suspect suppressed MK 13s may have been issued prior to that date...maybe.
Any assistance from those with specific knowledge re the Navy "pre-Mk 13" or "Rifle 300 Mag Rem 700" is much appreciated, thanks.
Last edited: