Official Account of Modular Driven Technologies
Hessian
Belligerents
Minuteman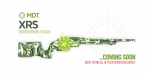 THE MDT XRS IS A HYBRID SYSTEM BRINGING THE BENEFITS OF A CHASSIS TO SHOOTERS WHO PREFER A MORE TRADITIONAL FEEL.
​
WHEN CAN I HAVE ONE?
The official release of the MDT XRS will be at SHOT SHOW 2020 in January, shipping shortly after. Be sure to use the signup form on
this page
if you would like to be among the first notified when it's officially released.