Command Sgt. Major
Full Member
Minuteman
Feb 23, 2010
24,038
82,451
I've been making jerky for years. Always comes out well... at least almost always. (this one batch last fall was a bit spicy for much of the planet... but I thought it was ok...)
Over the past couple of years in particular have noticed more questions on jerky making. Either for preservation or because a bag of bad gas-station jerky is now about $12. Plus, lots of people want to do venison or other meats in case of potential shortages. You can put a lot of meat protein in a few mason jars when it's jerked!
Last, home-made jerky is much easier, tastier and better when made at home!
So here is a thread for jerky makers or folks who want to get into it. It could go a bunch of places on SH... but probably here in fieldcraft/hunting/fishing it fits best.
Just to kick things off, this is dehydrating now (10 tray Excalibur). It's 5 lbs of pork tenderloin. Dirt cheap at the grocery store now and very low fat. It jerks great. Started marinading/curing it last Sunday. Today it will dehydrate for about 12 hours before mason jars. Actually in this case, I probably will eat/give away... not can. This is a High Mountain cure. Used some of their Mandarin Teriyaki with some 'inferno' mixed in at about 5.5 tablespoons of the teriyaki and 1 tbsp. of the Inferno. The inferno is just too hot to use 'straight up.' Ever. Also used teriyaki sauce (kikkoman) and some Chinese "Red Sauce" mixed together to create a liquid that was part of the cure. Can use liquid smoke or Soy Sauce as well. Anything you like, really!
Couple of things I've discovered that work.
First, don't cut meat to 1/4". You will end up with 'paper thin' Jerky and it becomes very hard to dehydrate/smoke to the right texture. Go to far and it goes crunchy and crumbly, which you don't want. Instead, slice to a full 3/8". Err on the side of too thick. But 3/8" is pretty good. I also slice the meat when it is semi-frozen. In that sort of 'soft' state but not thawed. This lets me really control the thickness of slices. It can thaw in the cure bowls when it's sliced. Cut across grain. Try and get pieces at least as big as a playing card. If not bigger. Though small 'leftover' offcut stuff can also be dried, sometimes it's best to take those chunks and cut slices into them (not through) and sort of fan them out. Almost like cube steak. (PS I NEVER do jerky shooter/ground meat. Don't trust it for long-term preservation. But that is just me. Others love doing it that way. I am just... not trusting of ground meat.)
Once it's sliced, layer it in to the bowl with the cure, flavor and 'liquids' of your choice. Again... liquid smoke. Jerky Juice. Soy Sauce, Worcester sauce, Teriyaki. Tabasco. Whatever you want! You can also add spices, rubs, peppers... whatever. I did a batch with lime zest in it (fresh shredded lime peel) last year and it was amazing!!! Lay down a layer of meat, sprinkle on cure/flavor, add another layer, etc. Until your curing bowl is filled and the meat is coated with spice/flavor/cure and 'wet' with cure liquid. I do mine in Corningware bowls. Each one holds 2.5 pounds of meat.
Now for the curing... the 'instructions' will tell you to cure for 4 - 8 hours. I have never got satisfactory jerky this way. I cure for 7 days. That's right. 7 full days. Covered and in a cold refrigerator, of course.
Twice each day, turn the meat and 'mixing it up' every morning and afternoon. Add more 'liquid' if needed. But not more cure or flavor 'crystals.' Or it will get over-salty. But a full week. Make sure each time you stir it up, everything is getting coated with liquid (which now carries the cure and flavor. Also, when 'stirring,' make sure you 'unfold and unstick' any meat that is sticking to another piece or is folded on itself. This way the liquid and the cure and flavors will properly penetrate the meat. It takes several days, IMHO, to do this right. (I suspect you need less time for fish or poultry, but I've never done those.)
On 'dehydrating day' I set my oven to 250 degrees and take the meat from curing bowls to wire racks and heat the strips to 250 degrees for 25 minutes. This should kill any bacteria or pathogens even before dehydrating, which is only at 180 degrees or so. It does not cook the meat. There may be a bit of a 'skin' on the outside after that. But it will not be cooked.
Last, dehydrate at about 180 degrees (the top setting on my Excalibur) until dehydrated. It will be perfect when the jerky bends and the fibers start to separate. But it does not bend 'clean.' And if it 'breaks' you have over-dehydrated it. You want to bend it and have fibers of meat separate where it bends.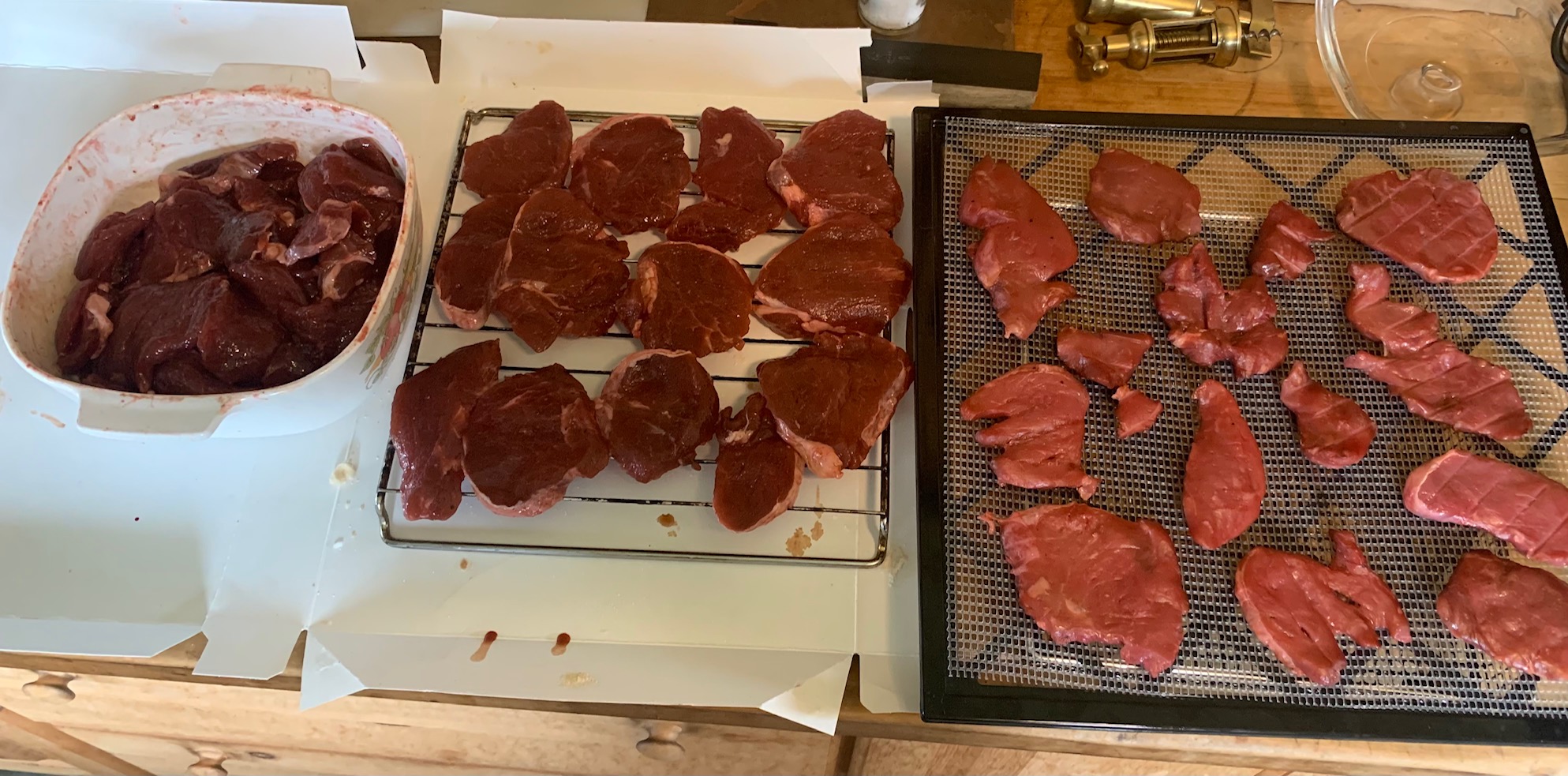 Here is today's batch going from curing pot to 'oven' rack for a short burst at 250. Then on to the dehydrating racks.
Same general thing works for most meats. In the past year, I've done huge batches of venison, bear, beef and this is my second batch of pork. I am very pleased with the way the first batch came out. I had my trepidations about pork, but it came out amazing!
Getting 'discount' meat at the grocery store, especially top round or sirloin (lean cuts) that is discolored or about to expire... perfect Jerky meats. A big rump roast makes amazing jerky. So does any freezer-burned meat you forgot you had in your freezer. So don't throw it out. These days, I don't even 'butcher' my deer into roasts and stuff. I cut out backstraps and tenderloins for cooking. And the rest gets jerked. Just put front and hind quarters and any other 'scrap' into bags for later jerking.
You can jerk almost anything, BTW. Chorky is the wonderful mystery meat sold on African street corners. Much of it is monkey. Or roadkill. Or poached. Or Hutu. Beware. But here in America, the options are less mysterious and potentially delicious! I bet there are some excellent turkey and fish recipes, but I've never tried any. If you have them, though, post away!
Anyway, let's hear your jerky recipes or tips or methods. And this isn't about dehydrating. Some of you smoker wizards have great ways of doing it. Also about Biltong or sun drying or whatever folks want to try. All about preserving meat. Might be something that comes in handy sooner or later.
Cheers,
Sirhr
PS I also did Biltong last fall. It was good but not 'great.' And I want to keep experimenting with it.