As squirrel season is about to open in Kansas and Missouri I am starting a thread about rifles and related items we utilize to hunt them. Was not sure if proper to post in this or the hunting thread but decided here as the main focus will be rifles and ammo.
I will be posting photos of my rifles, ammo, groups, DOPE etc.
I encourage others to make commnets and post thier own photos as well.
It will take me a while to get photos posted but will start today.
Rifle pictured is is old Winchester 52C factory Sporting Rifle.
The groups are Eley Match EPS bullet. listed at 1057 velocity. Both are 5 shot groups one at 50 and one at 100 yards. Both fired sitting with back against tree and tight sling.
Scope is Leupold 3-9 AO EFR. Dot reticule. I aim off top of dot at junction of fine CH. some vertical dispersion is caused by the inexact aiming point. I will trade out scope at some time. I sight rifles to shoot just above the POA. That way I can hold on bottom of squirrel eye and center it.
The flat nose EPS BULLET kills better than the older RN bullet. Rounds are all magazine fed just as they are in hunting.
Will post more information on this and other rifles later.
My 100 yard data is exactly +5 min above the 50 yard data. I find this odd as my 28" 52 is 7M plus to the same range with same ammo. The 24" barrel is faster and louder.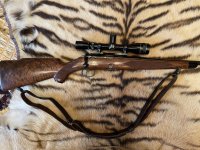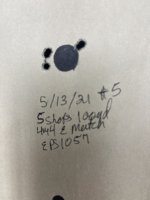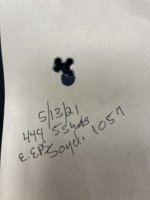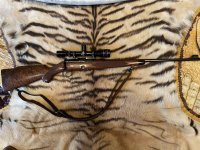 Last edited: