Private
Full Member
Minuteman
Howdy all,
I'm a former Coast Guard LEO and have been shooting on and off since I was 17 in boot camp. After ten years I kept shooting but only occasionally and always pistols. Well in my older years I've fallen for the sport of longer range shooting. To be honest I've not reached out far at all. Mostly 100 yards with my new AR 10 .308. But I've got the bug and now am starting all kinds of new learning curves. In part thanks to this site and others like it.
(Damn it ......you've no idea what you guys have done to my wallet!! Well, maybe you do. LOL)
After getting the Armalite AR 10 in .308 I purchased a low end scope (afraid to dive in the deep end of high dollar glass just yet). I bought a Millett 4-16x50mm Tactical Rifle Scope.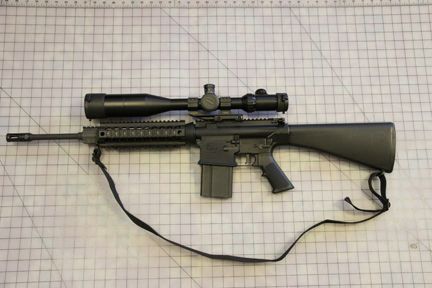 Millett 4-16x50mm Tactical Rifle Scope FREE S&H BK81001, BK81008, BK81001A. Millett Rifle Scopes.
I was impressed with the feel and layout. The knobs were tight to turn but I could live with it. But when I went to the range I kept getting low shots and no amount of elevation adjustment changed the grouping. Thinking I'm new and just "wasn't getting it". An acquaintance of mine I met through another forum called and asked me about a place to shoot locally as his friend was coming into town and they wanted to shoot. This acquaintance is Jody and he was an Army Sniper trainer with a couple of tours in Iraq under his belt and countless hours teaching. He has forgotten more about shooting than I've ever known. His buddy Ed, a SWAT Sniper for a city in Texas. Talk about being lucky enough to go shooting with these guys! JACKPOT!!
At the end of the day we discovered my Millett Scope is defective (I knew that but felt better that they confirmed it) and I'm sending it back for replacement. I purchased through Optics Planet so I hope it's no problem. I also learned a lot about reloading. Something else I'm getting into. Not to mention everything I could think to ask about shooting from these two experts. At the end of the day….seek and you will find.
We had a great day shooting; I got to shoot some serious AR 10's in the $6000 dollar range with all the toys, and learned an incredible amount of information.
So it begins…..the quest from new long range shooter to that first 1000 yard bull's-eye. I wonder if my wife will leave me for the money this is going to cost? Naw….she loves venison. I'll bring home the deer meat and she'll love it.
On the up and down side….I took my 13 year old daughter shooting for the first time. TALK ABOUT A PROUD PAPA MOMENT!!
The down side....
Now everything just got REALLY expensive. SHE WANT'S MY AR 10 !!!!
And a pink 9mm with matching accessories!!!! I'm going to need a second job.
Sierra with a Glock 30 .45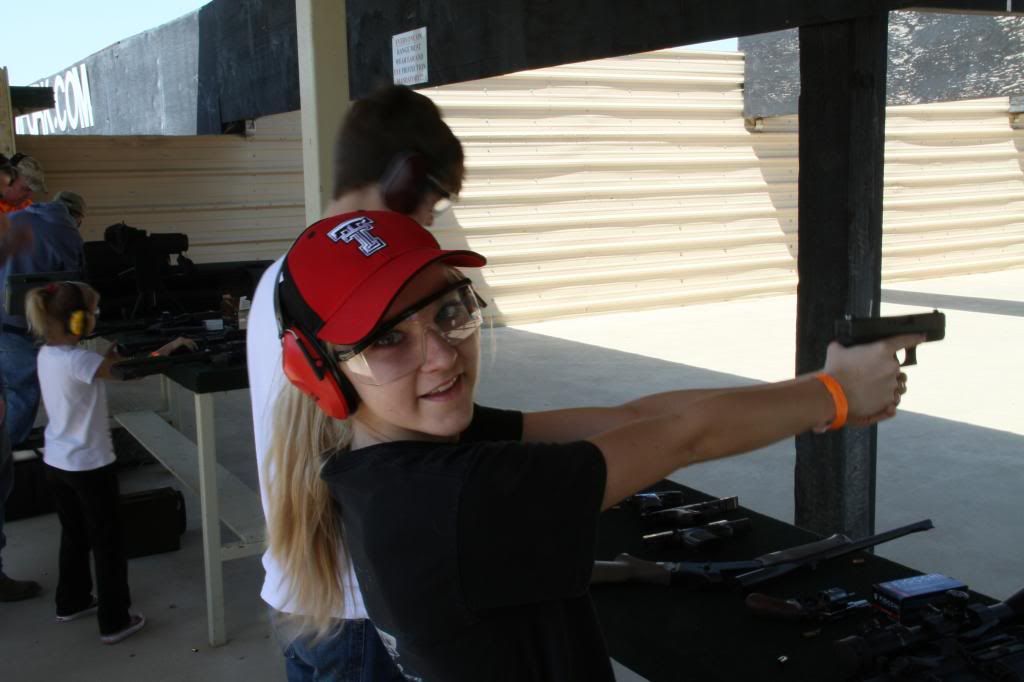 I tried to get her to shoot the .22LR. She wanted no part of it.
"It's not powerful enough daddy"