Hi everyone,
Can I make a little presentation here?
I'm indie developer, I do games for mobile platforms (like Android). And I wanna show you my first game on App Store - "Shooting Club". It's sniper simulator, port my game from Android which have more 8 000 000 downloads on Play Store. This simulator is characterized by maximum connection with reality. Here not only shot accuracy has great importance, but also specific characteristics of rifles, distance to the target, wind direction, heartbeat, etc.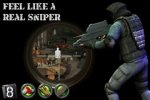 iTunes Link:
https://itunes.apple.com/ru/app/id912405828?mt=8
It's free!
Any feedback is welcome!
Last edited: