Giver of Bad Advice
Belligerents
Feb 13, 2017
1,522
1,008
219
I have a friend that purchased an entire gun collection and these two rifles were included. He is wanting to know the value of them and gave them to me to see if I could find any information. I have NO idea what they are or what they would be worth. They both look old and expensive but I also think they are copies or replicas. Either way must be worth something. I have googled them and found prices anywhere from $600-$3000. So there is just no telling.
If anyone knows anything or is interested in buying please let me know.
The first one is a JM Marlin .32 caliber single shot breach lock. That opens with a lever. serial #7402. It has a 25" octagonal barrel.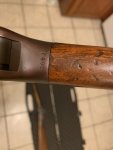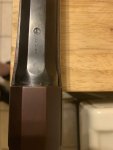 The other is a IAB Sharps chambered in 45/120 its has the fold up sight that is adjustable. The barrel is a 22".